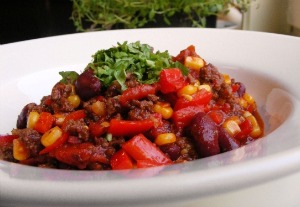 Our version of Chili con Carne is not only packed full of flavor; it's chock-full of essential nutrients, vitamins and minerals. For example, garlic contains the minerals: phosphorus, calcium and iron. Vitamin C – from the onion – works together with iron so that the presence of the former aids in the absorption of the latter.
Then come the mineral-rich kidney beans, which also give you plenty of dietary fiber and folate – jackpot! Fiber lowers cholesterol levels and keeps your digestion in tip-top shape, while folate aids in rapid cell division and growth (an essential baby-making vitamin).
Last, but most importantly, is the beef. Contrary to what many people believe, beef does not have to be bad for you. If you buy ground, organic and grass-fed, you can enjoy the maximum nutritional benefits of the meat: protein, B-vitamins, omega-3 fats, antioxidants, minerals and fewer calories than conventionally raised beef.
This chili can be made a day or two ahead of time, which helps emphasize the flavors even more. Then you simply reheat and serve – preferably with some delicious baguette to dip in it.
Recipe: Light, Healthy Chili con Carne
Ingredients:
3 tablespoons olive oil
1 onion, chopped
6 cloves garlic
2 pounds organic, grass-fed ground beef
3 tomatoes, whole peeled and chopped
4 cups red kidney beans
1 tablespoon chili powder
2 teaspoons paprika
1 teaspoon red pepper flakes
1 ¼ cup corn
How to make it:
1.    Sauté the onion and garlic in the olive oil. Use a large pot over medium heat, and wait until the onion turns translucent.
2.   Add the ground beef and stir until it's browned.
3.   Gently stir in the tomatoes, beans and spices. Add salt and pepper to taste. Reduce heat to low and simmer for 30 minutes.
4.   Mix in the corn and continue to cook the chili for another 15 minutes.
https://www.cnyfertility.com/wp-content/uploads/2018/06/CNY-BLACK.png
0
0
editor
https://www.cnyfertility.com/wp-content/uploads/2018/06/CNY-BLACK.png
editor
2011-07-21 09:31:04
2011-07-21 09:31:04
Nutrition for Fertility Recipe: Chili con Carne