What is a Reproductive Endocrinologist?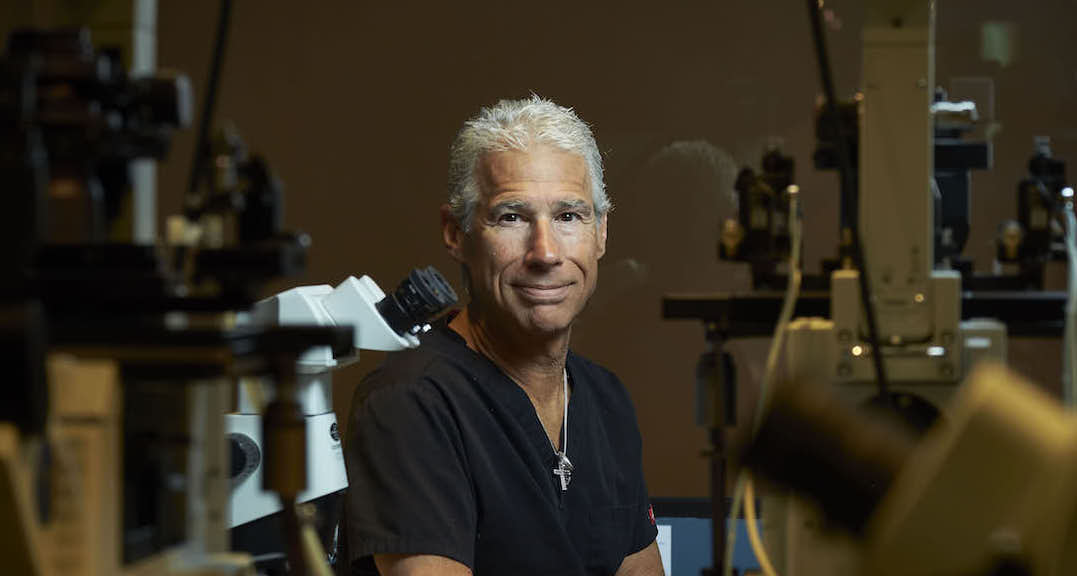 If you're trying to get pregnant or have suffered from recurrent pregnancy loss or miscarriage, you may be wondering what type of doctor to see. Cue the Reproductive Endocrinologist (Re-pro-duc-tive En-docri-nol-o-gist). It's a bit of a tongue twister, but fortunately, most people simply call them REs or REIs (as in Board Certified in Reproductive Endocrinology and Infertility).
What is a Reproductive Endocrinologist?
A reproductive endocrinologist is the only type of medical doctor with specialized training focused solely on helping people become and stay pregnant.
Reproductive Endocrinologists diagnose causes of infertility such as PCOS, endometriosis, anovulation, and male factor infertility along with many other issues. An RE also uses assisted reproductive technologies (ART) like IUI, IVF, Donor Egg IVF, Egg Freezing and more to help those with these diagnoses, those in the LGBTQ community, and those with genetic disorders (or even elective reasons) to start or expand their families.
Many REs also receive special training in surgical procedures to correct physical deficits preventing conception or causing pregnancy loss. This can include surgeries like a myomectomy or tubal ligation reversal.
Why Choose a Reproductive Endocrinologist?
The answer may seem obvious by now, but when most people think about trying to conceive, they typically think about OBGYNs first.
While some OBGYNs help with fertility in basic ways like prescribing Clomid, the majority of OBGYN work is focused on general women's issues like breast and pelvic exams along with routine pregnancy check-ups and assisting in childbirth.
Meanwhile, REs receive specialized training and have extensive professional experience focused exclusively on helping those suffering from infertility. To become a reproductive endocrinologist, one must first complete training to become an OBGYN (4 years of medical school + 4 years of OBGYN residency), and also complete an additional three years of training called a fellowship in reproductive endocrinology and infertility. This fellowship includes intensive training in both the male and female reproductive anatomy, the endocrine systems, and all the medications and procedures to treat infertility.
In addition to this training, REs typically hand off the care of patients to OB/GYNs after the first few months of early prenatal care when the pregnancy has been confidently established. That means that in addition to those three extra years of specialized training, they focus their entire career on this brief 3-4 month period of conception and the critical early months of pregnancy.
You may also be wondering about the endocrinology side of reproductive endocrinology and how it's different from the medical specialization of general endocrinology. The primary difference is in the area of focus. An endocrinologist covers a broad range of endocrine disorders like diabetes and bone disease. A reproductive endocrinologist focuses exclusively on those affecting the reproductive system. Because of this, REs are more highly suited to treat the nuances of hormonal imbalances impacting fertility.
What is Board Certification and Why Does it Matter?
Obtaining a medical license to practice medicine and being board certified are two very different things. Board certification is a voluntary process that demonstrates a physician's exceptional expertise in a particular specialty or subspecialty, whereas a medical license is simply the bare minimum required by law to practice medicine. Board certification ensures that a physician is up to date on the latest medical practices in their specialty.
Because of the rapid advancement of fertility science, it's important to find a fertility specialist who is indeed Board Certified in Reproductive Endocrinology and Infertility to ensure they are knowledgeable and trained in the latest advances.
What is a Reproductive Immunologist?
Reproductive immunology is a further subspecialty of reproductive medicine (requiring no formal training like a fellowship) that studies the way the reproductive system interacts or fails to interact with the body's immune system.
The immune system is believed to interact with the reproductive system through two main avenues:
The immune system correctly/incorrectly identifies the embryo as an "invader" and attempts to stop the growth of these cells. While an embryo is indeed a "foreign" organism made up of completely different cells, the goal of reproduction requires that a mother's immune system does not act upon this distinction.

The immune system is overactive creating a chronically inflamed environment resulting in the body's inability to heal, deliver nutrients, and maintain adequate blood flow required to sustain a developing embryo/fetus.
A Reproductive Immunologist studies these interactions carefully and prescribes medications often not seen in standard fertility clinics, medications like prograf, which was originally developed as an anti-rejection medication for organ donor recipients.
Truly, reproductive immunology is the latest advancement in reproductive endocrinology and and fertility medicine. New treatments are frequently being developed to reduce inflammation throughout the body and suppress the immune system to support successful pregnancy outcomes. Treatments include a low carb/high-fat diet, a host of pharmacological medications like low-dose steroids (Prednisone and Humira), intravenous immunoglobulins and intralipids which are made up of egg protein and soy fat, CBD oil, and Platelet-Rich Plasma (PRP) and much more.
While growing in number, REs experienced in reproductive immunology are not that common. Most fertility clinics do not sub-specialize this far into reproductive medicine, but there are a handful that do. They are worth seeking out if your medical history includes repeated miscarriages or several unsuccessful IVF attempts.
When to See a Reproductive Endocrinologist?
There are three major instances when you should consider scheduling a consult with an RE.
First, if you've had difficulty getting pregnant and have been trying for over a year (for those age 35 and younger) or just 6 months if you're older than 35, make an appointment.
Also, if you've been able to get pregnant, but not stay pregnant and carry a baby to full-term, you should probably sit down with a reproductive endocrinologist. Infertility by definition is an inability to become or stay pregnant. Some couples get pregnant easily but suffer miscarriage after miscarriage. Other couples never experience the joy of a positive pregnancy test despite months and even years of trying and doing everything right. In either instance, an RE is the best place to start.
Second, if you are interested in or have a medical need to preserve eggs, sperm, or embryos, a consult is a good idea. Men or women about to begin chemo, radiation or other cancer treatment who haven't started a family or are interested in having more children should discuss their fertility preservation options before beginning treatment. Those in the military or people pursuing other goals during their most fertile years also might want to consider fertility preservation as a way of protecting their future family building options. Reproductive endocrinologists are the only doctors qualified to perform egg retrievals and offer egg and embryo freezing.
Third, if you are a member of the LGBTQ+ community or a single man or woman and interested in starting a family with or without a partner, a reproductive endocrinologist can help you understand all of your options, which include IUI, IVF, Reciprocal IVF, using a Gestational Carrier or Surrogate, and using donor sperm, donor eggs, or donor embryos. For those transitioning from male to female or female to male, preserving eggs or sperm before hormone therapy offers the best chances for a biological connection to a future child.
LAST BUT NOT LEAST . . . DON'T WAIT!
If you're asking yourself the question, "Should I/We make an appointment?", chances are you should! Unfortunately, our ability to conceive declines with age, starting as early as age 30 for women. Many couples let month after month slip by convincing themselves that next month will be their lucky month. With fertility, time is of the essence. Consulting with a fertility doctor can provide clarity and much-needed answers. A reproductive endocrinologist will evaluate both partners and develop a game plan that works for everyone.
A Reproductive Endocrinologist Near Me!
If you're ready to build your family, CNY Fertility is ready to help no matter where you are in your journey. Because of our extensive user-friendly travel program and unbeatable pricing and payment plans CNY Fertility is the fertility clinic always near you. In fact, over 1/2 of our patients come from outside states with our offices and only need to make a short 2-7 day trip to our offices. Schedule your consultation today or give us a call at 1-844-315-BABY. We're here for you during every step of the way!