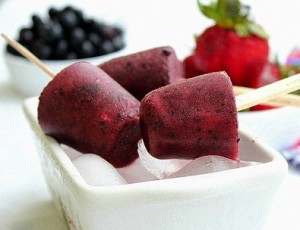 Yum! Fresh, juicy berries…not only are they delicious and plentiful this time of year; they are also healthy for you and can be beneficial to men and women who are trying to conceive! They are a perfect snack as is, frozen, or used in recipes for a cool summertime treat (…and all year long)!
These wonderful sun-ripened berries are high in fiber, low in calories and packed with nutrients. Eat 'em all—the reds, the blues, and the black ones—the more color the better—the color adds to the nutritional value as well. Anthocyanins found in red raspberries, strawberries, blueberries, and blackberries act as a powerful antioxidant that helps to protect cells from damage. Berries are also an excellent source of Vitamin C which enhances sperm quality as well as sperm motility. Vitamin C found in berries also helps the immune system function properly, which may be beneficial during IVF cycles.
Here's a fun summer recipe using those plump, tasty berries!
Frozen Mixed-Up Berry Pops:
1 cup of blueberries
1 cup of red raspberries
1 cup of strawberries
2/3 cup of water
Using a hand blender, combine the berries in the bowl with water and puree until smooth. You can then freeze the pureed mixture in a popsicle mold (if you don't own one, you can use disposable mini-cups or even an ice cube tray with popsicle sticks, which can be found in the craft section at stores).
The possibilities with this recipe are endless! If you like your pop to be a little sweeter, try adding some honey or even lavender-flavored honey to the mixture. If you like a little tartness, you can add lemon juice to the mix. Even drinking the pureed mixture straight, or diluting it a bit, can make for an aromatic and refreshing drink over ice!
Request Consultation or Appointment 
If you are a new patient and would like an initial fertility consultation, click here to request a phone or in-office visit, or call us toll free with your questions at 800-539-9870.
https://www.cnyfertility.com/wp-content/uploads/2018/06/CNY-BLACK.png
0
0
editor
https://www.cnyfertility.com/wp-content/uploads/2018/06/CNY-BLACK.png
editor
2012-08-11 11:30:03
2012-08-11 11:30:03
Nutrition for Fertility: Mixed-Up Berry Pop Recipe