The wise words of the late French Physician and early pioneer of the paleo/low-carb diet Anthelme Brillat-Savarin, "Dis-moi ce que tu manges, je te dirai ce que tu es." Translation: "Tell me what you eat, and I will tell you what you are."  In other words – you are what you eat. 
Often times, people want to know "what can I do to improve my fertility," "what should I eat if I'm trying to get pregnant," or "what the best diet for infertility?"  Most physicians and health experts will tell you the same advice. Eat lots of fruits, fiber, and vegetables. The truth is that those physicians are the same as everyone else, they have been supermarket by the supermarket, they have bought into the idea that the farm grows the food so that the (ph/f)armacy can sell you your drugs. We call it, "from farm to pharmacy." 
At CNY Fertility, we recommend all of our clients follow a High Fat, low to moderate protein, and no to low carb diet. Yes, that means restricting your fruits, fibers, and vegetables as every food from plants (except oils & we will get to that later) are ultimately made of sugar.  If you remember back to your high school or college intro biology course, you may recall that plants are made up of starches and fiber, both of which are 100% sugar molecules (only arranged and attached in different ways and long chains). When starches are digested they turn into 100% pure glucose – AKA SUGAR. When fiber is digested, or partially so, it feeds the bacteria in our gut creating heat, gas, and inflammation that damages our reproductive organs and ultimately leads to damaged sperm and eggs. 
Of course, you do not have to follow this food plan to be treated at CNY, but it is the number one thing we recommend to our clients do who are trying to conceive or suffering from repeat miscarriage. 
There are a few different ways to eat a high fat, low/moderate protein, no/low carb diet and we will cover all the basics to get you started. 
What to eat
There are several different meal plans that can be helpful. Given you are experiencing infertility, we recommend that you take what you put into your body somewhat seriously as it can have such an important impact on your fertility.
The B.E.B.B. (pronounced: BABY)
B.E.B.B. stands for Bacon, Eggs, Butter, Beef and is the foundation for any of the following diets. Yes, you can expand this a little, but narrow is best. Fatty meats (like rib eye, pork belly, skin on chicken (wings are by far the best), skin on duck, bacon, fatty fish like salmon), liver, eggs, butter, and heavy cream. Keep your meals narrow and simple. You may have also heard Dr. Kiltz refer to this as the Lion King/Queen Plan or Ferarri Fuel, but it's all the same thing. 
Standard Ketogenic
The standard ketogenic diet is slightly more lenient than Dr. Kiltz's B.E.B.B. but is still very helpful for your infertility treatment. On the standard ketogenic diet, you can eat some vegetables and you are generally allowed up 20-30g of carbohydrates per day.  Our favorite resource for the Standard Ketogenic diet is Maria Emmerich.  She is an incredible source of knowledge and also offers one on one support.  We recommend you start on her websites http://mariamindbodyhealth.com and her membership site https://keto-adapted.com, or pick up one of her books at https://www.amazon.com/Maria-Emmerich/e/B004OU19MU.   Additionally, you can find her shopping list at http://mariamindbodyhealth.com/keto-shopping-guide/.
Vegan & Vegetarian Ketogenic
Yes, the ketogenic diet can be done on both a Vegetarian and Vegan diet. For how it's done, we recommend you head over to http://meatfreeketo.com/ or visit Maria Emmerich and searching her site/books for vegetarian/vegan recipes. 
Paleo
The paleo diet is along the same lines of the ketogenic, but again is more lenient and allows for even more carbohydrate intake. Generally, we recommend following the B.E.B.B. or one of the Ketogenic Diets, but the Paleo diet can be of some help during your fertility treatment.
Why High Fat for Fertlity
Why High Fat for Fertlity
The most significant effect of adopting a High-Fat Food plan is a reduction in inflammation that otherwise causes cellular stress that leads to a cascade of structural, functional, and hormonal abnormalities. This damage affects our reproductive organs and ultimately our sperm cells, egg cells, and leads to miscarriage.
By reducing the amount of carbohydrates in your body you significantly reduce the glucose load to every cell of your body and the subsequent glycation.
Glycation is the term used to describe the damage to any cellular structure that happens when too much glucose is present and sugar molecules get attached to places that aren't supposed to have them. This creates an environment that enhances inflammation and causes further cellular, enzymatic, and molecular dysfunction all over the body.
In addition, a high variety of food in the form of plants (fruits and vegetables), provides an excessive antigen pool that overwhelms our immune system. These antigens embed in every cellular structure of the body.
Our immune cells see these foreign particles and attack them and in the process damage our cells in the process. This damage is what we call autoimmune reactions, which are responsible for a large number of infertility cases.
Recipes
Getting Started with the Ketogenic diet can seem like a bit of a daunting task, but really there's not much to it and with a little help you'll be headed the right direction in no time. 
The Basics
The foundation of any ketogenic diet is good natural fat.  By keeping meals simple with a fatty ribeye, fried chicken wings, pork belly, buttercream sauces you can save a lot of time and headache of meal planning and get the maximum results. 
But, having a steak every night for some people get's boring quick so let's get down to some real recipes. 
CNY Recipes 
Dr. Kiltz Ice Cream
Probably the most delicious ice cream you can imagine. This guilt-free ice cream can be enjoyed as a nice treat or actually as an entire meal.
What you'll need:
1 Pint of High-Quality Heavy Cream (preferably grass-fed)
1-2 TBSP of cane sugar
1 tsp pure vanilla extract
1 tsp sea/Himalayan salt (optional but highly recommended)
For instructions, head on over here! 
Maria Emmerich Recipes
Fat Bombs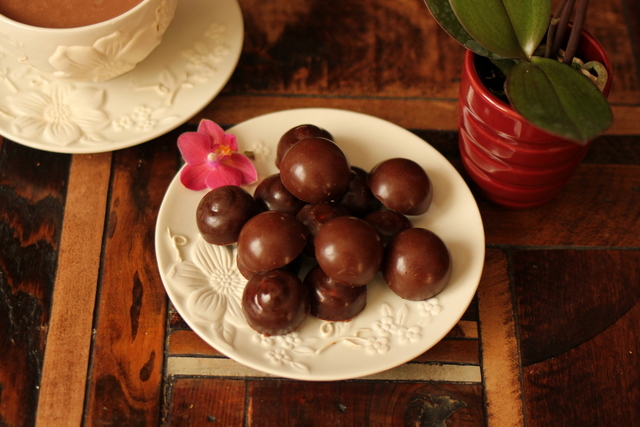 What you'll need:
2 TBS coconut oil (melted)
2 TBS unsweetened cocoa powder
1 TBS almond butter
1 TBS coconut flour
Stevia glycerite (optional to taste…I didn't use any)
For cooking instructions head to Maria's site.
Maria's Low Carb Onion Rings (BACON!!!!)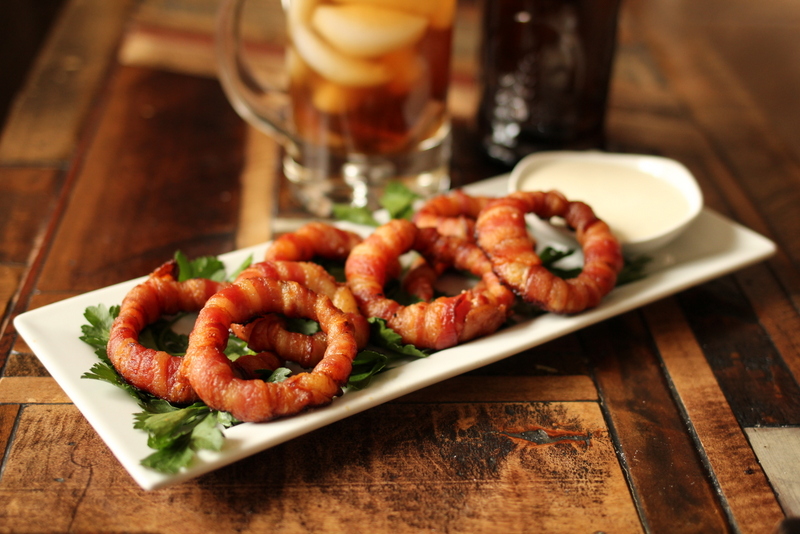 What you'll need:
3 large organic sweet onions
24 slices (1 pound) smoked bacon (don't get maple bacon like I mistakenly did once)
OPTIONAL DIPS:
1 cup hollandaise
1 cup avocado hollandaise
1 cup guacamole
For cooking instructions head to Maria's site.
Primal Cheese Curds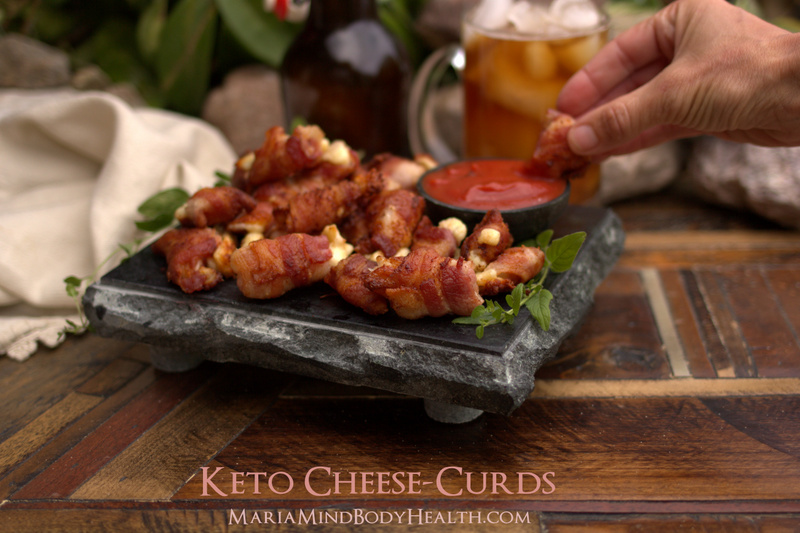 What you'll need:
2 TBS MCT oil
2 TBS organic butter
4 oz Cheese curds, frozen
2 oz Bacon or Prosciutto, very thinly sliced
Optional: chopped herbs
For cooking instructions head to Maria's site.
Eggs Benedict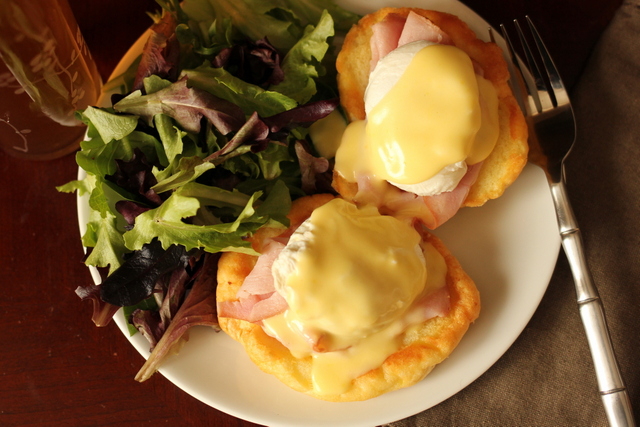 What you'll need:
6 large egg yolks
1/4 cup lemon juice
2 TBS Dijon mustard
1 1/2 cups melted unsalted butter
1/2 tsp salt
1/8 tsp freshly ground black pepper
1/8 tsp cayenne
1 large eggplant (cut into "English muffin" shapes)
3 cups Crab, or ham slices
12 large eggs
Optional: Capers
For cooking instructions head to Maria's site.
Baked Cheese Keto Grits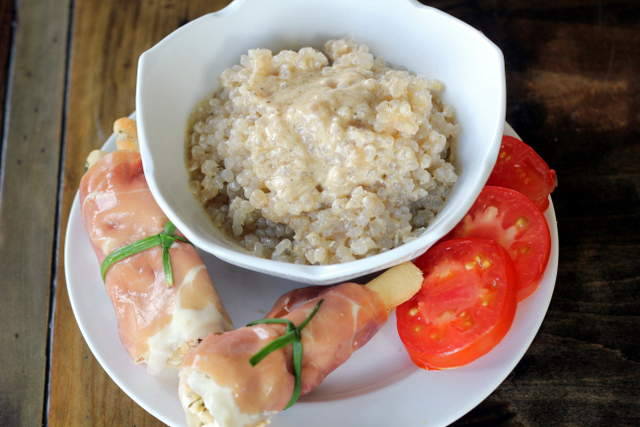 What you'll need:
1 tsp Celtic sea salt
3 cups Cauliflower "rice" or Miracle Rice
1/4 cup butter
1/2 tsp black pepper
1 TBS chopped garlic
1 cup Cheddar, coarsely grated
2 large eggs
For cooking instructions head to Maria's site.
Creamed Collard Greens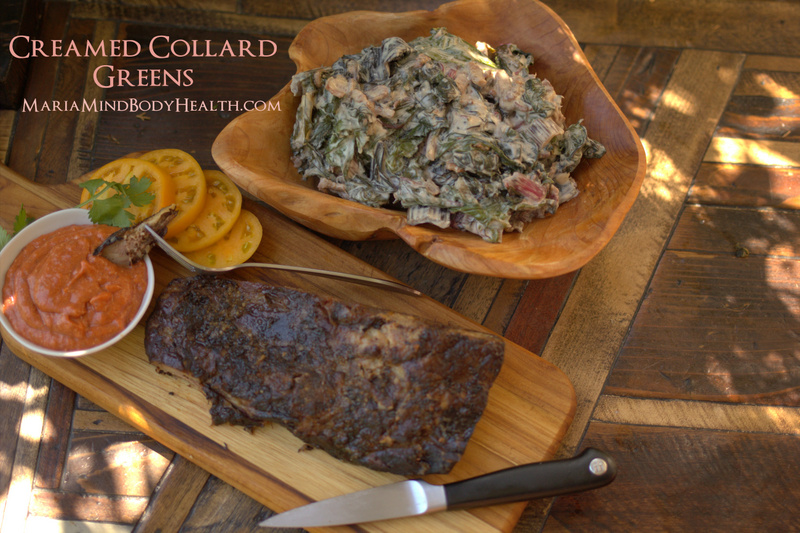 What you'll need:
2 bunches collard greens (or Swiss Chard), center stems removed and cut into 1/2″ strips
Celtic sea salt
2 tsp butter or coconut oil
1 cup (6 oz) bacon, cut into 1/3 inch pieces
2 shallots, finely chopped
1 1/2 tsp smoked sweet paprika
1 cup cream cheese
1 cup organic chicken or veggie broth
Freshly ground black pepper
For cooking instructions head to Maria's site.
Green Bean Casserole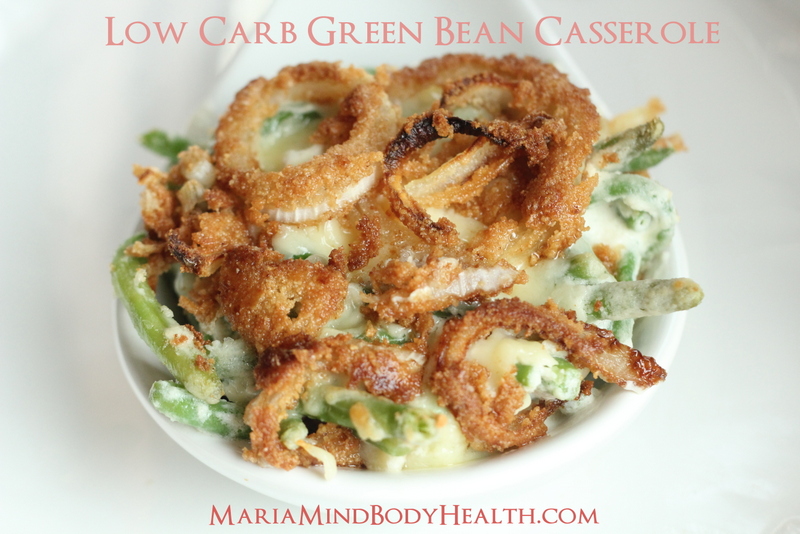 What you'll need:
2 TBS butter or coconut oil
1 TBS coconut flour
1 tsp Celtic salt
1/4 cup onion, diced
1 cup sour cream
3 (14.5 ounce) cans French style green beans, drained (my mother-in-law cans her own)
2 cups Cheddar cheese, freshly shredded
ONION TOPPING:
1 large onion
1/2 cup sour cream
1/2 cup chicken or veggie broth
1 cup blanched almond flour
1 tsp Celtic sea salt
2 cups coconut or peanut oil
For cooking instructions head to Maria's site.
Roasted Brussels Sprouts with Vanilla-Pecan Butter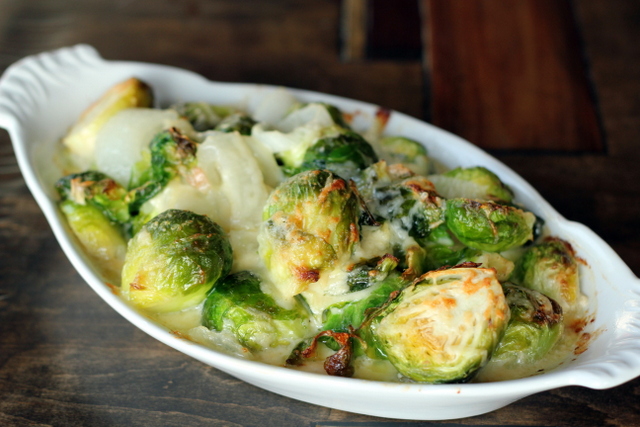 What you'll need:
6 TBS butter, slightly softened
1 vanilla bean, seeds scraped (or 1 tsp extract)
1/4 cup toasted pecans, chopped
Salt and freshly ground black pepper
1 1/2 pound Brussels sprouts, trimmed
3 TBS coconut oil
1 lime, finely zested
1 TBS finely grated orange zest
OPTIONAL: bacon pieces
For cooking instructions head to Maria's site.
Slow Cooker Moroccan Beef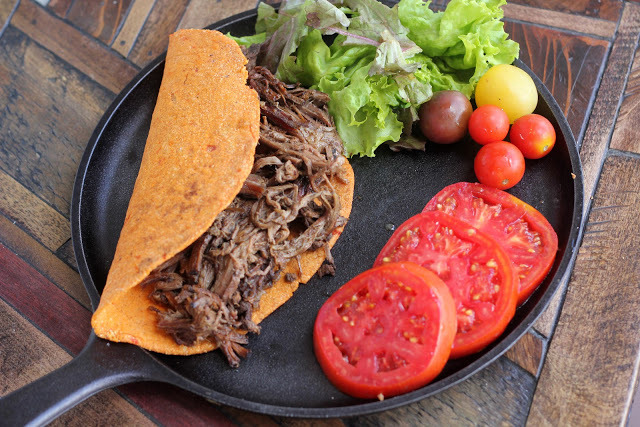 What you'll need:
1/2 cup sliced onion
2 lb grass fed beef roast
2-4 TBS organic garam masala spices (I used this one)
1 tsp Celtic sea salt
For cooking instructions head to Maria's site.
Paleo Crab Cakes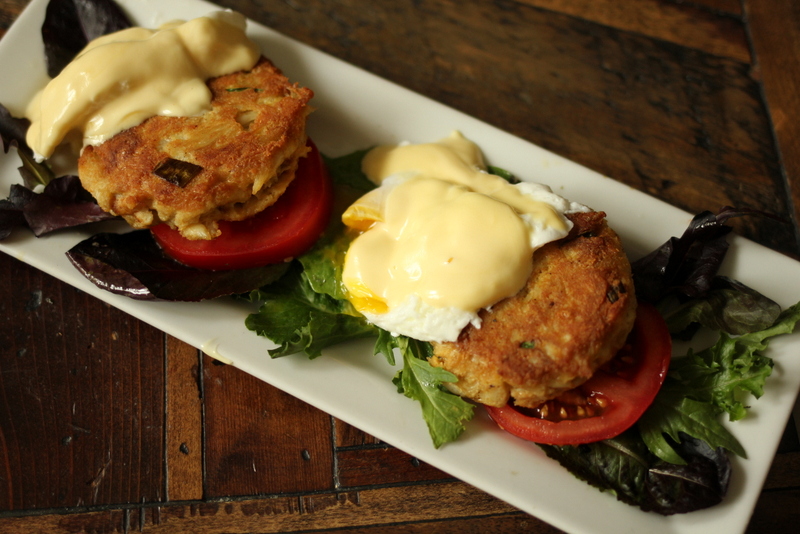 What you'll need:
Crab Cakes:
1 pound crabmeat (Trader Joe's and Sam's Club carries large cans of lump crabmeat)2 TBS diced green bell pepper
1 TBS Primal or homemade mayonnaise

2 TBS coconut flour
2 tsp seafood seasoning

2 TBS coconut oil, for frying
Eggs:
GREENS:
1 TBS coconut oil or butter
14 oz fresh spinach
1 tsp Celtic sea salt
1/2 tsp freshly ground black pepper
1/4 tsp nutmeg
For cooking instructions head to Maria's site.
Mac & Cheese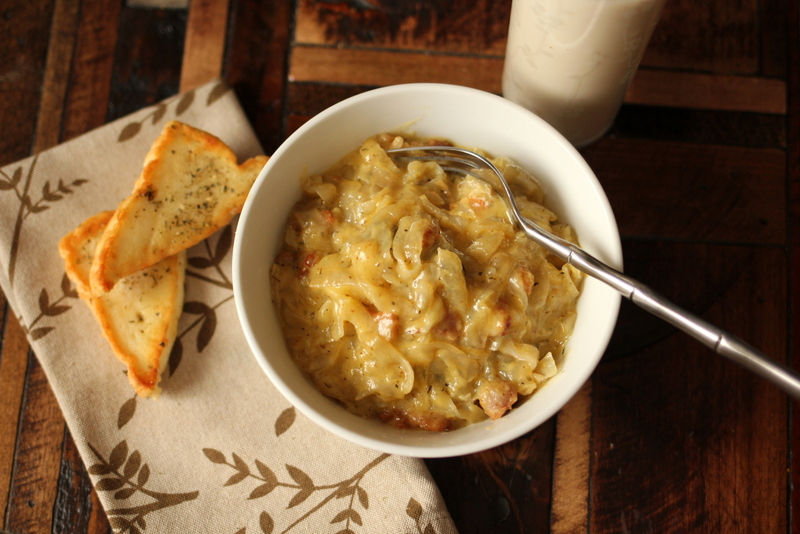 What you'll need:
CHEESE SAUCE:
1/4 cup butter
3 TBS Cream Cheese
1/4 cup organic beef/chicken broth
1 cup sharp cheddar cheese, shredded
1/4 cup Parmesan cheese, shredded
Sea salt and pepper (to taste)
Pasta:
Toppings:
For cooking instructions head to Maria's site.
More Resources
For more recipes head to http://mariamindbodyhealth.com and her membership site https://keto-adapted.com, or pick up one of her books at https://www.amazon.com/Maria-Emmerich/e/B004OU19MU.
FAQ
Why Only Moderate Protein for a Fertility/infertility Keto Diet?
From what you have already read, it probably makes sense that you need to eat fewer carbs, but "why do I need to eat low to moderate levels of protein?" After all, protein isn't sugar. While that's true, did you know that when protein is consumed in excess, it is actually converted into sugar through a process known as gluconeogenesis? In fact, 18 out of the 20 amino acids (amino acids are the building blocks of proteins) can be converted into sugar molecules. What this means is that if you are eating too much protein, your body will convert all of that extra protein into sugar and you will experience many of the same problems as before. 
What is a Carb?
This may sound like a stupid question as most of us seem to have an inherent understanding of what a carb is. Right? Surprisingly however, although we all seem to agree, sugar, candy, pasta, potatoes, and bread are carbs, we tend to forget that all plant-based foods are predominantly carbohydrates. 
Yes, vegetables are predominately made of carbohydrates. See, a carbohydrate is really defined as any bio-molecule made up of sugar (whether that molecule is 1 sugar molecule like glucose, 2 sugar molecules of sugar attached to each other like lactose in milk, or hundreds attached to each other like the starches found in potatoes, grains, peppers, squash, etc).  Any carbohydrate that is taken into the digestive tract is in the end broken down into its most simple form, also known as glucose, or sugar. So what foods are carbs?
All fruit – bananas, oranges, pineapples, apples, and yes – even tomatoes and avocados.
All Grains – whether whole grains (like white/brown rice, quinoa, oats, etc) or ground like bread, pasta, cereal, pizza, tortillas, etc.
Vegetables: all lettuce (including kale and spinach), broccoli, squash, and root vegetables.
Have questions or ready to get started?
We love our website and it truly is a fantastic resource to learn about fertility, CNY and treatment options, but remember no matter where you are in your journey, we are here to help. So if you'd like, please keep on reading, but if you're stuck and need some help or ready to get started with a consultation, please don't hesitate, WE ARE HERE FOR YOU.