Sweet Potatotes: Nutrition for Fertility
Sweet Potatotes: Nutrition for Fertility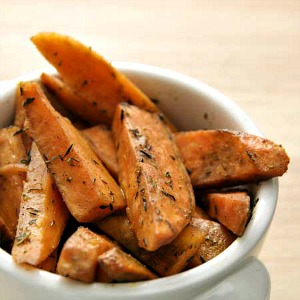 The fall harvest has started rolling in! There's an abundance of fresh, delicious foods ready for us to enjoy. With the cooler temperatures, it's a great time to roast up some of these tasty treats while helping your body prepare for conception!
The stars of the show are sweet potatoes! Sweet potatoes are jam-packed with health benefits such as:
• A whopping 700% of the US RDA for Vitamin A which can be found in one serving! Vitamin A helps to improve cervical fluid and follicle development.
• The beta carotene in them can help to regulate menstrual cycles.
• Vitamin B – helps to regulate hormone production.
• Vitamin C – helps to build the immune system; just 7 ounces has 65% of the daily amount of Vitamin C!
• Antioxidants which help to prevent inflammation in the body and helpful in alleviating symptoms of PCOS and endometriosis.
• Good source of complex carbohydrates which help to stabilize the blood sugar.
• Unique source of calcium and iron.
• Potassium, which is especially important during stressful times because it balances the nervous systems and helps to elevate mood.
Here's a delicious, simple recipe for Sweet Potato Wedges:
• 3 large sweet potatoes
• 2 tablespoons olive oil
• 1 tablespoon minced fresh rosemary leaves
• Dash of salt and coarsely-ground black pepper
Directions:
Wash and cut sweet potatoes into sticks or wedges. Place potatoes in a bowl and toss with oil, then spread out onto a baking sheet and sprinkle with rosemary and salt & pepper. Bake about 30 minutes at 375 degrees or until browned and tender. You may want to turn potatoes over half way through baking time.
Experience our Interactive Fertility Support Webinar: Nutrition for PCOS from the comfort of your own home on Thursday, October 18th 6:30-7:30pm! This interactive virtual support group experience, where Lisa and Heather Neely, RD will cover the importance of nutrition while coping with PCOS. You will have the opportunity to ask questions and give feedback. Please email Lisa with any questions: Lstack@cnyfertility.com. To register, please visit the following link: https://www1.gotomeeting.com/register/580137073
Here are some great workshops coming up at the following CNY Fertility Center locations-
Syracuse:
Fertile Foods Workshop-Saturday, October 27th 1:00-2:30 – No Fee
Join Heather Neely, RD for a workshop on eating right for fertility. We will discuss how a healthy diet can help increase your chances for pregnancy. Topics include: foods to add or limit in your diet, key nutrients you should be getting now, food and its effect on your hormones, and getting to or maintaining a healthy weight. There will be a Q&A session. Please RSVP to 315.671.5755.
Albany:
Fertile Foods Nutrition Workshop-Saturday, October 13th 11:00am-12:00pm – No Fee
Meet with Rebecca Rice M.S., L.Ac. to explore healthy eating and discuss foods that supports your fertility. We will have samples available for tasting and you will leave this workshop with some great recipes to try at home. Please RSVP to 518.724.5750.
Rochester:
Fertile Foods and Supplements-Tuesday, October 23rd 6:00-8:00pm – No Fee
Shelley Szymko-Carroll, L.Ac., will discuss how a healthy diet can improve fertility and increase your chances for pregnancy: key nutrients and the recommended dosages of supplements; how sugar, caffeine, and dairy products may affect fertility, and the benefits for some women to eat gluten-free. Male nutritional and supplement recommendations will also be given so that both partners are maximizing your chances to conceive. Dietary recommendations are made based on Traditional Chinese Medicine principles and foods are discussed based on their energetic benefits for fertility using the cookbook, Cooking for Fertility by Kathryn Simmons-Flynn. Handouts will be provided, Q&A included. Women and men welcome to attend. RSVP required at 585.244.1280 ext. 2.
Request Consultation or Appointment
If you are a new patient and would like an initial fertility consultation, click here to request a phone or in-office visit, or call us toll free with your questions at 800-539-9870.