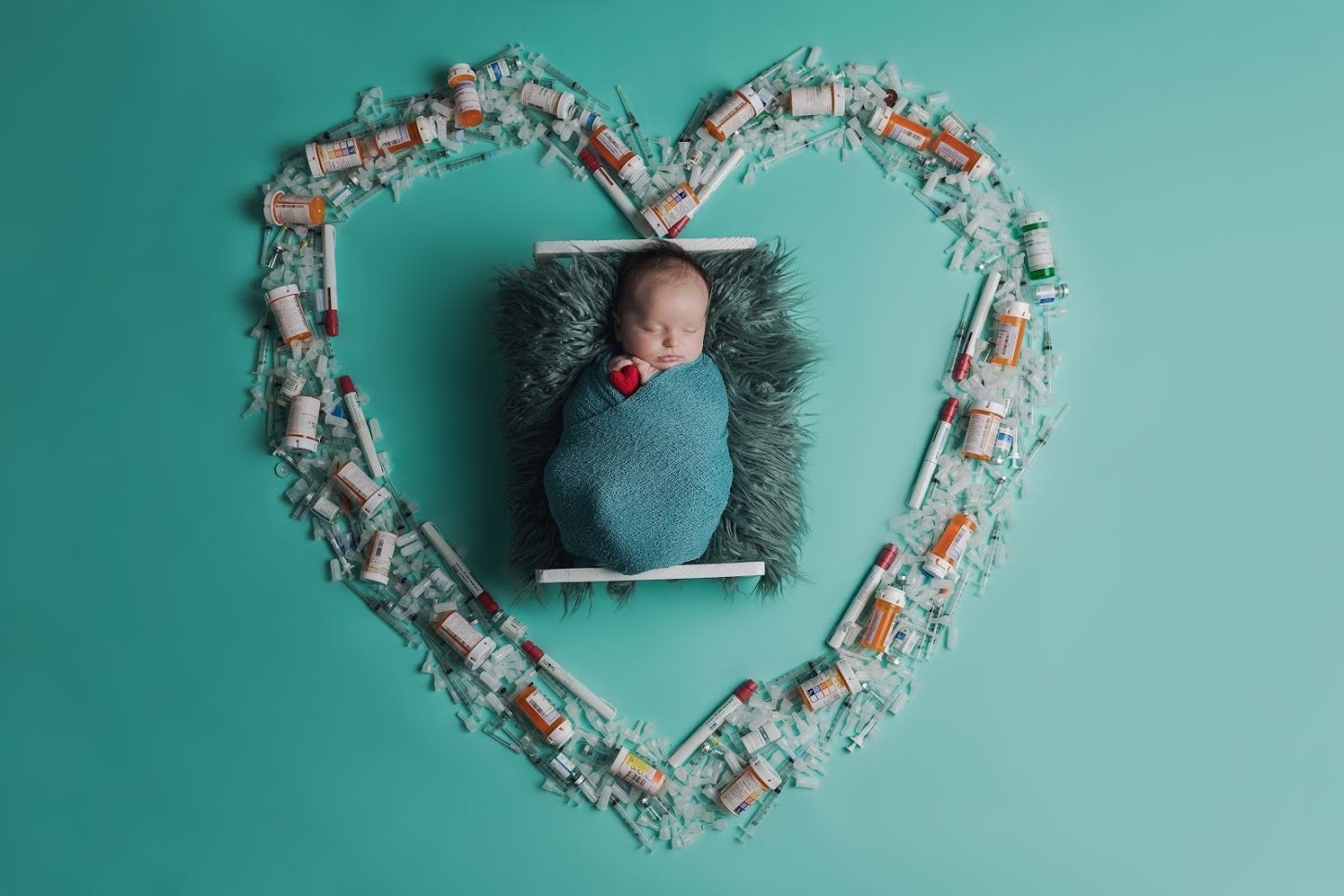 Joanie & Matt
Infertility Diagnosis

Advanced age
Endometriosis
Premature ovarian failure
Unexplained infertility
Treatment(s)

Frozen embryo transfer (FET)
In vitro Fertilization (IVF)
Location(s)
Physician(s)

Robert Kiltz, MD
David Corley, MD
Meg Marnell, NP
Joanie & Matt's Story:
Matt and I met on Match.com in Oct. of 2012 when we were 29 & 30 years old. We quickly fell in love and didn't waste much time getting engaged and eventually got married Sept. 2014. We knew we wanted to start a family pretty soon after getting married. We started actively trying on our honeymoon in December 2014. I did ovulation kits and timed intercourse for a year with no success. I began to worry something was wrong. I began to fear I was losing my opportunity to become a mom due to my age. We sought out help at our local fertility clinic and underwent a ton of tests. Everything was seemingly normal with me so we were referred to a urologist specializing in male infertility after seeing a lower sperm count.
There was a 3 month wait to get into the specialist. We were told our best option was to try IUI. During the wait, we did 2 IUI attempts (1 non-medicated and 1 medicated. All 3 failed. April 2016, after seeing the urologist, we found out my husband had a varicocele. We thought this was our answer! He was scheduled for surgery to remove this varicocele in June 2016. He started taking Clomid as well as recommended by the specialist.
The surgery went well and about 3 months later we tried another IUI that ended up being unsuccessful. We realized that IUI wasn't going to be enough to give us our baby. It was recommended we do IVF. At the time we were quoted $16-$20K for a cycle of IVF at our local clinic. Me being a new nursing grad, we just didn't have the funds to start that process. We decided to continue trying on our own while we saved up money. Fast forward to Sept. 2017, we got another opinion from a well known fertility doctor here in Indy. A laparoscopy was suggested to search for endometriosis. The surgery went well and they removed mild endometriosis. We thought this was our fix! Finally some answers to the cause of our infertility or so we thought.
We did another round of IUI but it didn't work. I had seen so many negative pregnancy tests, I just stopped taking them. I couldn't stand to read "not pregnant" one more time! The fertility doctors told us we had unexplained infertility. Again, we were told our only option was IVF with a $16-$20K price tag. At this point we were in the process of building our house so we put our dreams of building a family on hold. Summer of 2018, we heard of a less expensive mini IVF option called Invocell. With the help of a garage sale, a fundraiser, and a loan for the rest of the funds we dove into the Invocell process. We spent several thousands of dollars on medications during the stimulation week all to find out we needed more because my AMH was now 0.64.
We were all confidence that this was going to work but pushed on. After transferring 2 fresh embryos, we found out the cycle failed. We were heartbroken. We were out thousands of dollars and still no baby or answers to why. We were lost. A few months later, a friend of a friend suggested going to CNY for IVF. We assumed that going to NY would be much more expensive but boy were we wrong! We had our consultation in Nov. 2018 and started the BEBBI diet in Dec. After taking out another small loan for medications, we ordered our meds and started all to stimulate in Feb 2019. In March we traveled to Syracuse, NY for my egg retrieval.
My body responded well and we had 17 follicles retrieved! 13 were mature and 100% fertilized! 9 embryos made it to day 6! We were ecstatic! Finally something positive out of this whole process! We traveled back to NY for the FET in April 2019 and got our 1st positive pregnancy test on April 20th! My husband was in complete disbelief when I showed him the test! He was scared to believe it after all the heartbreak we had over the last 4 1/2 years.
My pregnancy went fairly well with only being complicated my GDM. On Dec. 14, 2019, after about 1,825 days of waiting, hundreds of injections, and many prayers, we welcomed our perfectly healthy miracle baby, Aspen Allen! We can't thank CNY enough for providing amazing, affordable treatment for us and helping us to fulfill our dreams of becoming parents! Now we finally have a family of our own!
Favorite Team Member at CNY:
We were originally scheduled to have our retrieval with Dr. Corley but Dr. Kiltz ended up being the one to do my retrieval! What a pleasant surprise! He was fantastic! I was thrilled to meet the man behind CNY!
Dr. Corley did our transfer and was amazing! He was so kind and even prayed with after the transfer!
Helpful resources Joanie & Matt found:
I joined a few Facebook support groups that consisted of current and past clients of CNY. They were very helpful in my journey.
I also did acupuncture in my hometown as well as at CNY when I was there for transfer.
Unique Moments:
I would say a high about finding CNY was realizing that we could actually afford to IVF with very reasonable pricing and the help of the in office financing. They made our dream a reality just by giving us an opportunity we couldn't afford in the 3 previous fertility clinics we went to first.
Obviously each failed IUI and the failed Invocell cycle brought us down and we began to lose hope.
I'm not sure that our story is a lot different than many other peoples but I do think it's unique that both my husband and I had to undergo surgery and take medications in order to achieve pregnancy. I do think we are lucky in the aspect that our first FET gave us our very 1st positive pregnancy test!
Hope, Inspiration and Advice:
It's always recommended that you try for a year before seeking treatment. I wish we would've sought help sooner. I wish we would've had my husband tested sooner and realized there was in issue there. I felt we wasted so much time because my OB said wait a year and I bet you'll be pregnant by the end of that year.
My number 1 advice to anyone starting this journey is to never give up hope! Even though it's not working out like you had planned, it eventually will if you keep your faith and keep pressing forward!
Number 2, don't be afraid to share your story. I hid my struggles with infertility for over 2 years. Once I finally shared my story on social media, I found so many women (my friends) who struggled just like me. It gave me support from women I knew that had struggled and had success in the end. Their words of encouragement gave me the strength the keep moving forward!