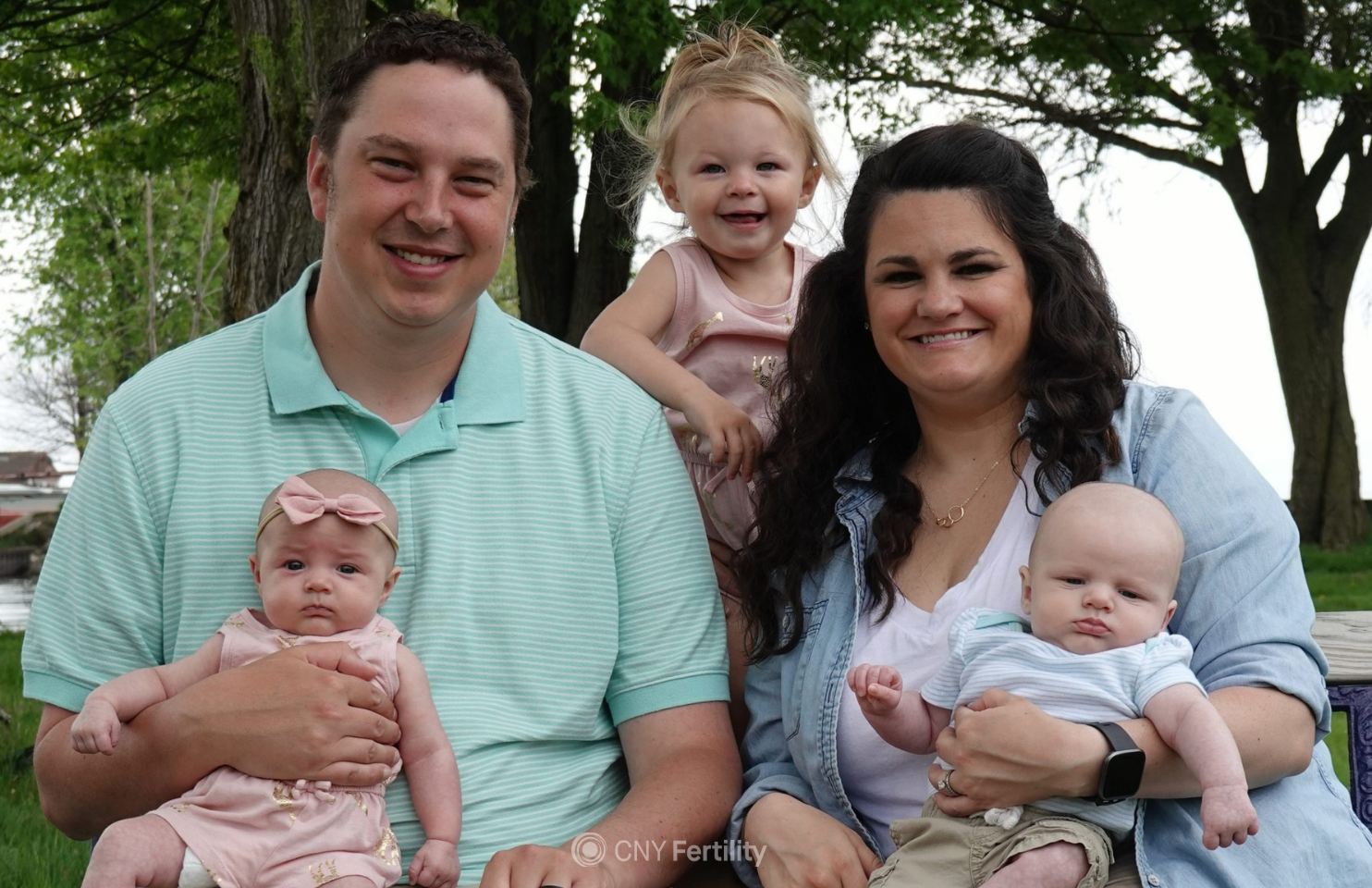 Aimee & Robert
Infertility Diagnosis

Polycystic ovary syndrome (PCOS)
Treatment(s)

Embryo Freezing
Frozen embryo transfer (FET)
In vitro Fertilization (IVF)
Location(s)
Physician(s)

Edward Ditkoff, MD
Michael Grossman, MD
Aimee & Robert's Story:
My husband and I started to try and conceive right after we got married in 2015. I never really had periods and was worried I didn't ovulate. I immediately visited my gyno and had testing done. After three months of trying Clomid and never ovulating because of my PCOS, we were then recommended to see a fertility specialist. We visited a local Michigan doctor and proceeded to do five consecutive iui's with injections. The fourth iui was successful but led to a early miscarriage. This was an extremely low point for us. We had spent over twenty thousand dollars and were still unsuccessful. We knew our next step was IVF.
I heard about CNY and thought it was too good to be true. I did a lot of research and started following Dr.K on social media. As we prepared for IVF I followed his strict keto lifestyle and took all the recommended supplements. We had our phone consult in December 2017 and our egg retrieval July 2018.
We were able to freeze 9 embryos. In September 2018 we did our first frozen embryo transfer. We transferred one embryo and it led to a chemical pregnancy. We then transferred again on October 3rd, our wedding anniversary. We put in two embryos and one took. We had our healthy beautiful girl Savanna on June 28th, 2019.
We knew we wanted to expand our family and with six embryos left we didn't want to waste any time. We started preparing and in June of 2020, we transferred two embryos. That FET led to another chemical pregnancy. The very next month we transferred two more. It was successful and both embryos stuck. I gave birth to our healthy twins (Cooper and Addison) on March 15th, 2021. We are so blessed and grateful to CNY. They made our dream of becoming parents true!
Favorite Team Member at CNY:
Everyone. The nurses make you feel comfortable. The whole staff is always professional but make you feel like family.
Helpful resources Aimee & Robert found:
Yoga, meditation, and Dr.K's spiritual mind positive attitude
Unique Moments:
Low points: We could never try to get pregnant naturally. We had to seek fertility treatment for any chance. Our miscarriage and chemical pregnancies were emotionally exhausting. Going through the whole process again to conceive a second child was even more scary.
High points: The chemical pregnancies gave us hope. We proved we were able to get pregnant. After having our daughter it gave me hope and more determination to mentally and physically make it through the process again.
Hope, Inspiration and Advice:
You must ask questions and advocate for yourself. Join some form of support group. There are so many people in the same boat and they are all so supportive. Everyone's journey is different, you can't lose hope. It is okay to grieve but remember to celebrate all the small accomplishments.