Nutrition for Fertility: A Delectable Dish
Nutrition for Fertility: A Delectable Dish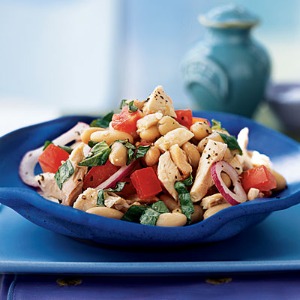 There are certain foods that bode well with our chances to conceive, and other that don't. Fortunately, this recipe is full of those that will surely help your fertility flourish!
For starters, chicken is packed with vitamin B2, which is essential for the development of the nervous system. It's also rich in zinc, an essential baby-making mineral that helps to increase male sex drive. Next are white beans: super healthy, protein-rich, energy boosting, very filling and full of fiber. Both white beans and radishes are packed with folate. Folate is necessary for cell division and helps prevent anemia amongst mommies-to-be.
Forgetting the facts, try out our recipe and taste the undeniable goodness for yourself. And don't forget, it doesn't hurt to cook organic when you can.
Recipe: Chick-Bean Salad
Ingredients – serves 5:
2 chicken breasts
2 16-ounce cans cannellini beans (or other white beans)
2 medium-sized tomatoes, chopped
½ cup red onion, thinly sliced
1 bunch radishes, chopped
1/3 cup fresh basil, sliced
¼ cup red wine vinegar
2 tablespoons extra virgin olive oil
1 tablespoon fresh lemon juice
2 teaspoons Dijon mustard
2 garlic cloves, minced
½ teaspoon salt
¼ teaspoon fresh ground pepper
How to make it:
1. Pan-fry or bake the chicken breasts, whichever you prefer.
2. Rinse and drain the beans. Combine first 5 ingredients in a bowl of appropriate size and stir gently.
3. Whisk the remaining ingredients together in a dish to use as salad dressing. Drizzle it over the salad and gently toss everything to coat.