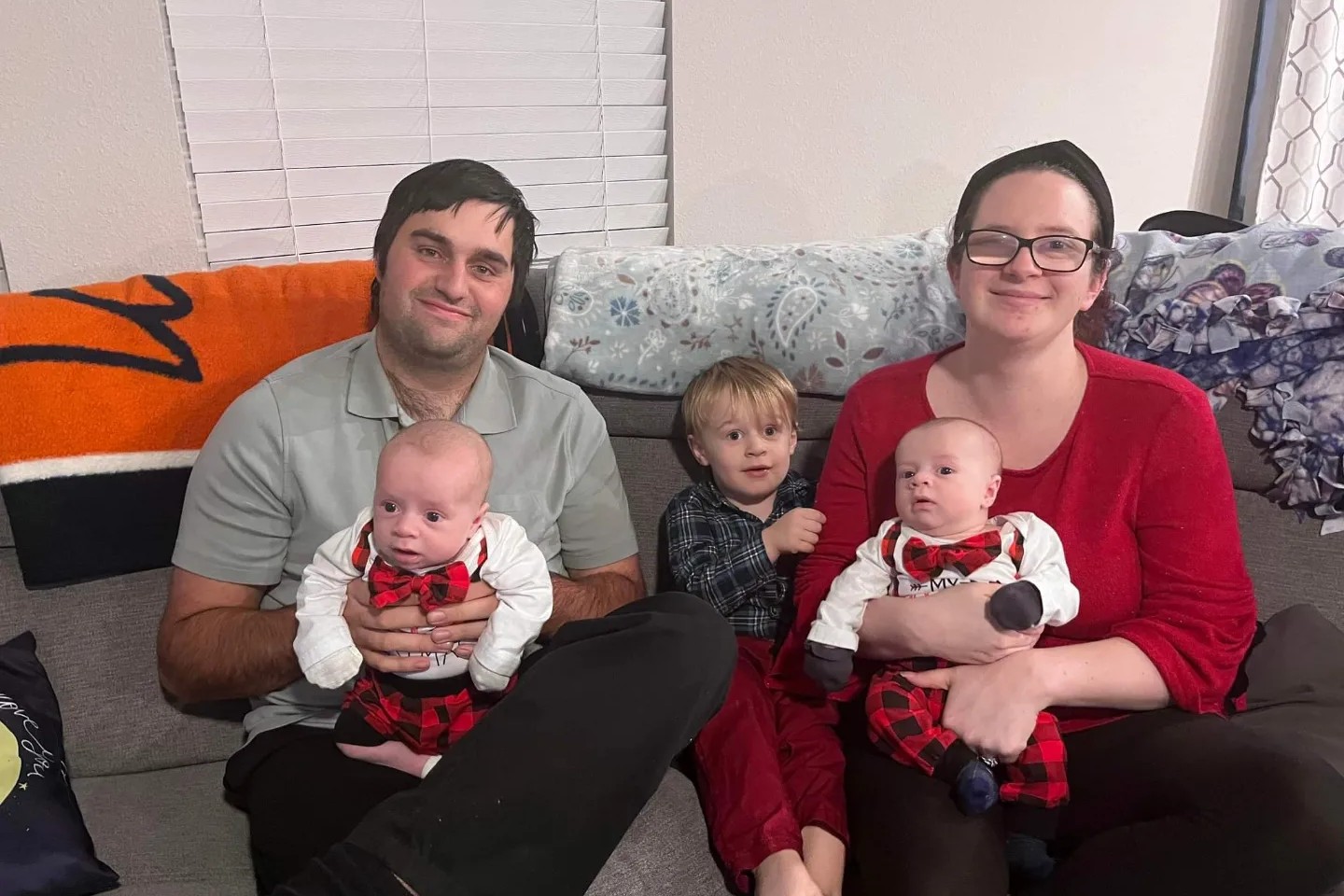 Sonya & Anthony
Infertility Diagnosis

Polycystic ovary syndrome (PCOS)
Secondary infertility
Treatment(s)

Embryo Freezing
Frozen embryo transfer (FET)
In vitro Fertilization (IVF)
Mini IVF
Location(s)
Physician(s)

Robert Kiltz, MD
David Corley, MD
Eric Chang, DO
Sonya & Anthony's Story:
My husband and I had our son naturally in 2019. His first birthday came around and we decided we wanted to expand our family. I was on the pill and stopped it once we felt it was right and expected it to go as smoothly as the first time.
Months passed and my periods got more and more irregular and then stopped completely. I knew then something was not right and scheduled an appointment with my OBGYN.
We ran tests but none pointed in one certain direction but she had a suspicion it was PCOS.
We were referred to the reproductive endocrinologist and had more tests for 3 months that finally concluded my PCOS diagnosis. The RE was fairly confident ovulation induction with timed intercourse would do the trick. We tried for 8 months with no luck. He gave us options of IVF or IUI but unfortunately it was too expensive to continue. I felt so sad this journey was ending before I felt ready.
After much research, I came across CNY Fertility and thought there couldn't be any way it was really this affordable and was too good to be true. I dug more, found people who had used them, and scheduled my consult which was for January. Then a few weeks later they called and to my delight moved it to December 27th.
That day arrived and I got to speak with Dr. Chang. We came to the conclusion I should do Mini IVF and started on metformin right away to help my PCOS. Since I had all the prior testing done I was able to start once I could get all my medication and the nurse called.
I officially started my egg retrieval medication in January.  I flew from Florida to Syracuse for my egg retrieval. The final numbers were outstanding. I had 56 eggs retrieved, more than we ever thought. We then got snowed in with 14 inches of snow and got to extend our stay.
In total, we ended up with nine eggs that made it to blast and froze. We opted to not have them PGT tested and planned to do a FET the next cycle as long as all was well. Fast forward to February, and I was cleared to start my FET. My FET was on February 23rd we transferred only one egg and prayed it was a girl.
Once home I made sure to keep my feet warm and hydrated following all the directions and taking all the medications as told. I was determined to make it the best chance. On 5 days post-transfer I couldn't wait and took my first test, expecting not much, and to my surprise it was positive!
I remember thinking I was dreaming and ran to my husband at 4 am shaking him awake to make sure I wasn't seeing things. Our beta confirmed 5 days later, we were in fact pregnant!
Favorite Team Member at CNY:
All were so wonderful! Getting to meet and have Dr. Kiltz do our transfer was a dream come true!
Helpful resources Sonya & Anthony found:
I watched the Sunday lives with Dr. Kiltz and those really helped me understand the process ans things I could do. I also did the intralipids transfusion day of transfer ans the before ans after acupuncture!
The Moment:
It was the day of our first ultrasound. I was only 5 weeks and 6 days and was told it wouldn't be much so my husband didn't come along. I go in and the sweet ultrasound tech started the exam when I could tell she was hyper-focused on something as she had just stopped. I was so concerned thinking the worst when she finally turned the screen and says, "do you see what i see?" Sure enough there was not one, but two sacs and both had heartbeats! I blurted out " you got to be kidding me!" I was shocked and cried tears of joy. The phone call to my husband at work was priceless as he was just as speechless. Our families were as equally as surprised and over joyed. We prayed for a miracle and God gave us two!
Hope, Inspiration and Advice:
My best advice is to know your not alone and sharing your story may help others going thru there own. I shared mine on social media and was shocked to learn how many other people I knew had or were also struggling with infertility.