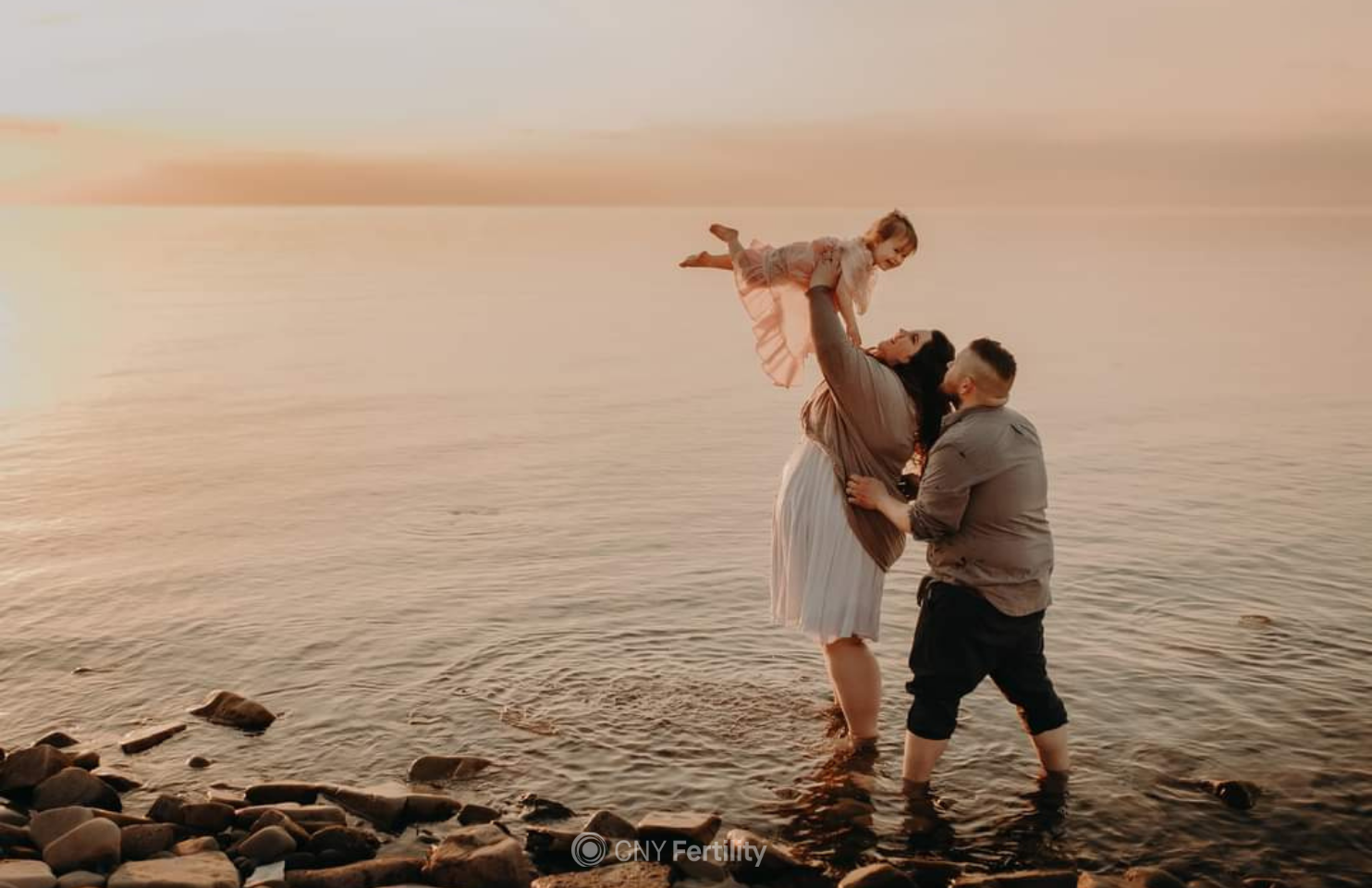 Rene & Andrew
Infertility Diagnosis

Polycystic ovary syndrome (PCOS)
Treatment(s)

Embryo Freezing
Frozen embryo transfer (FET)
In vitro Fertilization (IVF)
Location(s)
Physician(s)

Robert Kiltz, MD
Eric Chang, DO
Kris Ziegler, NP
Rene & Andrew's Story:
I was diagnosed with PCOS after years of irregular periods, breakthrough bleeding episodes that would last months and rapid, weight gain that seemed resistant to my attempts at weight loss. My OB at the time informed me that conceiving may be a challenge so as soon as Andrew and I got married at age 22 we decided to start trying to expand our family.
My OB assured us that our chances of conceiving were "as good as they could be" due to our ages. Our very first medicated cycle (Clomid) resulted in a pregnancy, which seemed to confirm this belief. However, that pregnancy ended in miscarriage. After that miscarriage, we started back up with medicated cycles right away but failed to conceive. We were eventually referred to another clinic in Buffalo. But after 6 years and more medicated cycles and IUIs than I could begin to count, we failed to achieve another pregnancy.
By this point, I was ready to move onto IVF, but was informed that due to my BMI, I was not a candidate and was encouraged to lose weight and continue with IUIs in the meantime (despite my overall health being exceptionally good.) My BMI was a discussion at almost every appointment. The blame for our lack of success was placed on my shoulders as month after month I failed to lose more than a few pounds and fall below the BMI limit for IVF. IUIs continued to be unsuccessful.
For my sanity, we made the decision to leave the clinic in 2018 and realized that this meant our hope for a family was on hold, perhaps permanently. Then, while looking into other means of expanding our family, I stumbled upon Dr. Kiltz. His Q&A sessions completely changed the game for us. His approach was night and day from what we had experienced. During one video, someone asked about BMI requirements for IVF and he responded that "BMI is not necessarily an indicator of health or fertility and should never rule someone out from expanding their family." I knew I was in the right place and I made an appointment for a consult.
Through routine testing, CNY Fertility found things my previous clinic had missed - including polyps, and endometrial hyperplasia. Once this was remedied, we started to prep for our IVF cycle.
My egg retrieval was in August 2018 and we managed to freeze 11 healthy embryos. In September 2018, we transferred 1 embryo, and just like that, I was pregnant! I had a healthy pregnancy and in June 2019, I gave birth to a beautiful baby girl who is more extraordinary than we could have ever hoped.
In January of 2021 we went back for another FET. After our first cycle ended in a chemical pregnancy, we were successful again and our second baby girl is due just before Christmas this year.
The care we received at CNY Buffalo and CNY Syracuse was unlike anything we had experienced anywhere else. The staff became like family and Kris, Bobbi & the nurses from the Buffalo office will always hold such a special place in our hearts.
It still feels surreal that after years of struggling and heartbreak, we're finally parents to two babies! And it makes me sad that we wasted so many years at a clinic that felt we were a lost cause unless we fit THEIR criteria. Most heartbreaking of all is that our precious baby girls may never have existed had we not stumbled upon Dr. Kiltz and CNY Fertility. Wer'e grateful for Dr Kiltz and his willingness to treat patients as they are, no strict guidelines to falsely bolster "statistics," no turning people away if they're not an "ideal" case. You guys are changing lives!
Favorite Team Member at CNY:
Kris & Bobbi from Buffalo
Helpful resources Rene & Andrew found:
Online support groups
Unique Moments:
Highs:
Switching clinics. Realizing our infertility struggles were not my fault. Having success after years of failed cycles.
Lows:
Everything before we switched clinics. Haha
Hope, Inspiration and Advice:
1. No matter what, infertility IS NOT YOUR FAULT.
2. You do not need to do anything to "deserve" a chance to get pregnant
3. Everyone says this, I'm sure... But no matter how long it takes, no matter how it happens, if you're determined to be a parent you WILL become one. And that unique journey will be so worth it.