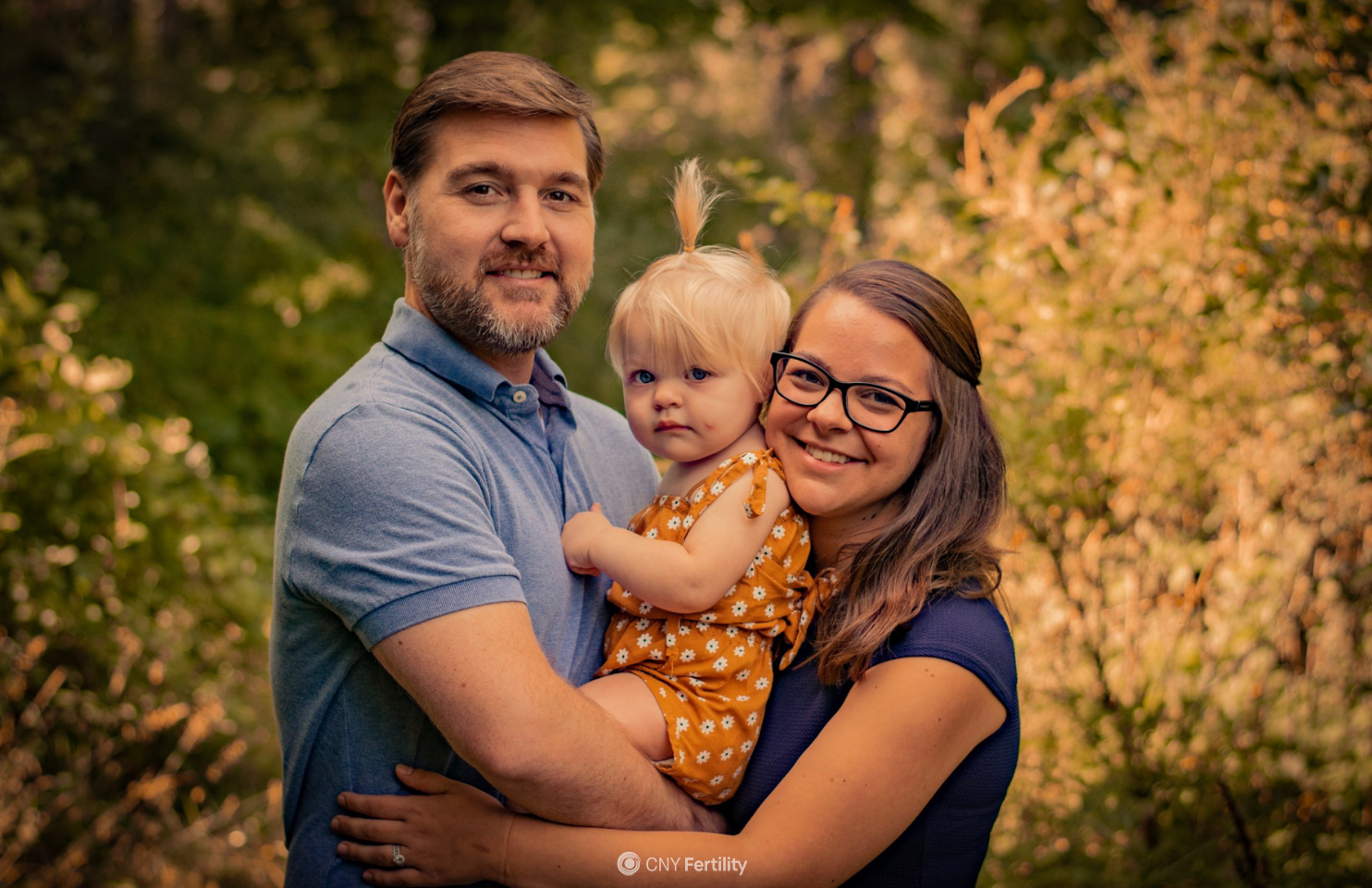 Lauren& Todd
Infertility Diagnosis
Treatment(s)

Embryo Freezing
Frozen embryo transfer (FET)
Genetic Testing
In vitro Fertilization (IVF)
Location(s)
Physician(s)

Robert Kiltz, MD
David Corley, MD
Lauren& Todd's Story:
Todd and I met in 2015 and had our first pregnancy in 2016. Shortly after I found out I was pregnant, we lost the pregnancy. It sparked a flame in us and made us realize we wanted to start a family together- sooner rather than later! In the spring of 2017 we got married and a few weeks later discovered I was pregnant, again. We were naive and thought- wow this is easier than we thought... until we miscarried again. We found out at our 10 week ultrasound that the baby had stopped growing about a week earlier. I had no warning signs or symptoms and was caught so off guard by our second loss.
We decided to pursue a D&C since it had been over a week and we really wanted to have the embryo and tissue tested. Shortly after loss #2 we got the testing results back and discovered our little girl had triploidy (69 chromosomes instead of the normal 46) which causes usually leads to pregnancy loss or stillbirth. During this time we started having tests ran and discovered I have Poly cystic ovarian syndrome (PCOS) causing hormone imbalances, longer cycles and sometimes annovulation (body doesn't ovulate every cycle). I started taking supplements, taking my basal temperature daily and using ovulation test strips to help us conceive again.
In March 2018 we were so excited to find out I was pregnant again after 8 months of trying. Again- we lost the pregnancy and were shattered. The loss occurred at home this time so I collected as much as I could to bring to my doctors office in hopes we could test again this time for more answers. We were shocked to find out our third loss was also due to Triploidy. It was then that we decided to consult with a RE and establish a plan because we couldn't take the heartache anymore. Our local RE suggested ivf with pgs to have our embryos genetics tested to ensure normal chromosomes before attempting to get pregnant for the fourth time.
Their prices were outrageous and this is when we found cny. Our consult was 6/18/18, retrieval August 2018, transfer 1 was in September 2018 (failed) and second transfer in October 2018 brought us our smart and beautiful 15 month old rainbow baby Eleanor :) she was born on 6/18/18 EXACTLY 1 year from our initial consultation w Dr Corley!
Favorite Team Member at CNY:
Dr Corley spend so much time with us during our initial consultation and came into the room with notes he had taken from reviewing my file which impressed us. He called me personally on my cellphone after the consult twice to talk about a medication and to ask if we had gotten a tour of embryology lab and spa.
Helpful resources Lauren& Todd found:
A local CNY friend of mine and I created a CNY Michigan Facebook support group (which now has over 500 members!!) to help create a safe space for local women traveling to CNY for fertility treatments. We have had an in person potluck and hope to plan more events in the future. This group has been great for sharing local monitoring sites and other resources. I am now a mentor for CNY and want to be a resource and support to as many women as I can as they go through this emotional process.
Unique Moments:
I love the fact that our daughter eleanor was born exactly 1 year to the day of our initial cny consultation.
Hope, Inspiration and Advice:
Seek support! Talk to a therapist, join a local support group- do what you can to stay connected to others during this process because it can be so heartbreaking and isolating at times. You are not alone and you don't have to go through this alone!! Lean on your spouse, friends and family or whoever you are comfortable sharing with.