What's a Rainbow Baby?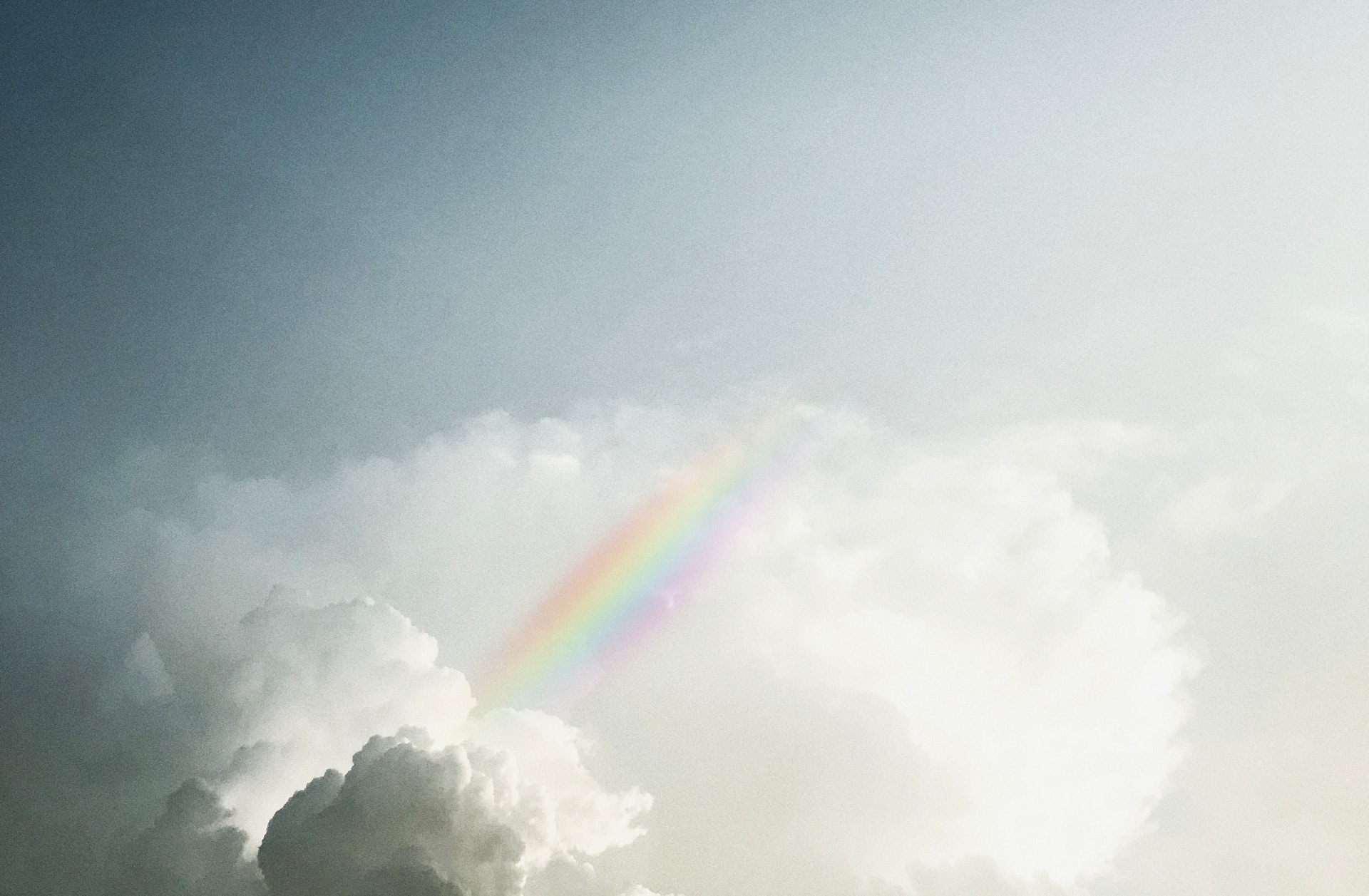 You may have read the term "rainbow baby" or seen it on a t-shirt, birth announcement, or social media post. If its meaning left you scratching your head, look no further.
A rainbow baby is a baby who is born to parents shortly after they've experienced a miscarriage, stillbirth, neonatal or infant death of a previous child. For example, a mother has a miscarriage at 15-weeks, gets pregnant again, and delivers a healthy full-term baby. This is a rainbow baby.
The Symbolism of the Rainbow
For those who have endured the pain and loss of losing an infant before or after birth, a rainbow baby is the answer to their prayers. Like the brilliant and colorful rainbow that lights up the sky following a violent and dark thunderstorm, a rainbow baby is an incredible gift that comes after enduring devastating loss. Rainbows are a symbol of hope. Found throughout the bible, a rainbow is what God offered to Noah after the flood as a promise of rebirth.
Emotions of Having a Rainbow Baby
For some parents, a rainbow baby is nothing short of a miracle. There are parents who only get their miracle baby after years of fertility treatment and more than one heartbreaking loss along the way.
Parenting rainbow babies can feel a little different too. There can be a swing of complicated emotions from feeling tremendous gratitude to extreme fear that the new baby might die as well. Parents can also have feelings of guilt and concern about forgetting the child they lost amidst their new feelings of joy about having another child. Anxiety is quite normal and understandable in anyone pregnant with a rainbow baby. Be sure to reach out to your partner, friends, family, or a support group or mental health professional if you need assistance managing your anxiety.
Parents of rainbow babies often look to find ways to honor the memory of the child they lost by doing things like planting a memorial garden and talking to their rainbow baby about their sibling who passed away. There's no right or wrong way to honor his or her memory and doing so as a family can help be both comforting and healing.
What if You're Still Struggling with Pregnancy or Infant Loss and Haven't Had Your Rainbow?
Truly our heart goes out to you and your family. The grief that comes with pregnancy loss is very real, deep, and enveloping. Those who experience pregnancy and infant loss should have access to comprehensive care, in order to heal physically, spiritually, emotionally, as well as have their Rainbow Baby.
There can be so many reasons that one suffers a loss from genetic disorders that effected the growing fetus, the immune system recognizing the embryo/fetus as "foreign" and subsequently attacking it, to a host of other known and unknown causes. Fortunately, there is lots you can do to help prevent pregnancy loss through the use of IVF with genetic testing along with reproductive immunology which uses immunological medications to modulate the immune system.
Our care at CNY Fertility doesn't stop there. We offer emotional support from wherever you are through our online support groups and one on one sessions with our infertility support guru.
If you're looking for help and need to speak with a fertility specialist to discuss your pregnancy loss and what fertility treatments might help you we are here for you. If you need a shoulder to cry on and an ear to listen, we are here for you.