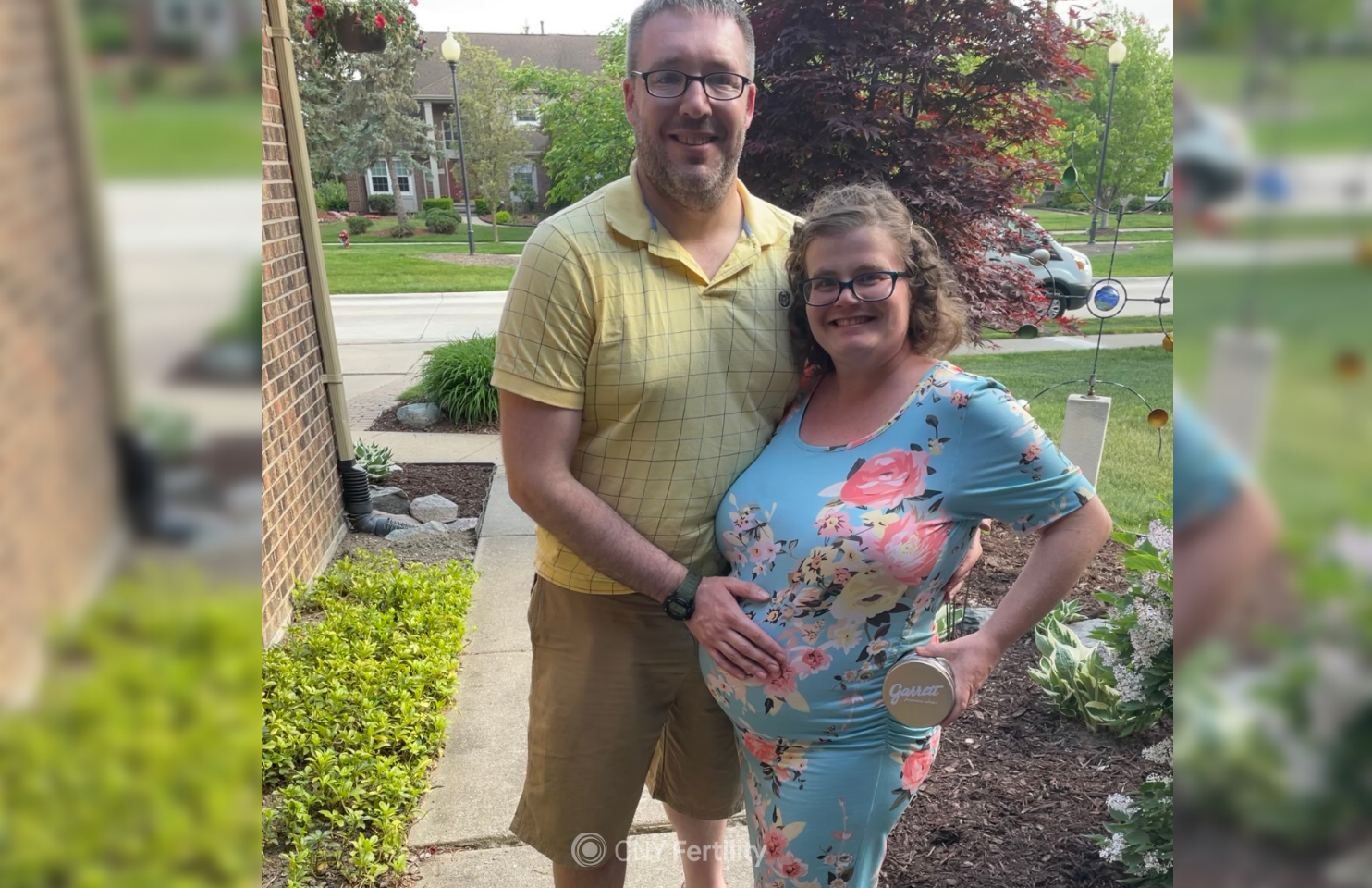 Mallory & Daniel
Infertility Diagnosis

Polycystic ovary syndrome (PCOS)
Treatment(s)

Frozen embryo transfer (FET)
Hysteroscopy
In vitro Fertilization (IVF)
Mini IVF
Sperm Freezing
Location(s)

Syracuse
Buffalo
Travel Client
Physician(s)

Faez Faruqi, MD
Ashleigh Rausch, PA
Mallory & Daniel's Story:
For twelve years my husband tried for a baby. I knew I had PCOS since I was a teenager, and while I knew it may be hard to get pregnant I never imagined that it would be years of trying. My biological clock had been ticking loudly the last few years. A friend used CNY and told me about them, and for the first time, fertility treatments seemed possible.
We started all my preconception bloodwork with my OB on May 27th, 2020. We set up our consultation for June 5th, 2020. This happened to be our 16th dating anniversary, so we took it as a sign. After our conversation with Margaret, we decided to do mini IVF. In June, I took Provera to start my period and once it came I was set up locally to do my SHG and HSG.
My tubes were clear but a polyp was found in my uterus. At the end of the July I had a hysteroscopy and D&C at my OB. In between my procedures, we made the day trip to Buffalo to freeze my husband's sperm just in case he would not be available at the retrieval (he is in the Army National Guard and had been called up for Covid support duties). Once I started my next period in August after another round of Provera, it was time to start stims! I ended up having my egg retrieval at the Syracuse office on August 29, 2020. While I had over 30 follicles, Dr Luthringer was only able to retrieve 15 eggs. Of those 15, only 6 were mature enough to be injected. Three fertilized and we ended up with three, day 3 embryos: a 3M, 2M and 1/4.
Because of my higher risk for OHSS, we decided to do a frozen transfer in September. After my period started, I started all the transfer meds and the transfer was set for September 25, 2020. Dr Faruqi is the one who did our transfer. I decided to take boosters but still tested at home every day. I had hope that my 3M would hove us our baby, but unfortunately, the transfer failed. To say we were devastated is an understatement. Because I was turning 35 in November, we decided to prime for 90 days with Omnitrope and do a second retrieval in January to bank more embryos. I had been using the Flo app to track my cycles, and on November 9th the app indicated that I should take a test.
I honestly wasn't expecting anything, but I took it just for giggles. To my shock the test was positive. I took probably a dozen more tests that day and all were positive. I called CNY and they set me up for beta the following day. My first one was 48! I WAS pregnant. I surprised my husband with the news the following day on Veteran's Day. I had a repeat beta the next day…129! CNY had me go in for my first ultrasound on Black Friday. I was absolutely terrified. I felt like this was too good to be true. To my joy, we saw a gestational sac and a yolk sac. The following Friday I had my second ultrasound and saw the best site in the world…a tiny flickering heartbeat. CNY sent me for one more ultrasound and then I was officially released to my OB.
I gave birth to my son on July 22, 2021. While in the end, I ended up pregnant naturally, I think it was a combination of all the meds I was on, the different procedures I had to look at my uterus, and ultimately the Omnitrope that help d me get pregnant. CNY was there every step of the way, and I will forever be grateful for them and their assistance in getting me my miracle. I still have two embryos frozen that we will be transferring next year in the hopes of giving my son a sibling.
Favorite Team Member at CNY:
Dr Kiltz- I didn't meet him in person but watched his lives religiously
Dr Faruqi- he was so sweet for our transfer and was absolutely hilarious
Nurse Ashleigh- she calmed all my fears on transfer day
Helpful resources Mallory & Daniel found:
The CNY Support group on Facebook was my go to for all IVF questions. Plus watching all of Dr Kiltz's lives on Facebook
Unique Moments:
The unique thing about my journey was that while I had a retrieval and transfer, ultimately my pregnancy was natural
Hope, Inspiration and Advice:
Despite the heartache that years of infertility can cause, in the end holding your baby erases all the pain. Every single shot, every pill, every blood draw…all worth it. And to have another baby I would (and will) gladly do it all again. Never give up hope.