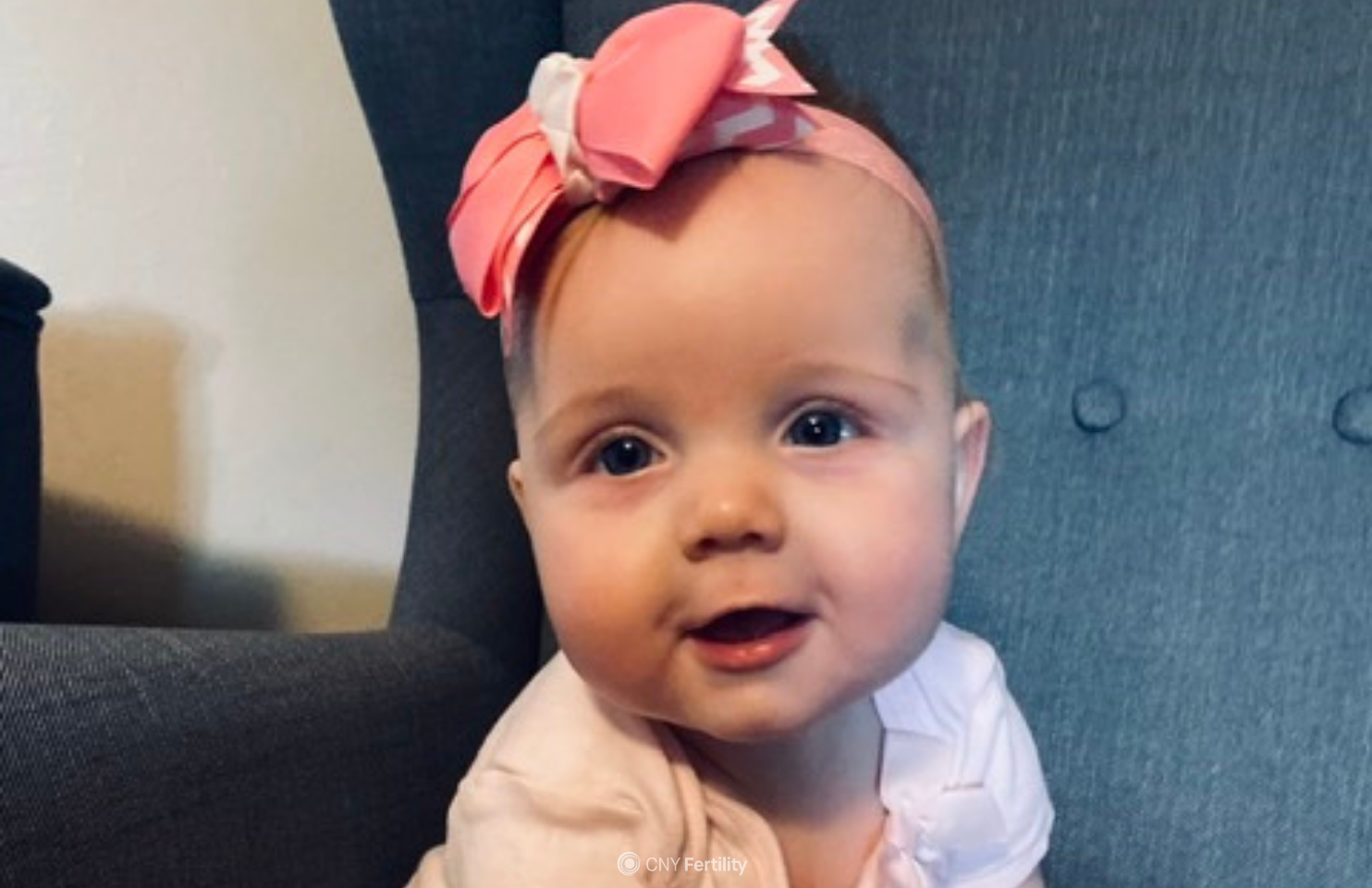 Kristen & Ronnie
Infertility Diagnosis

Polycystic ovary syndrome (PCOS)
Treatment(s)

Embryo Freezing
Frozen embryo transfer (FET)
In vitro Fertilization (IVF)
Sperm Freezing
Location(s)
Physician(s)
Kristen & Ronnie's Story:
Ronnie and I married in 2012 and had always talked about having a baby together. He had a vasectomy in his previous marriage and because of the length of time that had passed the success rates of a reversal were low. I had always thought I had pcos- hair growth, weight gain, etc. we made an appointment with a local facility and it was confirmed by ultrasound that I did have PCOS.
With the price of ivf I thought it was all just a dream.. that is until I stumbled across CNY in 2016. The rates seemed unreal, the thought that we could have a baby together of our own seemed possible..
I had followed dr Kiltz and CNY. I attended all of the Fireside chats and joined some amazing Facebook groups of other women going through treatments with CNY.
In June of 2018 we made The trip to Syracuse and Ronnie underwent PESA. In November of 2018 we made another trip to Syracuse and I had my egg retrieval and a fresh transfer. With so much hope and happiness. Our first attempt didn't take. I was pretty upset but powered through. After the holidays I really buckled down- I started keto. And WOW... my body started ovulating on its own... my skin cleared, my mood improved, I lost some extra weight. We had decided after saving some more money for medication that we'd go back for a frozen transfer.
Ronnie had started a new job so I made the drive to Syracuse myself and went through the frozen transfer (I also did the acupuncture). It was great! I knew this was it.. i felt it!
I couldn't wait for the blood test... I had to take an at home one... there it was: a faint positive. I cried.. so much happiness. My pregnancy was great, but anytime I was unsure or scared something wasn't going right CNY staff was there to answer any of my questions and ease my mind.
Fast forward to January.. and I was in the hospital delivering our beautiful baby girl. ❤️ She's almost 8 months now... and I can't believe my dream came true most days. She's amazing, and I feel so honored and blessed to be her mommy.
Never give up, keep pushing forward, and keep dreaming. We've met some amazing couples along our journey, some strong women. Thank you CNY for making my dream come true. She's more than I could have ever dreamt up.
Favorite Team Member at CNY:
All of the staff were so accommodating and helpful. Such pleasant and happy experiencing which were made because the staff treated us like friends and not patients.
Helpful resources Kristen & Ronnie found:
Keto and positive affirmations.
The Facebook groups are independent but also very helpful, just don't compare yourself to other women because we're all different and everyone goes through things differently.
Unique Moments:
Highs I would say would be my ultrasound dates- It was amazing to see how our baby was growing so fast.
Lows- when I'd let myself worry.
Hope, Inspiration and Advice:
Stay positive. The worry doesn't get you anywhere. Utilize your resources and speak to the staff- they're so knowledgeable and they've seen so much.