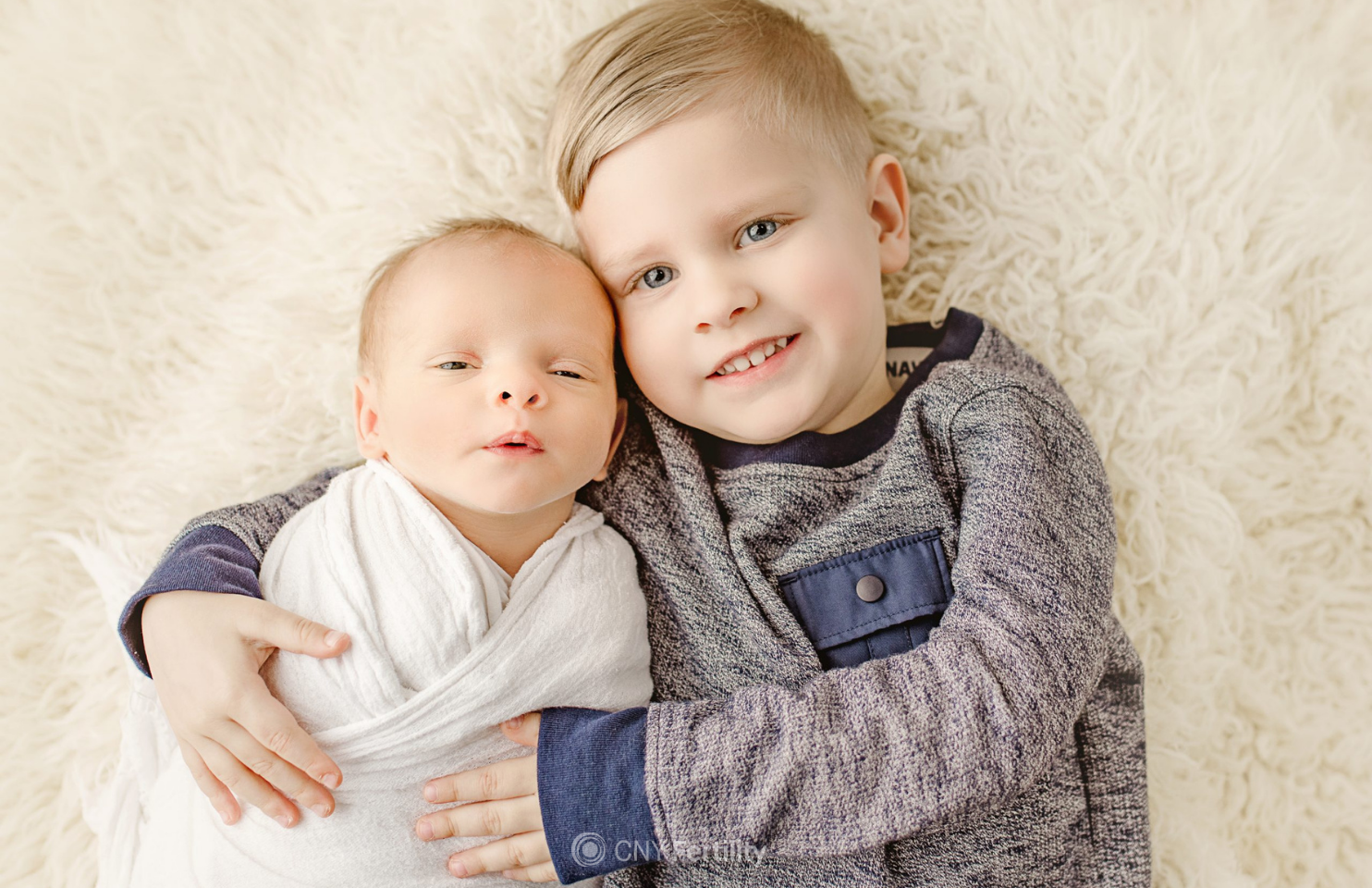 Cassie & Ben
Infertility Diagnosis

Ectopic pregnancy
Polycystic ovary syndrome (PCOS)
Treatment(s)

Embryo Freezing
Frozen embryo transfer (FET)
Hysteroscopy
In vitro Fertilization (IVF)
Laparoscopy
Location(s)
Physician(s)

Robert Kiltz, MD
David Corley, MD
Cassie & Ben's Story:
We began trying for a family in 2017. By October, we decided to see my regular OB/GYN & I was diagnosed with a hypothyroid and PCOS. We started on Metformin and began rounds of Clomid, all of which were unsuccessful. By August of 2018, we came to CNY Fertility. We did an egg retrieval and only ended up with one embryo. Due to mild OHSS, we had to freeze the embryo and wait an extra month to do a FET. In October 2018, we transferred our sole embryo and had a successful pregnancy. Our son, Jackson, was born in June of 2019.
Once Jackson turned a year old, we decided to return to CNY Fertility. We thought it would be as quick and easy as the first time around. In July 2020, we decided to start medications for another egg retrieval. We got 13 embryos! Unfortunately, I developed extreme OHSS from an unknown spontaneous pregnancy. I had to have my abdomen drained 4 separate times in the office due to the accumulation of fluid.
My ovaries were extremely enlarged, and I wasn't able to go up the stairs or stand for more than a minute or two without assistance. I wound up hospitalized twice, each time having my abdomen drained of about 2-3 additional liters of fluid. Overall, I wound up with 4 culdocentesis and 2 paracentesis procedures that drained over 15 liters of fluid from my abdomen altogether.
Finally, I started to heal from all of this, but there were issues with the pregnancy. Because of the OHSS, my HcG levels were all over the place, and in 3 weeks we went from not thinking this was a viable pregnancy, to finding a heartbeat (and jumping in the halls with Dr. Kiltz in excitement), to losing the heartbeat and miscarrying. We were heartbroken but determined to heal and continue trying to grow our family. We did two more frozen embryo transfers in October and November of 2020, both of which were unsuccessful.
We took December off from transferring to do some testing. We did an HSG to see if there were any issues or any obvious excess scarring from my emergency C-section for our son in 2019. Everything looked fine. In January 2021, we tried another frozen transfer. We finally had a positive HcG level! Unfortunately, the HcG level kept rising and falling, and we were diagnosed with an ectopic pregnancy. I ended up needing 2 methotrexate injections to stop the growth and needed to take more time off from transfers. In April 2021, Dr. Luthringer performed a laparoscopy and a hysteroscopy. Nothing significant was found. In May 2021, we tried again for a frozen transfer. We decided to transfer 2 embryos, and our HcG levels were excellent!
Our first ultrasound, we found out that both embryos had been implanted and we were expecting twins. The next week, our ultrasound showed that one of the embryos had split and that we were pregnant with TRIPLETS. Unfortunately, the embryo that split in two didn't have a very strong heartbeat. We continued to monitor all 3 babies closely, but ultimately lost our set of identical twins. The other embryo, however, had a strong heartbeat and continued to grow and thrive.
We welcomed our second son, Tyler, in February of 2022. We are SO extremely thankful for CNY Fertility and their amazing staff for not only creating our family but also for saving my life (twice). The entire staff there are beyond amazing, and we owe this all to them.
I hope this story can give hope to those out there still fighting for their babies. You've got this, fertility warriors!
Favorite Team Member at CNY:
Dr. Kiltz, Dr. Corley, Dr. Luthringer, Kayla Cook, Jennifer Anderson
Helpful resources Cassie & Ben found:
I relied a lot on family and friends
Unique Moments:
Having Dr. Kiltz work so closely with my treatment when I had OHSS was so important to me. It showed that he truly cares about his patients. Kayla taking over my care when I got sick, so that I didn't need to explain the situation to every provider I saw (I was coming in daily to every other day for a while) was so fantastic and thoughtful of her. The NP's who sat with me through my miscarriages, when I had to find out alone, was amazing. The entire staff at CNY made one of the most difficult times of my life somewhat bearable to get through.
Hope, Inspiration and Advice:
Don't give up. My health was at risk so many times through this journey, and I'd do it all again if I had to. Utilize the mentor program! I've been mentoring a couple of awesome TTC mom's, and honestly having someone to talk to who is also going through it has been beyond helpful.