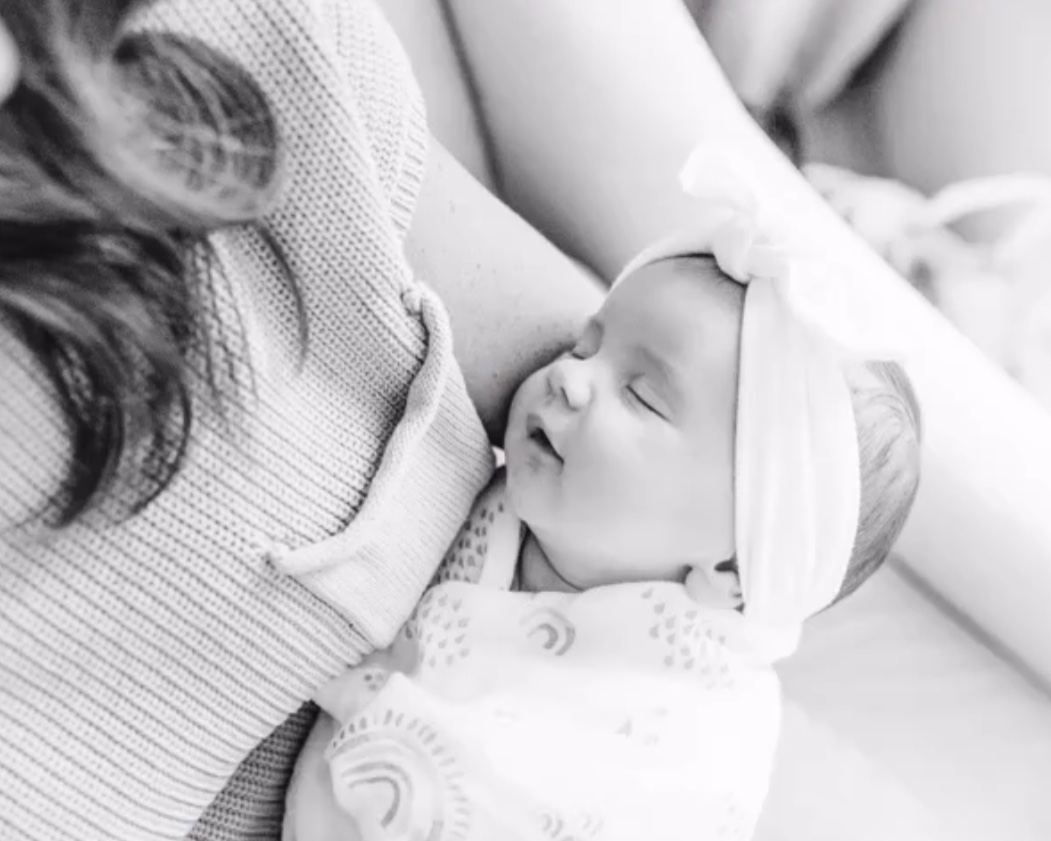 Brittany & Nick
Treatment(s)

Frozen embryo transfer (FET)
In vitro Fertilization (IVF)
Location(s)
Physician(s)

Robert Kiltz, MD
David Corley, MD
Eric Chang, DO
Ashleigh Rausch, PA
Brittany & Nick's Story:
My husband and I began trying for a family in 2020. 3.5 years later, I'm writing this while holding our miracle girl. Our story is full of ups and downs, highs and lows, hope and loss, but it has all led to this little blessing. Every struggle was meant to bring us to this moment - this girl - and we're so grateful that we never lost sight of our dream.
It began when I assumed I would have no difficulty getting pregnant, only to find out I wasn't getting menstrual cycles on my own after years of overtraining for marathons. After a year of trying with no success, we reached out to local fertility clinics.
CNY was my first consultation, and I immediately canceled all other appointments as I felt confident I had found my place and my people (Ashleigh and Marlee!).
We began with the regular testing, which showed I had a possible uterine septum and a thin lining. We also quickly learned that my husband and I were CF carriers, which ruled out IUI. I was familiar with IVF after watching my best friend go through it. So I felt confident we could take that on and have a baby in no time.
What I didn't realize is that IVF is not a one-time guarantee. After a successful egg retrieval in June 2021, I was ready to transfer and get pregnant. Our first attempt at a Frozen Embryo Transfer in July 2021 was canceled because of my thin lining. Our next attempt, September 2021, failed. I then got COVID during our November 2021 attempt and had to cancel. Then came our FET in December 2021, which resulted in a heartbreaking ectopic pregnancy. After months of waiting for my HCG to drop, we decided to do surgery on my uterine septum and to flush everything out.
Our next FET, July 2022, resulted in a chemical pregnancy. Our 4th FET in September 2022 failed, and we decided to do exploratory surgery to see if there was any explanation for why we had been having such bad luck. Fortunately, the surgery found no issues. Unfortunately, we had no reason for why we were struggling to get pregnant. Then came our 5th FET in November 2022, which also failed. I received the news of my negative pregnancy test on my birthday. It was crushing, but we were determined to continue on in hope that "our number" would be called soon.
Finally, our 6th FET on December 22, 2022 - my parents' 50th anniversary - was successful! On Christmas morning, an eagle flew over my car, and I knew at that moment it was my baby implanting. Long story short- we have known for years our daughter would be named Adler, which means eagle in German, as a tribute to my grandfather, who restored the bald eagle population to the lower 48. That eagle was a sign to us - and a week later, our HCG numbers confirmed it. We were pregnant with our daughter!
I can still remember Ashleigh showing me my daughter's heart fluttering after I had a scare at 5.5 weeks with a subchronic hematoma. I remember crying and hugging everyone the day I graduated from CNY. And the best memory is when I got to send a picture of my miracle girl to Ashleigh and Marlee- thanking them for being my support and getting us our girl.
It was a long, treacherous road to get here, but I would (and will!) do it all again for this moment. Thank you, CNY, for making our dream a reality.
(Photos by Kailey Jackson)
Favorite Team Member at CNY:
Ashleigh Rausch, Marlee LiButti, Dr. Corley, Dr. Chang
Helpful resources Brittany & Nick found:
Journaling
Acupuncture
Therapy
The Moment:
When I saw the positive test, something in my gut told me, "this one's going to stay, I know it."
I said those words out loud to my husband and I'm so happy I was right. Holding her nine months later felt surreal. My whole world changed in an instant. The journey to get here has made me appreciate every middle of the night wake up, every dirty diaper, every sense of feeling exhausted, overwhelmed, etc. She is so wanted that I've learned to celebrate every moment.
Hope, Inspiration and Advice:
My advice is to plan for a long road, but be open to miracles. I assumed it would take one transfer, not 6, and that was hard to come to terms with at first. Once I opened my mind to the idea that it could take a while, I felt less pressure and more open to the idea that our number would be called soon.