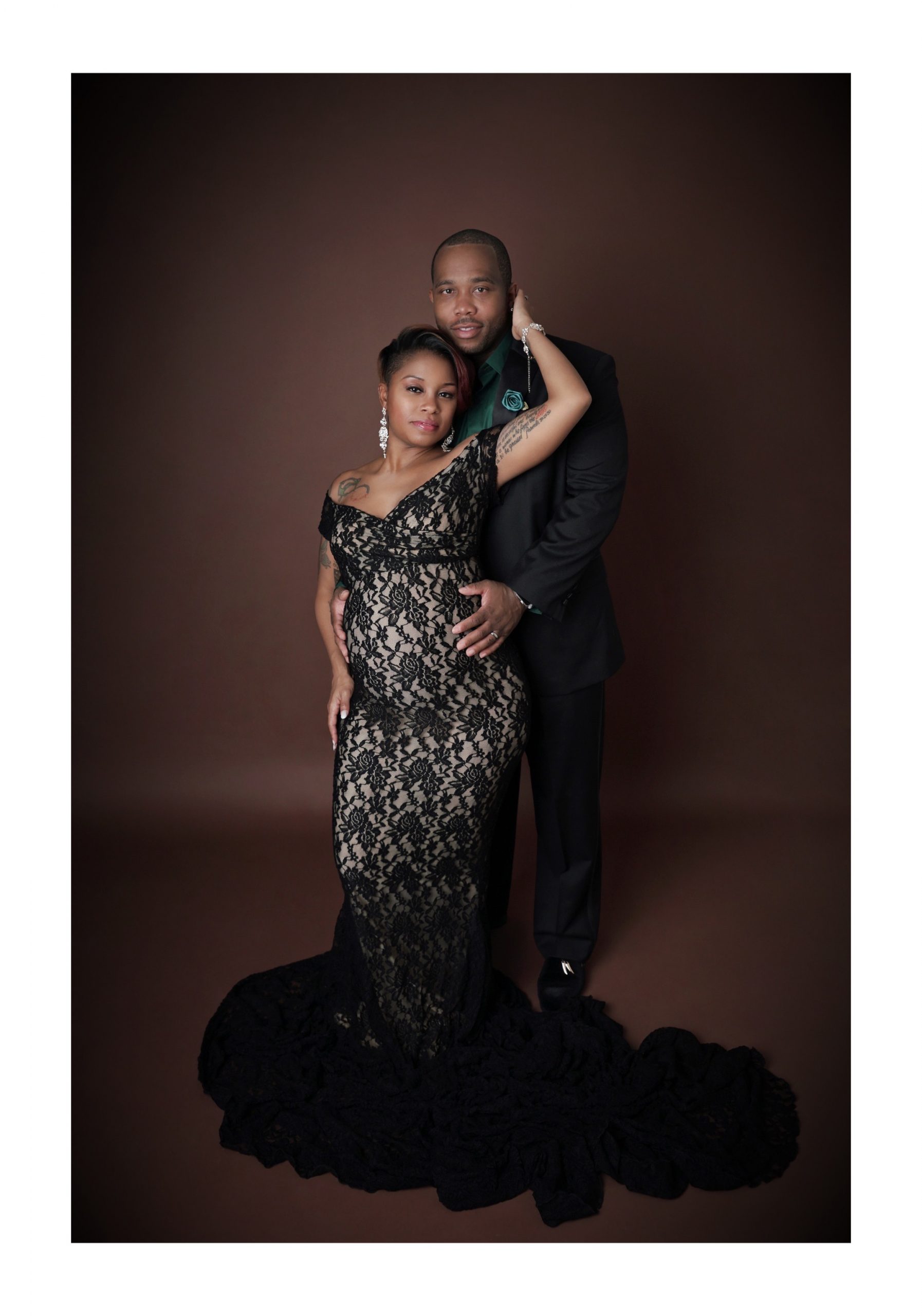 Stephenie & Terrin
Infertility Diagnosis

Fibroids
Polycystic ovary syndrome (PCOS)
Treatment(s)

Frozen embryo transfer (FET)
In vitro Fertilization (IVF)
Location(s)

Syracuse
Albany
Rochester
Travel Client
Physician(s)

Michael Grossman
Robert Kiltz
Stephenie & Terrin's Story:
Our fertility journey has a lot of moving parts before we found out about the blessing that is CNY. Terrin and I married in 2009 at the tender ages of 26 and 27. We knew we didn't want to have kids immediately but it was apart of the plan. We enjoyed marriage and our new life together in Atlanta for roughly 2 years before we decided to start trying.
So in early 2011 we began trying to conceive. We would have never guessed that having a kid would be so difficult. Women conceive everyday, no big deal, right? Well here it is the end of 2011 and still no baby, so I made a doctor appointment with my OBGYN. She immediately said lets test your hubby first and go from there. Terrin was tested and everything came back perfect, so it had to me causing the issues, smh. My doctor wanted me to try clomid and if we didn't conceive after 3 cycles she would refer us to a fertility specialist.
Clomid didn't work, so now it's 2012 we still don't have a baby and we are sent to a fertility specialist in Atlanta. I want to remain positive, so all I will say about my experience at this fertility center is I didn't feel like my care was top of the priority list as much as how much money they could get from us. Needless to say this experience left me discouraged about our chances of becoming parents. After dealing with infertility for 3 years I was tired and told my husband I was done. A baby just wasn't in the cards for us.
Fast forward to the summer of 2017. A chance conversation with my sister-in-law leads me to researching CNY. She was telling me about her and my brothers fertility struggles. So, I opened up about me and Terrin's struggles. My sister-in-law told me I needed to open my options and look at coming home for treatment (Terrin and I are both from Rochester,NY). At the time I said that's impossible my life is in Atlanta. But she assured me that CNY had options for me. I told my husband about the conversation and he thought it was a good idea, so I made the call.
The last week of 2017 we had an office consultation at the Rochester location. I was nervous and excited at the same time. But after talking to the doctor and having a preliminary ultrasound THAT DAY, I knew CNY was the right place. On my first ultrasound I was diagnosed with fibroids. The doctor suggested that The forbids could be the issue, but wanted to see my tubes too. He ordered a HSG test been done the next month (Jan 2018) to make sure my tubes were ok. The HSG results showed my tubes were good. So it had to be the fibroids. In May of 2018 I had a myomectomy to remove 4 fibroids.
After allowing ample time to heal, we decided to go full speed ahead with our fertility journey. We had a phone consultation with Dr. Kiltz in Aug of 2018. He believed that at the time the best medical plan for us would be an IUI and we agreed. However my body had other plans. In October we started the meds for our IUI, but by the time I had my first baseline ultrasound I had already produced 8 nice size follicles that would definitely grow bigger by trigger day. So we made the decision to convert to IVF. On retrieval day I produced 19 eggs, however only 1 made it to at least day 3. I was bummed but my husband remained positive and said all we need is one babes, lol. From my research FET had a better success rate than fresh, so we decided to wait until the next month to transfer our one precious embryo.
November 2018, two weeks before thanksgiving we flew to Rochester to complete this cycle. I'm nervous, excited and anxious. Finally transfer day comes we drive to Syracuse for our procedure. Then came the TWW. The good thing is I already had a girls trip planned for the end of November so it helped take the stress off and the urge of wanting to test. I did my HCG test in the Rochester office right after my girls trip. I didn't feel any different but I wanted to remain positive. After a few hours I got the dreadful call, the test was negative. I was crushed, mad and frustrated that this didn't work. I even asked God why was this happening to us. I just knew I didn't have anymore fight in me to continue on this journey.
I told my hubby I was done and didn't even want to discuss it. He didn't push back he just agreed and told me we'll do whatever I wanted. I kept myself occupied with work for the remainder of the year. I returned back home in time for the New Year. We celebrated the New Year and my birthday and that's when everything changed for me. I knew I had to strap up my boots and get back on the fertility horse. I was not going to let this "thing" defeat me.
My hubby and I discussed it and made the decision that we'd start again in March of 2019. The beginning of March I discovered that CNY Atlanta had officially opened. I just knew this was a sign. No more having to be away from home while going through the process would be a big stress reliever. I eagerly called CNY to have my meds ordered for CYCLE 2.
Here it is March 27, 2019 I'm on a flight to Rochester for a family event and aunt flow decides to show up. I'm freaking out because she's early and I have no meds. I call my husband in a panic and he says no worries I'll be there in the morning with your meds. I calm down and immediately call CNY. They schedule me to come in first thing the next morning for my baseline checkup. Everything looks good. The reminder of my appointments will be in the Atlanta office.
In April of 2019, we did our retrieval in the Albany office. I was filled with emotions before and after the procedure. 22 eggs were retrieved 8 made it to day 5 blast! We now had 8 embryos waiting for use. 8 possibilities. We decided to do FET again, so in May do 2019 we traveled back to Albany for our transfer.
I woke up the morning of May 9th, 2019 feeling positive and optimistic about the transfer. We opted to transfer two embryos. We figured it would increase our chances. We could have 1 baby or 2, either way we would be happy.
I had a work trip that would take up much of my time during the TWW. At times I felt different at others I felt normal. But it was the flight back home that got me freaking out, I started to bleed. The bleeding wasn't spotting it was like a light period. I immediately paid for WiFi and texted my husband. He tried to calm me down but I just knew bleeding couldn't be good. I still had roughly 4 more days left in my TWW but I knew I would have a nervous breakdown before then. By the end of the night the bleeding had stopped. I had plans to celebrate a friends promotion so I focused on that and waited for Monday May 18th.
At the time Atlanta didn't receive same days results so I had to wait a whole 24 hours to hear back. I figured I would hear something by 9 the next morning. Well 9 passed no call, 10 passed no call, 11 came and my husband calls and ask have I heard anything. I told him I'd call around 1130. About 1120ish my phone rings a familiar number. I'm nervous to answer what if it's the same call like last time but what if its not....I answer the phone. The pleasant voice on the other end ask to speak to me, Stephenie Usher. I respond, this is her. She says your HCG test came back and the results are 2000 something something...I said excuse me, she repeats herself. I say so I'm pregnant
?!? She says yes congratulations!!!!!! I'm ready to pee myself, because with those numbers both embryos had to to take, right. I FaceTime my hubby and have the biggest ugly cry of joy EVER!
We have our first ultrasound around the end of May, it confirms two sacks with embryos are there, however at 5 weeks baby A stopped growing and eventually went away. I was hurt by that because for 5 weeks I lived with my 2 bundles of joy, but I also knew that things like this happen and even though we don't have two anymore we still have our 1, which is still a blessing.
I sit here writing this now 36 weeks pregnant counting the days until our scheduled c-section thinking about when I dreamed of having this moment and I still cant believe its real. Just a year ago I was ready to give up but something inside me wouldn't let me. Going through this process is an emotional roller coaster, but we(women)are strong and built for this. We create humans! We can do anything!
Thank CNY for making me feel like you cared about me. Thank you for making something that seems financially impossible, possible. The work you do and the miracles you have helped so many of us receive is nothing short of AMAZING. You guys and gals rock!
Favorite Team Member at CNY:
I'm horrible with names, but what sticks out most to me about the staff at CNY is the feeling of hope they give you from your first encounter until your last. Everyone at all 4 of the locations I have used were so helpful, comforting and informative. It truly shows that the staff at CNY enjoy what they do.
Helpful resources Stephenie & Terrin found:
What help me during my journey is speaking my truth. In the black community people don't discuss infertility. So I decided to be an open book about my journey so others who look like me who may be going through the same struggles knew that they weren't alone.
Unique Moments:
The lows for me were seeing everyone else around me announcing their pregnancy for the 2/3 time and I was still trying to get one. The highs for me was speaking my truth and being ok with my journey.
Hope, Inspiration and Advice:
To all the women still on their journey, just know that God has a plan. Things will happen in the perfect time. You have to remain strong and keep fighting.