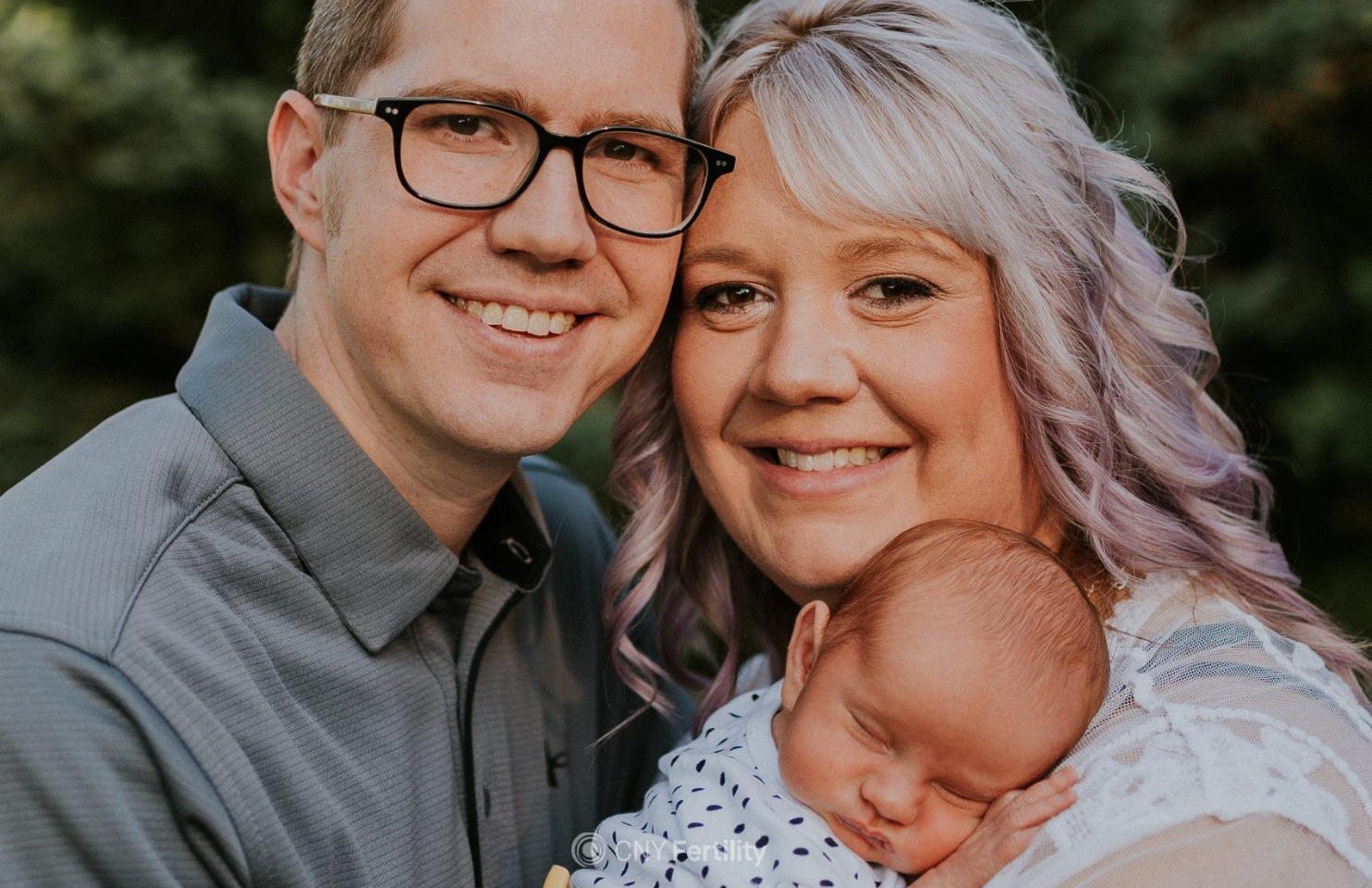 Stephanie & Alan
Infertility Diagnosis

Polycystic ovary syndrome (PCOS)
Treatment(s)

Frozen embryo transfer (FET)
In vitro Fertilization (IVF)
Location(s)
Physician(s)

Edward Ditkoff, MD
Michael Grossman, MD
Stephanie & Alan's Story:
My husband and I have been together 16 years and will be married for 8 years this coming October. We began trying to conceive November 2017. When we started trying to get pregnant we never thought we would have difficulties conceiving. In December 2018 after about a year of trying to conceive and no success, not even one single positive pregnancy test we decided to set up a meeting with a local RE. We discovered that I more than likely had PCOS and was not ovulating on my own and this is why we were having trouble getting pregnant.
We discussed treatment options she suggested IUI would be a good place to start but, in order for her to treat me I needed to lose 5-7% of my body weight. I was pretty upset as I felt like I was being told I wasn't worthy of having a baby. But, I took the advice, and over the course of the next few months, I lost 25 lbs (which was 10% of my weight).
In April 2019 I called the RE to let them know I did what the doctor ordered and was ready to begin treatments. I was absolutely crushed when the nurse got back to me and basically said it wasn't good enough, that the RE would need me to go see a high-risk doctor have numerous tests done: stress test, ekg, heart exam amount others (most would not be covered by insurance as it would be exploratory) and I would need to be cleared by this doctor that it was "ok for me to be pregnant" she then proceeded to tell me that even if I was cleared the RE may still decide not to treat me all of this based on my weight regardless that other than being overweight I was healthy.
It was then that I realized this doctor didn't care about helping couples have a family, she was more concerned about keeping her high success rate and picked and chose her patients. We felt like we had no hope/nowhere to go!
We decided to do some research and found another local doctor that we met with in May of 2019, she was very disappointed in how we were treated at one of the big wig doctors and said that we would be able to start treatments with her in June! We were thrilled and came up with a treatment plan for Femara and timed intercourse. We attempted 3 rounds of this with no success. We decided to take a month off and then in October we introduced Follistim injections with the Femara and did our first IUI.
Then January 2020 after our 4th IUI we found out we were pregnant! We couldn't believe it, we got our first positive. Sadly, at 10 weeks I miscarried, and we were absolutely devastated! We thought that was our miracle baby but, we were wrong. And if that wasn't hard enough covid hit the nation and all fertility treatments were placed on hold. So not only had we lost our baby we were once again told we had to wait even longer! During those few months, we took some time to figure out our game plan. Our local doctor was the one who told us about CNY and that she has sent many patients to them in the past and had so many nice things to say about them.
We had a consult with CNY and decided that if treatments resumed in June/July we would try one or 2 more rounds of IUI and if those were unsuccessful we would move onto IVF. In June we were able to resume treatments but, sadly both rounds failed which meant we were officially moving onto IVF.
August 2020 we began our first round of IVF with CNY and by STIM day 8 we realized I just wasn't responding to the lower dosage of meds and made the difficult decision to cancel our cycle for that month and start over the next cycle at a higher dose. In August we began round 2 and things went so much better. We had our first egg retrieval with Dr. Ditkoff at the Albany location on 9/2, we were blown away at our experience with CNY. The "clinic" was so calming, nothing like a regular doctor's office, we felt like we were at a spa and the staff was amazing! We ended up with 7 frozen embryos, we were so happy!
In September 2020 we went back to CNY Albany and Dr. Ditkoff performed our first FET and 2 weeks later we found out we were pregnant!!! May 2021, I gave birth to our rainbow baby, Reid James! We are absolutely in love!
Without places like CNY that believe everyone has the right to the family, they have always dreamed of we would not be where we are today! We will forever be grateful to them!
Favorite Team Member at CNY:
Bree (nurse during retrieval)
Helpful resources Stephanie & Alan found:
I decided to become open about our infertility journey and created a instagram page to document our IVF journey (@makingbabyaanerud) and through this page I was able to connect with some amazing women who were also going through the same things I was. This made me feel like I wasn't alone, that my feelings are valid and allowed me a community that I can be honest and reach out to others that were in the same situation as me.
Unique Moments:
Anyone that has dealt with infertility will tell you that it leaves a permanent mark on your self-esteem and mental health, you are so used to your body "betraying you" over and over again and it not being able to do what it is supposed to do. These feelings do not just go away when you get a positive pregnancy test. After experiencing our loss in 2020 and then becoming pregnant again after our FET my mental health really took a turn. I was in constant fear the entire pregnancy that something was going to go wrong, my anxiety was through the roof, before every appointment/scan I would literally start shaking I was so scared they would find something wrong or once again I had lost the baby. Despite appointment after appointment of reassurances that everything was OK, I was still petrified. These fears and anxieties really hindered me from "enjoying being pregnant" I felt like once again infertility has stolen yet another thing from me. I know this may be cliche but, when the doctor held up our baby and my husband announced to me that it was a boy and I heard his cries I felt for the first time in the last 3 years of TTC I could finally relax and believe it finally happened for us! This was the hardest thing for me to come to terms with/deal with during our journey.
Hope, Inspiration and Advice:
When we began our journey of TTC I felt so much shame, I felt like I needed to hide the fact that we were struggling that it was my fault. I didn't talk about it with those closest to me, the only one that knew what we were going through was my husband. Once, I finally started opening up to people about our struggles and journey I felt this weight being lifted off my shoulders. I started to realized that I am not the only one who has experienced this, and that maybe if more women/couples talked about it more than someone who is going through it wouldn't feel so alone. Since opening up about our journey I can not tell you how many close friends have reached out to me to ask me for advice/to talk to as they were going through something similar and also felt so alone. My advice to someone going through infertility/ TTC is to find a great support group, even if that means opening up to just one other person. Also, to give yourself some slack, this was really hard for me to do I am very hard on myself, I blamed myself for having to go through all this. Infertility SUCKS it is by far the hardest thing I have ever gone through but, I have found that while infertility is the absolute worst club to be in, it truly has some of the best members!