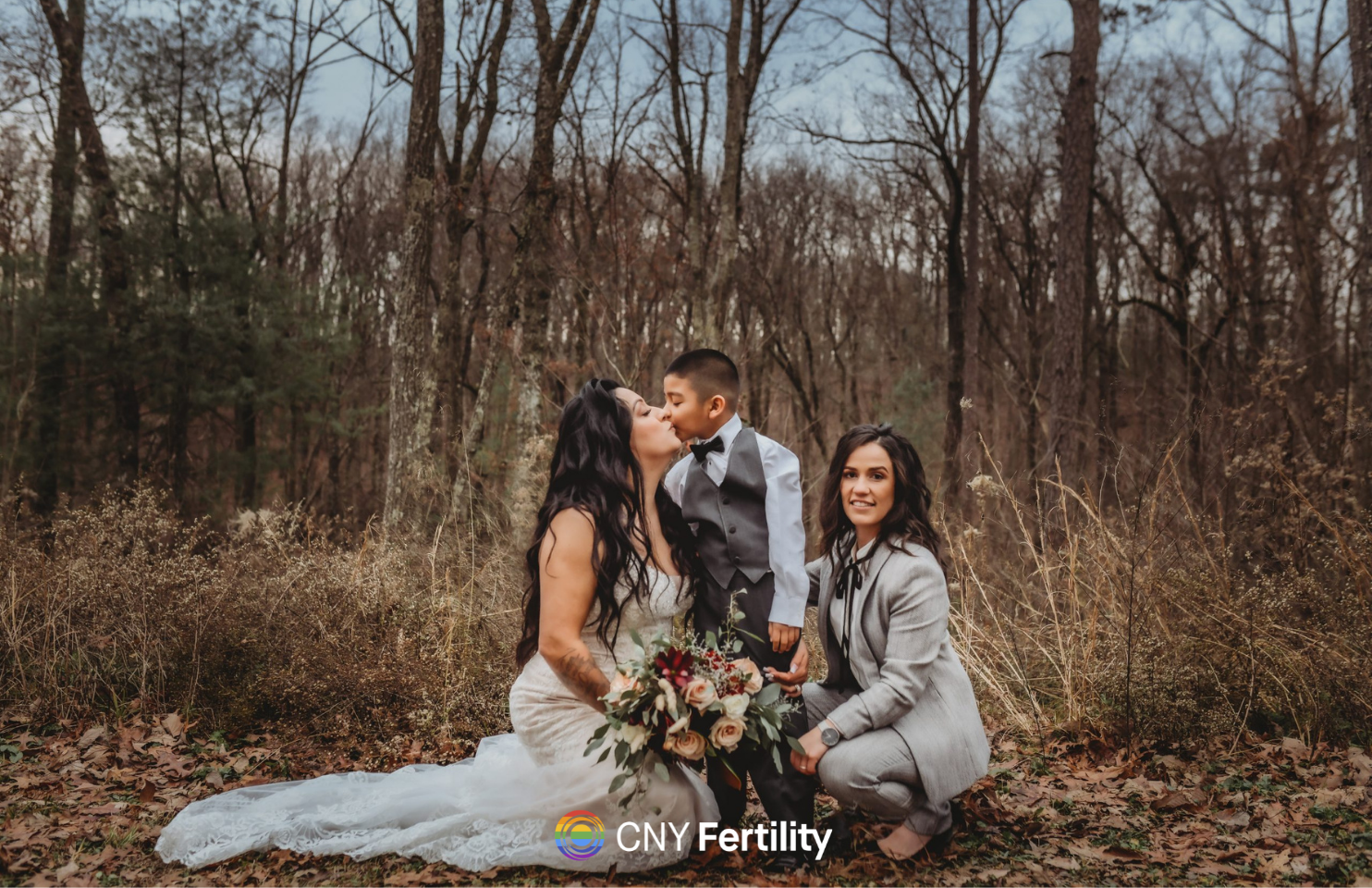 Leslie & Gigi
Treatment(s)

Donor sperm
Egg freezing
Embryo Freezing
Frozen embryo transfer (FET)
Genetic Testing
In vitro Fertilization (IVF)
Location(s)
Physician(s)

Robert Kiltz, MD
Michael Grossman, MD
Grace Michel, NP
Leslie & Gigi's Story:
My wife and I are both Active Duty military, we found each other about four years ago while stationed in Puerto Rico. She came to me as the most attentive and patient partner, on top of everything she accepted and raised my 3-year-old without any hesitation. Three years later, she took me to New York where she proposed during a beautiful sunset sail. Right away we began planning our intimate destination wedding perfectly timing the seasons for crystal clear turquoise waters amongst the Canadian Rocky Mountains.
Unfortunately, the pandemic erupted just six months prior to our wedding with about 90 percent of the wedding planning completed and deposits made. We were devastated when the borders were closed and our plans crumbled, we wanted our wedding immediately followed by IVF to begin expanding our family. We optimistically waited and planned another destination wedding for December 2020 this time to Puerto Rico only to find out they too were forced to enforce a mandatory curfew after a spike in positive cases in September.
After discussing it extensively we decided to begin IVF, we had heard through a military friend that CNY was the most affordable and effective LGBTQ-friendly team and began the process. We hated losing out on our special day, so simultaneously we hired a photographer, put on our wedding attire, ordered a cake, and recited our vows to each other at Red River Gorge in Kentucky.
IVF is overwhelming and has so many steps, thank god for the travel team. They guide you day by day and are available at all hours for emergencies. The progesterone shots were tough, they were emotionally draining and my hormones were all over the place for what seemed like forever. It became more difficult for my wife to watch me become a wreck after every shot day after day.
Recovery from the retrieval process was a little more painful than I anticipated, they harvested 32 eggs! We contacted the Sperm bank and CNY took care of fertilizing the eggs with a total of 16 viable embryos! Transfer day finally came and we were so excited, travel during a pandemic, COVID testing, and quarantine upon arrival was another hurdle but that wasn't going to get in our way. Two days before Thanksgiving we got the call...our HCG numbers were through the roof, we were pregnant!!!
The next two weeks were a struggle to keep my progesterone levels high enough for my body to recognize I was carrying a child. I was put on three different forms of progesterone in order to keep my levels stable. On December 4th I woke up cramping and in a puddle of blood, I tried to stay calm but I couldn't hold back the silent tears as I headed to the Emergency Room. I explained to the doctors the tissue I passed and they began to prepare for a cervical exam to make sure no tissue was left behind that would cause infection. Something wasn't right, I demanded an ultrasound before we went any further.
To our surprise, there was still another baby in there with a very faint and low heartbeat!! My ER doctors reached out directly to Dr. Kiltz and he was so supportive, he gave them instructions on medications that could possibly help. The doctors there quickly warned me not to get excited because the heart rate was so low and I was still bleeding so I was possibly still in the process of miscarriage. They said it was a big probability that I was carrying twins but because I hadn't had an ultrasound before that one, they couldn't confirm.
Days passed and the bleeding would stop and begin again, I rushed to the Emergency Room three more times, and eventually, they asked me to stop and told me not to return unless I had a fever which was a sign of infection. I was directed to wait until my first OB visit, my first four months of pregnancy were devastating...I bled every other day for four months but my baby was still hanging on. It finally stopped around week 25 and during our first anatomy scan we were told our baby had a single vessel umbilical cord which put the baby at high risk for developmental issues, birth defects in the heart, kidneys, or spine and possibly early delivery.
I am now almost 33 weeks along and Baby Sophie is measuring 2 lbs. larger than she should. What a blessing, we are humbled and excited to shower our daughter with love. One day we will tell her this story and remind her that she's a fighter and she is so loved.
Favorite Team Member at CNY:
I want to thank Dr. Kiltz for being so supportive and giving our baby and I a fighting chance. I firmly believe that without his recommendations my doctors wouldn't have prescribed me anything and I would have lost this baby.
Helpful resources Leslie & Gigi found:
I created an Instagram documenting our IVF journey including my thoughts and feelings which might help encourage other couples who are on the fence about beginning their IVF journey.
Unique Moments:
I believe the embryo that was implanted split and became a twin which I miscarried at 12 weeks.
Hope, Inspiration and Advice:
Be patient with yourself and with your partner. Do your research without being overwhelmed. Celebrate the little things like egg retrievals, egg fertilization, and include your partner in the process. I found that having my wife give me the shots really made her feel like a part of the process, I also made sure to separate time for just us without any baby talk.