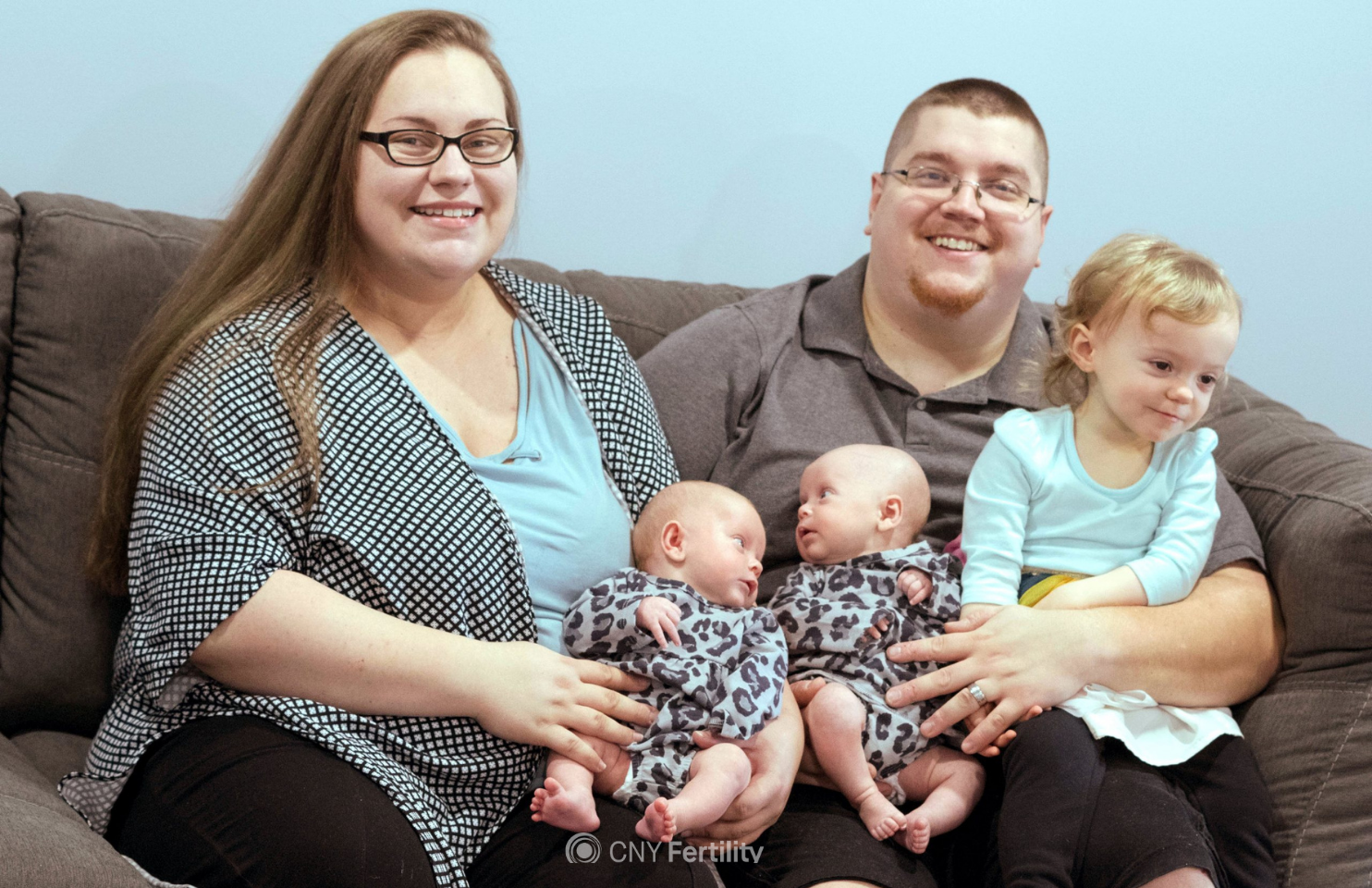 Carrie & Andrew
Infertility Diagnosis

Polycystic ovary syndrome (PCOS)
Treatment(s)

Intrauterine insemination (IUI)
Location(s)
Physician(s)
Carrie & Andrew's Story:
Hello, I just wanted to reach out to share our success stories with CNY! Yes, plural stories!
My husband and I got married in June 2016 and we started trying to conceive right away. After around 10 months of trying I was concerned because I was having irregular cycles. I called my obgyn who had me do a full blood panel and ultrasounds, it was clear I had PCOS. A close friend of mine recommended CNY Fertility so I made an appointment for my consultation. At the consultation, the doctor went over our options and based on our test results the doctor seemed confident that IUI would be our best place to start.
After two failed IUIs using only oral medications, I was crushed. One of the nurses recommended doing a mini IVF cycle using a combination of oral medications and lower doses of injectable medications but still inseminate with an IUI. We purchased enough medication for two cycles.
The next month once again was a negative result and I was so ready to just stop trying but we were gonna give it one more try. The next month the day came to test and when the nurse called the first this she said was congratulations! "Wait, for what?" I said. She said that my HCG levels indicted I was PREGNANT! Many months later in November 2018 we welcomed our beautiful baby girl into this world! Our gorgeous, perfect, 7 pounds 6 ounces of pure joy!!
When our daughter was around 9 months old we discussed adding another bundle of joy. I called CNY, they suggested I try the mini IVF cycle again since it had success with my body. The day came in November 2019 to test and even though I wasn't expecting anything I was more than thrilled when the nurse called with a POSITIVE result!
Unfortunately multiple ultrasounds later it was confirmed a fetal pole never developed and I was about to experience my first ever miscarriage. I am not able to describe in words the devastation I felt. The D&C was scheduled in December 2019 and I was horrified that this was even a process I would have to endure in my life. It took me 6 weeks to heal but I was ready to try again.
When the next test came the nurse once again called with a POSITIVE result! This time she said my HCG level were so high there was a possibility for TWINS!! To no surprise with extremely high rising levels that first ultrasound showed TWO healthy embryos and TWO strong fetal poles. Now here we are many long months later in October 2020 and we have welcomed our TWIN daughters. Our beyond perfect rainbow girls at 6 pounds 9 ounces and 5 pounds 11 ounces.
We will never be able to thank CNY enough for our three beautiful girls. Our family would never have been possible without CNY.
Favorite Team Member at CNY:
All the girls at CNY Rochester. Leigh and Sarah especially (who is no longer with the company and I miss her). When I went through my miscarriage everyone was lovely but these two really let me cry on their shoulders as long as I needed.
Helpful resources Carrie & Andrew found:
Following a keto type of diet. I was never able to go fully keto but I would say close to 90% of my daily diet followed the no carbs or sugar rules. It definitely seemed to help plus loosing weight was an added bonus.
Unique Moments:
The fact that we are repeat success stories with cny I feel in definitely unique. And while yes one of those successes ended in a miscarriage almost exactly a year ago today, I wouldn't have imagined getting through that terrible time if it wasn't for the love and support of the Rochester team. They truly held my held and gave my their shoulders through everything.
Hope, Inspiration and Advice:
When I was diagnosed with pcos I truly didn't take enough time to research the effects it has on my body. I now know many things about it but I wish I had spent more time at the beginning learning about things before we got started instead of learning as we went.