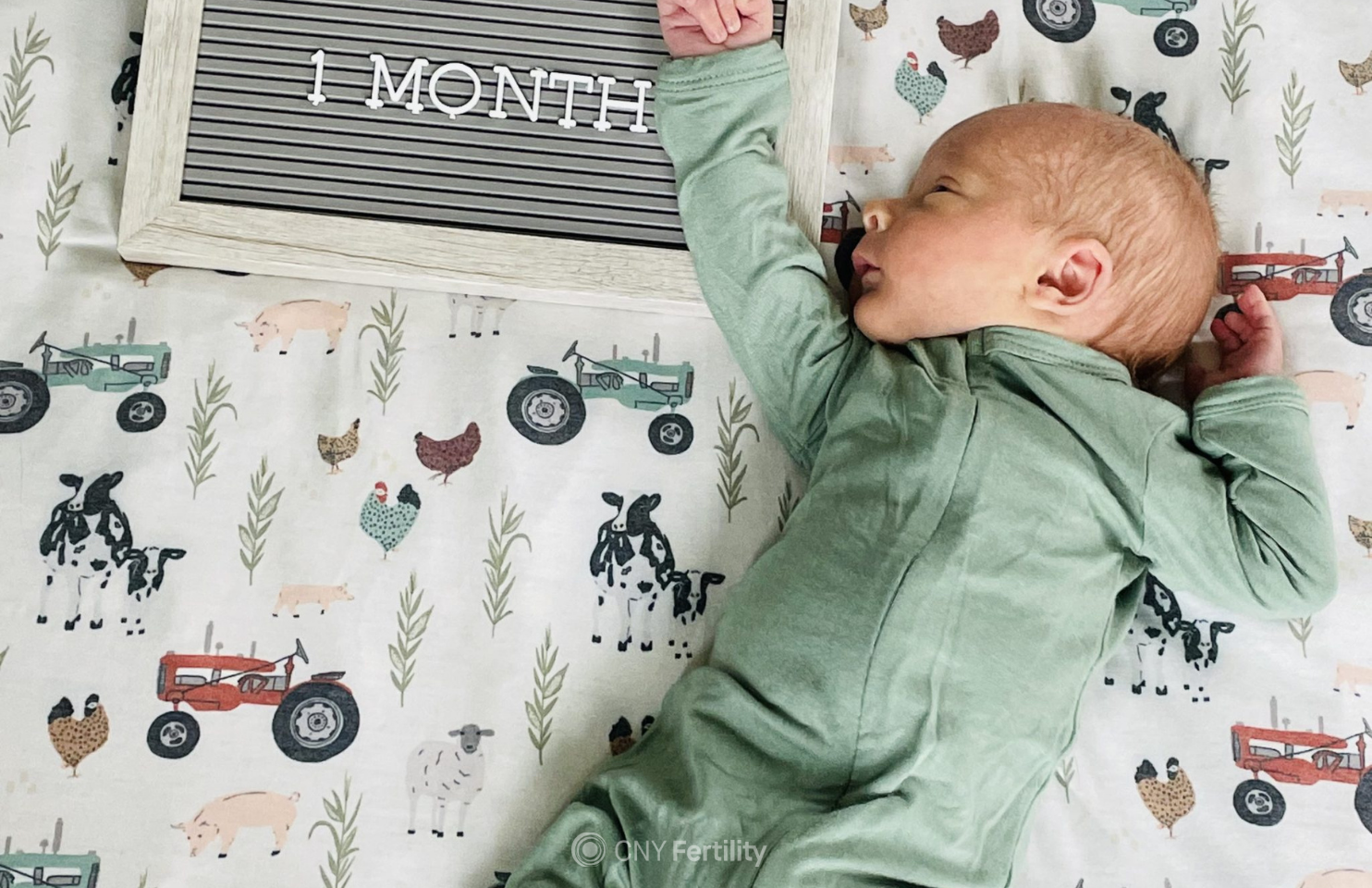 Caroline & Kayla
Treatment(s)

In vitro Fertilization (IVF)
Location(s)
Physician(s)

Robert Kiltz, MD
David Corley, MD
Caroline & Kayla's Story:
Hello!
My name is Caroline Marra, and my wife Kayla and I have been a part of the CNY Fertility family for about 4 years now. Kayla and I started our IVF journey at CNY Fertility about 4 years ago (almost 5 at this point). Kayla had been always been the one who was going to carry for us, but unfortunately, she was diagnosed with a unicornuate uterus and was unable to get pregnant. After 7 failed transfers and 2 failed IUI's, she made the heart-wrenching decision to walk away from her dream of carrying a child.
Fortunately, I was able to step in and became pregnant after only two transfers! I was diagnosed with both placenta previa and vasa previa and was hospitalized at 30 weeks for monitoring. But everything went smoothly, and our son was delivered via planned c-section on May 18th. After a 34 day hospital stay for me, and a 17 day NICU stay for our son, we were able to take our beautiful, healthy baby boy home in June 2021!!
Thank you CNY Fertility for helping us create our little miracle.
Sincerely,
Caroline and Kayla Marra
Favorite Team Member at CNY:
Amber at the front desk! She was always welcoming, warm, and was truly invested in our journey.
Helpful resources Caroline & Kayla found:
Walking outside in nature with our two golden retrievers!
Unique Moments:
My story is unique because I was hospitalized at 30 weeks due to vasa previa (extremely rare) and placenta previa. I had a scheduled c-section at 34 weeks, and our son was in the NICU for 17 days. It was worth every second, and I would do it all over again for our little miracle.
My story is also unique because I was able to take over when we discovered my wife struggled to become pregnant. She tried 11 times. We were lucky that we had the ability to keep trying with me. I was able to get pregnant on the second try with our beautiful baby boy. Thank you CNY Fertility for making it happen!
Hope, Inspiration and Advice:
Don't give up. Don't ever give up. It's a long and trying process. There will be days when all you do is cry. There will be days when you want to give up. There will be days when you wonder if it's worth it. Trust me, it will be. When i held my son for the first time, nothing else mattered. All of the doctor's appointments, needles, shots, blood work, and anxiety didn't matter any more. Holding your child for the first time and watching them grow it worth everything. Don't give up hope.