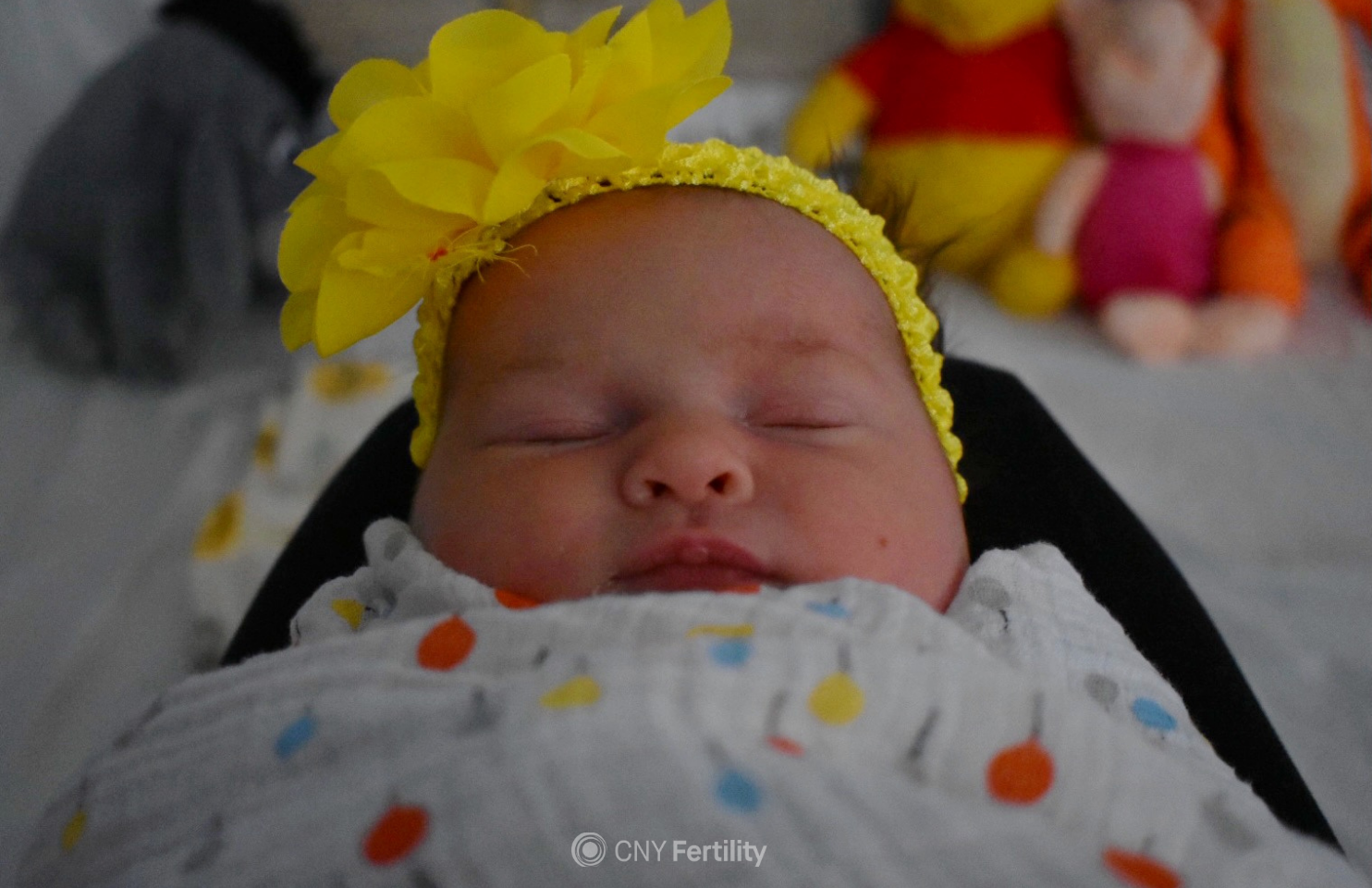 Brittany & Chris
Infertility Diagnosis

Polycystic ovary syndrome (PCOS)
Treatment(s)

Embryo Freezing
Frozen embryo transfer (FET)
In vitro Fertilization (IVF)
Location(s)
Physician(s)
Brittany & Chris's Story:
Chris and I were married June 2015. We wanted a few years to enjoy just the two of us before we started trying July 2018. I was aware I had PCOS, but was told repeatedly by multiple gynecologists that while it could affect my fertility, it may not. To my surprise, we got pregnant the first month of trying! Sadly, we found out at our first ultrasound at 9 weeks that it was a blighted ovum. I was not aware that this was a way you could miscarry and we were both devastated. We tried for another year and I never saw another positive.
I went for my annual check-up with the gyno October 2019 and discussed our next steps. Since I already knew I had PCOS, she suggested we go straight to a RE to get their opinion. I live near CNY Albany, so she wrote us a referral and I called them to schedule my appointment. We had our initial consult December 2019, but I had to wait until my next cycle to start tests/treatment. I got my period on January 1st, 2020 and knew it was a good sign that this was going to be our year. The tests confirmed I had lean PCOS, but everything was normal for me and my husband. I knew I wanted to do IVF right away as it had the highest success rates and CNY's prices were very affordable (in terms of fertility treatment).
We had our egg retrieval last valentine's day and I had my first transfer in March. Sadly, that one failed just as Covid was ramping up and lockdowns were being put in place. We decided to take a month off to clear our minds and see what happened Covid wise. The clinic ended up shutting down, but opened back up a few days before I got my period after that month and were ready to try again. We had our second FET in May, which resulted in a positive beta. Everything progressed as it should and I had a healthy and fairly easy pregnancy overall. Lily Ruth was born on January 20, 2021 (same forwards and backwards!) and these last few weeks we couldn't have been happier. I had a lovely experience at CNY and look forward to hopefully getting pregnant with our second child with them.
Unique Moments:
Highs were doing the egg retrieval and having all of our embryos technically be valentine's babies.
Lows were having to take a month off due to Covid and subsequently being pregnant during this pandemic.
Hope, Inspiration and Advice:
My advice to anyone who is TTC and looking into ART is go right to IVF if you can afford it. While there are many who do have success with IUI and other treatments, I have heard so many women say they wished they went right to IVF and didn't waste the time with other treatments that have such lower success rates. In the end it saves you time and money. Plus if sadly you don't find success, at least you know you tried the method with the highest success rates.