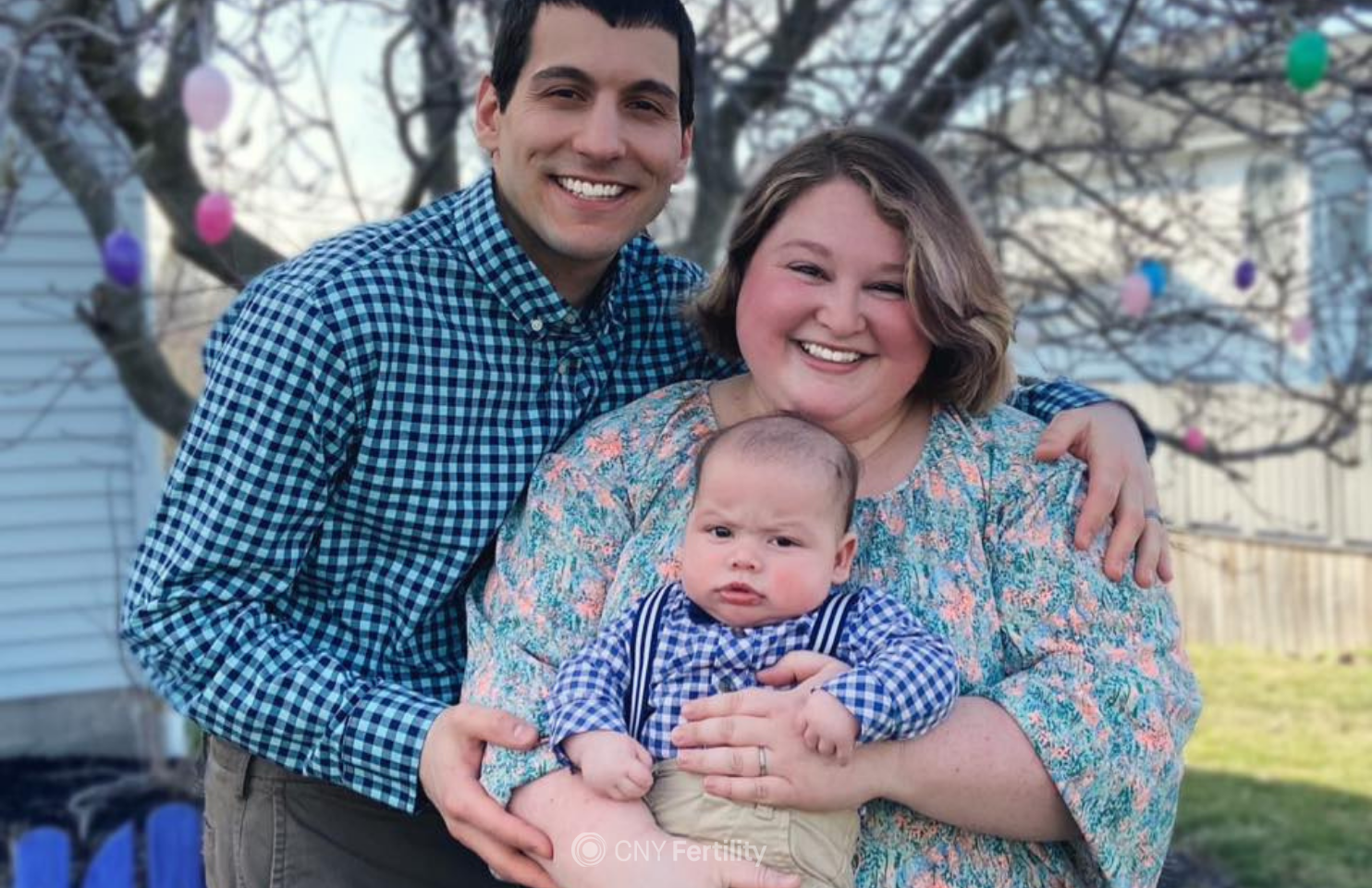 Malissa & Andrew
Infertility Diagnosis

Polycystic ovary syndrome (PCOS)
Treatment(s)

Intrauterine insemination (IUI)
Timed intercourse
Location(s)
Physician(s)

Robert Kiltz, MD
Ashleigh Rausch, PA
Katy Falcon, NP
Malissa & Andrew's Story:
My husband Andrew and I always knew we wanted to start a family. We got married in fall of 2017 and decided to wait a few years before trying for a baby. Originally we planned to start trying in the beginning of 2020 but when 2019 rolled around, we knew we didn't want to wait another whole year to get things rolling.
We started trying for a baby in February of 2019. I got off my birth control and right away something wasn't right. I was on day 60 with no sign of my cycle starting. We tracked it like crazy but still, nothing.
I went and saw my OB again in July and expressed my concerns. She sent me for bloodwork and discovered that I have a hyperactive thyroid which was making it impossible for me to get pregnant. She started me on meds to get my numbers in a safe range.
Once my thyroid number was looking good, we did a bunch of more blood work, an HSG test, and had my husband checked out. Everything came back normal, which then made us think, well then why can't I get pregnant?
My OB started me on a round of progesterone and Clomid since I was not ovulating. We started this around mid-September. Three rounds later and still nothing. At this point, I was on the highest dose of Clomid and we knew it wasn't going to do the trick. It was a few weeks before Christmas and we were devastated and exhausted. My OB told me "you need to go to a fertility clinic."
I did research and talked to a lot of friends and was told about CNY. I had heard so many success stories, we knew that this was the place God wanted us to go. I called and got an apt set for January 14th, 2020.
We felt so comfortable as soon as we walked through the doors at CNY. The staff was amazing and so optimistic that we would get pregnant.
They did more testing and ultrasounds and found out that I have PCOS. It all started to make sense.
They got me on the supplements I needed and we did our first IUI in February 2020. Unfortunately, that one did not take. We started preparation for our second IUI. And then, COVID 19 hit. We were two days away from our second IUI in March and our cycle had to be canceled because of COVID. It was heartbreaking. But we didn't give up hope. We knew God had a plan for us and we didn't want to throw a whole cycle out the window. So, we did a trigger shot and timed intercourse.
Two weeks later on April 5th, 2020 we got our BFP!!
If it wasn't for us taking a leap of faith and trusting that God had a plan for us and leading us to CNY, we wouldn't be where we are today.
We welcomed our beautiful healthy miracle baby boy, Cameron, on November 25th, 2020, the day before Thanksgiving. To say we were extra thankful that Thanksgiving, is an understatement.
Thank you, CNY for never giving up on us, even when we weren't sure how this would all work out
Favorite Team Member at CNY:
Dr Kiltz- Thank you for your kindness and helping me get through another HSG test. You gave me the confidence I needed and were amazing.
Ashleigh Rausch- Your hugs were one of my favorite things at every apt and I always looked forward to seeing you're happy face! You were there whenever I had questions and never made me feel like a burden. Thank you for everything!
Katy Falcon- My vein whisperer! You were the only one able to get my blood drawn on the first try every time. Thank you for making all the pokes a little less trying!
Helpful resources Malissa & Andrew found:
Continued prayer. God can do anything.
Unique Moments:
We didn't know what was wrong and why I couldn't get pregnant, until CNY. When our second IUI was canceled, I was a wreck. I felt everything fall from beneath me. We were so close and it was devastating. Covid 19 definitely made our journey difficult. I'm so grateful that CNY allowed my husband to be in the room for all ultrasounds, as that wasn't possible moving forward the rest of the pregnancy at my OB office due to Covid.
Hope, Inspiration and Advice:
There is hope and a light at the end of the tunnel. Don't give up. God has a plan. It wasn't what we thought our plan looked like, but we trusted and God never failed. He will always be there for you. Just call out to Him.