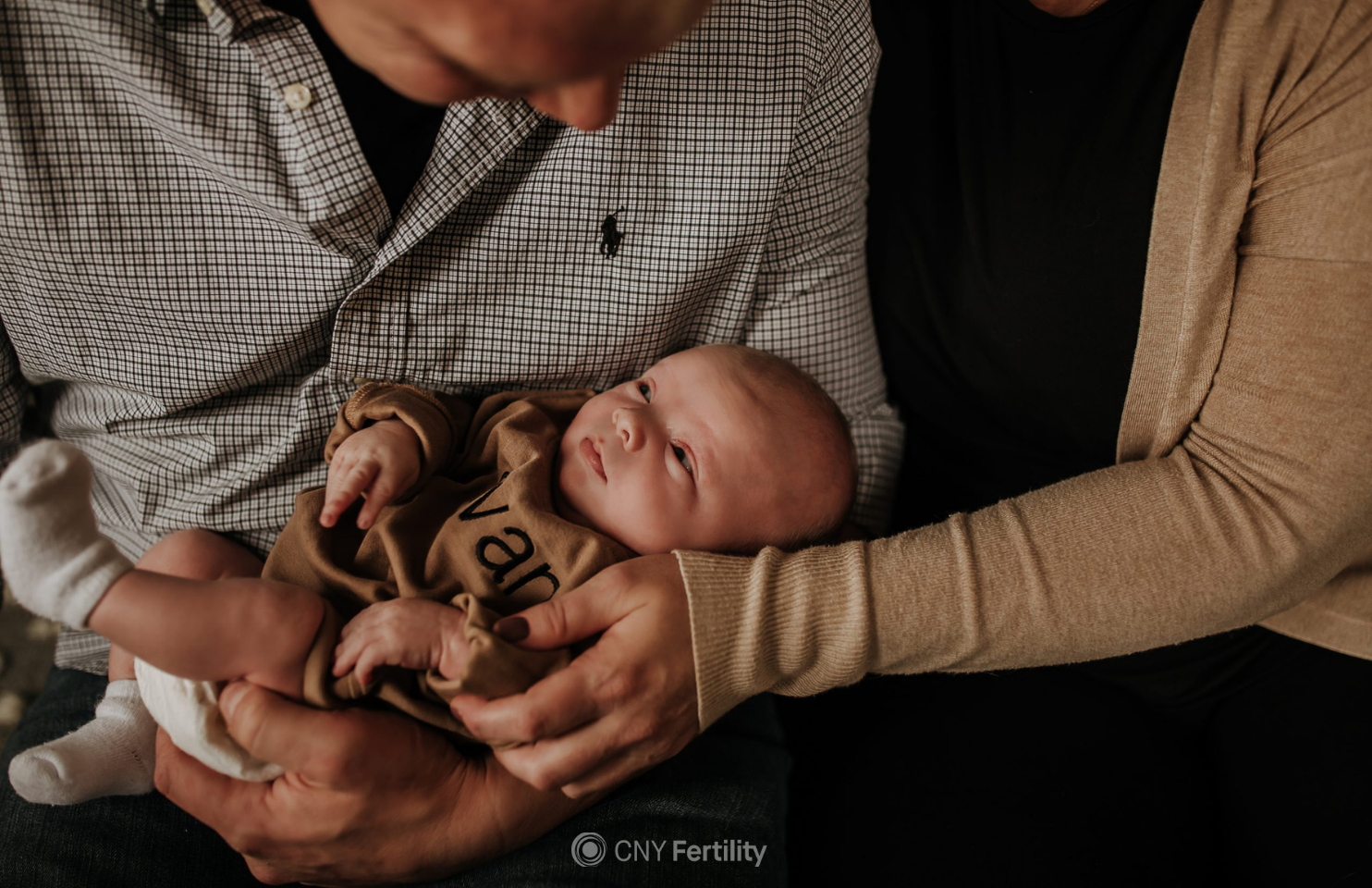 Elizabeth & Eric
Infertility Diagnosis
Treatment(s)

In vitro Fertilization (IVF)
Location(s)
Physician(s)

Robert Kiltz, MD
David Corley, MD
Elizabeth & Eric's Story:
In 2012 I met my husband, it was as close to love at first sight that is possible in my mind. Shortly after meeting, Eric explained he had gotten a vasectomy at 28 because he "knew" he'd never want to get married and have children, but after meeting knew he had made a huge mistake and would do what he could to make having a baby possible in future.
We had a fairly quick engagement and were married on August 3rd, 2013. On Halloween in 2013 Eric underwent a 5 hour surgery by a local urologist to have his vasectomy reversed. After 5 long weeks of waiting for him to heal, we got the great news that it worked and we began trying naturally. Fast forward to 2016, still no pregnancy naturally, we had our first visit to CNY in Syracuse. We got all the information we needed, but there was absolutely no way we could afford it, even with the affordability. I put all my energy into my career which excelled beyond my expectations and in 2019 we were finally in a position where we could start IVF.
In September 2019 I started my meds, in October I had my retrieval and on Halloween, yes, the same "holiday" my husband his reversal years before, we had our first fresh embryo transfer with 3 embryos to freeze. Much to our shock, it worked! Who would have ever thought after all the stories I had read, that it would work the first time. Unfortunately, in January of 2020 I had a miscarriage and our genetic test confirmed T21.
We were devastated, I'll never forget that day, it seemed like a cruel joke. I spent hours researching our odds of it happening again since we had 3 frozen embryos and actually found out it does and can happen more than once. I went ahead with 3 frozen transfers through COVID, all unsuccessful. In December 2020 we decided we'd do one more IVF cycle since we were both approaching 40 and if it didn't work we'd just enjoy life without a child.
Still, before starting another cycle, I wanted to discuss the T21 pregnancy and what I should do for the future IVF cycle and the consensus was that a 3 day transfer was best for us, so that was that. On February 27th 2021 we had our second fresh embryo transfer with two embryos (5 left to freeze). I started HPTs on day 5 past 3 day transfer and on day 7 I got a light positive and they kept getting darker! Then the Beta came and of course it was positive with great numbers. In April I ended up in ER with bleeding but my OBGYN assured me it was small and everything was going be OK.
The next hurdle was waiting on our genetic test to come back, opening that e-mail was the scariest thing I've done but it was negative for all the things and we found out we were having another BOY! Then we had a perfect anatomy scan and we finally relaxed and decided we could finally take a breath and enjoy the rest of the pregnancy. Evan Joseph John McLane joined our family on 11/11/2021, the most perfect little baby boy. Fun fact, Mom always catches the clock on 11:11 am, has her whole life and almost daily, so it just seems so meant to be.
Favorite Team Member at CNY:
All the nurses! Especially the transfer nurse (she has dark hair and tattoos and was one of my favorites. I had a couple others, too, but I can't remember their names.
Helpful resources Elizabeth & Eric found:
Acupuncture, HGH, PRP and the supplements from Dr. V's office. I truly believe that combo helped with getting pregnant and with having the healthiest embryo/s possible.
Unique Moments:
High was getting pregnant and the low was miscarrying. I don't know if we are really different in that we were on the same rollercoaster ride as all the other couples.
Hope, Inspiration and Advice:
I 100% never ever thought it would work for us and I'd actually ever get to hold my own baby. I mean that. I am so glad we never gave up, we are proof it can happen.