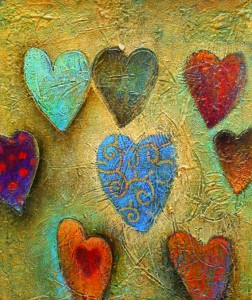 Good morning!  I hope that you had a great weekend.  Tomorrow is Valentine's Day, and the stores are bursting with red and pink gifts for our loved ones.  Instead of bringing home a traditional gift and showing our love and affection just a few times a year, how about small everyday gestures to strengthen your relationship?  Unconditional love and affection from your partner is essential while experiencing infertility.  It is important to feel like you are working together through this challenging period.  If you don't feel like you are communicating clearly, try a few of these small gestures to open the door once again to an intimate and caring relationship:
Say 'I love you' at least once a day.
Share a hug and/or kiss before and after work.
Thank your partner for something that they did for you during the day, and let them know that you appreciate them.
Compliment how they care for you, even if it is something small: I love how you make me a cup of coffee in the morning, it really helps me get my day started.
Send your partner a quick text or email during the day letting them know that you love them, and that you are looking forward to seeing them later.
Do something for them without them having to ask.  This can be as simple as dropping off a favorite coffee or lunch at work, taking care of the dry cleaning, or even leaving a small note in their car.
Taking a few of these steps to let your partner know that you love and care for them can help strengthen your bond as you move forward during this challenging time.
If you need to practice a little self-care, please don't forget about our many support group sessions and workshops available.  You can find our many support offerings on our CNY Fertility Calendar.
Additionally, Dr. Greene will be joining us at the Syracuse Circle of Hope Support Group tonight at 5:30p.  We will meet in the new kitchen, just off of the foyer of the new rear entrance.  You may also enter the waiting room and someone will be there to greet you.  Please RSVP:  Lstack@cnyfertility.com
I hope that you have a great week!
Lisa
LStack@cnyfertility.com
315-744-8073
https://www.cnyfertility.com/wp-content/uploads/2018/06/CNY-BLACK.png
0
0
lstack
https://www.cnyfertility.com/wp-content/uploads/2018/06/CNY-BLACK.png
lstack
2012-02-13 07:09:56
2012-02-13 07:09:56
Words of Support and Encouragement Week of February 13, 2012