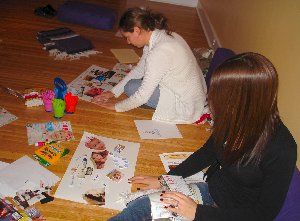 A person's self-esteem can really be affected during the fertility process.  Stress, anxiety, and depression can result from the challenges of the fertility journey.
When we imagine creating a family, we don't always imagine the "roadblocks" that can arise—and that's normal  We all have expectations of how our life is going to unravel.  These are our dreams and our visions for the future—and they are fabulous!
What we don't expect to encounter, when we begin our family building efforts, are things like PCOS and endometriosis.  We don't envision things like diminished sperm counts and issues with motility.  These setbacks can be a huge source of frustration, and increase our stress and worries.  When our expectations don't equal the desired results, we can feel a whole gamut of emotions.  We may feel angry at ourselves and take it personally thinking that it was something that we've done, something that we should have done, or something that should have been done sooner, and so on….  Couples challenged with infertility may feel isolated by family, friends, feel a sense of inadequacy.  This can create a downward spiral.
We have just begun a new year and NOW is the time to harness all of these feelings and turn them into positive energy.  Focus on your dream.  Make a vision board : write down your desires, incorporate pictures of how you want your life to be. When you're done, place your vision board in a prominent location where you see it and visualize your vision for the new year every day.  Set aside 15 minutes each morning to meditate, using either guided meditation or simple mantras, in a quiet spot in your own living room. This will help you further visualize 2013 as the year you want it to be!
Things may not happen the way we originally plan, but they can happen!  We may need to take different routes to get to our intended location, but we will get there!  When the focus is on the positives in life, it boosts self-esteem which, in turn, affects the brain and the rest of our body.
Request Fertility Treatment Consultation or Appointment:
If you are a new patient and would like an initial fertility consultation, click here to request a phone or in-office visit, or call us toll free with your questions at 800-539-9870.
https://www.cnyfertility.com/wp-content/uploads/2019/05/cny_logo.png
0
0
editor
https://www.cnyfertility.com/wp-content/uploads/2019/05/cny_logo.png
editor
2013-01-14 19:29:14
2013-01-14 19:29:14
Your Fertility Plan in the New Year: Create a Vision Board