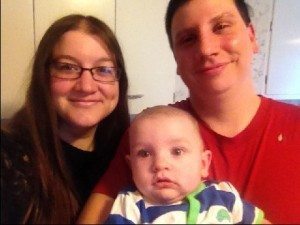 My husband and I started trying to conceive January of 2010.  Like most couples we just assumed this was going to happen right away.  A year later we started to become very concerned.  We both were checked out to make sure everything was okay.  It turned out that I had some fibroid tumors and he had very low numbers.  We were both advised that surgery was our best options and would fix our issues.  Months later we still hadn't conceived.  We had his numbers rechecked and were told that they hadn't improved and our only chance of conceiving would be with IUI or IVF.  November of 2011 we started going to CNY Fertility in Syracuse.  Over the next 16 months we did 4 IUI's, 4 IVF's, 2 FET's and unfortunately even suffered losses.  Our last IVF was March 2013.  This resulted in our beautiful baby boy who was born October 17, 2013!!  The happiest day of our lives!!  Doctor Kiltz always told us to not give up!! We are so happy we listened to him!  We'll always be grateful to CNY for giving us our little Miracle!!!
I've been in a support group for the past few years that has been a huge part of my life. We are a group of women who met online and who all had been dealing with Infertility in some way.  We call ourselves the BFP Cheerleaders!  (BFP stands for Big Fat Positive!)  A BFP pregnancy test is what we all have been dreaming of.  Our group has seen each other through many treatments, surgeries, wonderful pregnancies, very hard pregnancies, losses, and even adoptions.  Last year one of our Cheerleaders walked in the Resolve Walk of Hope in DC on behalf of our BFP Cheerleaders.  
Resolve
is the National Infertility Association.  The name 
"Walk of Hope"
embodies the emotion that most people living with Infertility feel.
We were able to raise over $1,000 for our Team!
This year I'll be traveling to DC to represent our team and help raise awareness.   I'm so excited to walk on behalf of my Cheerleaders, but also for all women and men who have dealt with Infertility.
Thank You So Much!!!
Rick, Julie and Ricky Jr. Swift
https://www.cnyfertility.com/wp-content/uploads/2019/05/cny_logo.png
0
0
lstack
https://www.cnyfertility.com/wp-content/uploads/2019/05/cny_logo.png
lstack
2014-04-23 08:55:15
2014-04-23 08:55:15
National Infertility Awareness Week: Successful Clients Walk for Hope!