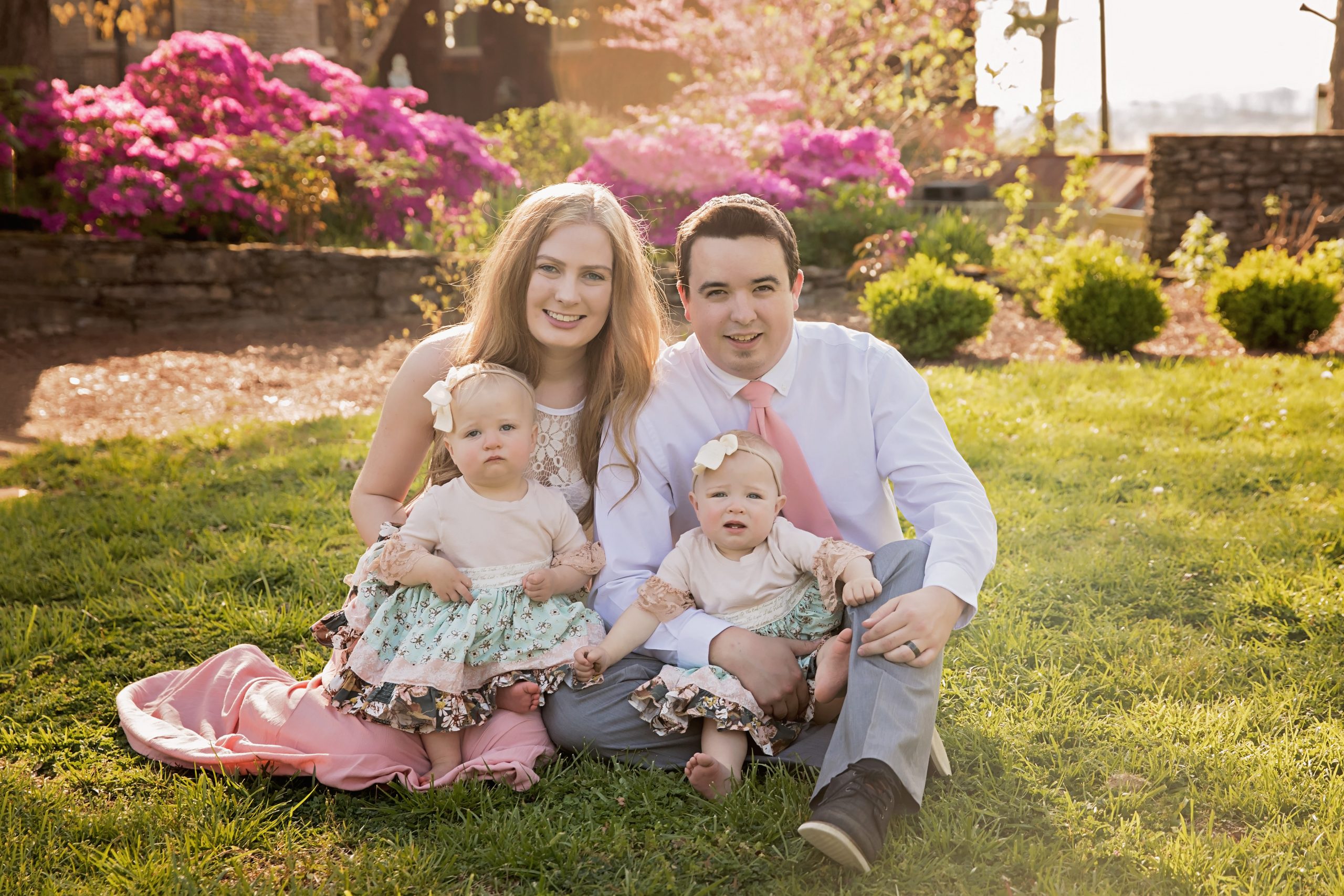 Samantha & Brad
Infertility Diagnosis
Treatment(s)

Embryo Freezing
Frozen embryo transfer (FET)
In vitro Fertilization (IVF)
Location(s)
Physician(s)
Samantha & Brad's Story:
Today is our girls' three-year transferversary! Which means that they have been with us for exactly 3 years now having been transferred into my uterus on April 11, 2016 through an FET cylce at CNY Fertility. Not only that, their baby sister, conceived during the same IVF cycle as them, but transferred almost 2 1/2 years later (On October 19, 2018), is currently growing and wiggling in Mama's belly, and we anxiously away her arrival in July. Every year I snap pictures of the girls with their embryo photos and reflect on the amazing, miraculous journey that we have been on to get us where we are today.
When Brad and I got married in 2012 we were in no rush to start a family. We had a lot of people tell us that they wished that they had waited a bit to have kids, so we spent the first couple of years just enjoying each other. In the winter of 2013/2014, we started to get the baby itch. We were planning a two-week European vacation for September, and I dreamed up the perfect postcards for a Paris pregnancy announcement. In a naive attempt to 'perfectly' time baby's arrival, we planned to start actively trying in the spring and be pregnant by September giving us several months to make it happen.
At the end of March my period was 5 days later than expected. This was the first pregnancy test that I ever took (in a Wendy's bathroom on my lunch break because I was too impatient to wait until I got home lol) and the first baby announcement surprise I planned for hubby (an April's Fools trip to Baby's R Us that would turn out not to be an April's Fools). Turns out I was not pregnant, and this would be the first of many plans that failed to come to fruition.
Every month I planned a special way to tell hubby and held onto my dream plan for announcing to the world with a postcard from Paris during our September trip there. Every month that passed with a BFN (big fat negative pregnancy test) was a blow to my plans for that month's baby and all the things I had planned for it. It was like going through the five stages of grief every month for the baby you had dreamed up. You could tell Brad was getting impatient too, but we did not lose hope because we knew making a baby could take a little time.
In September 2014, the dream announcement plan slipped away as we headed out on our trip with no baby on board. That was the first time I cried about TTC. I had planned ample time for us to make this dream announcement happen yet, it had not come to pass. What was taking so long??
When we got back from Europe, I had a 44-day cycle giving us false hope that we had conceived a Europe baby. I even naively pulled an old pregnancy test out of the trash with an evaporation line, thought it meant I was pregnant and told hubby by sneaking onesies into our laundry and asking him to fold the clothes. I never got a real second line and my period finally came two weeks later. We were crushed.
TTC had become not fun anymore. Month after month passed. We didn't even look forward to a possible positive test anymore; we just figured it would be negative. Still, we kept on.
In early 2015, I got a new job, and we moved to Knoxville, TN. Maybe God was holding off on a baby, so we could get established in our new place? We half-heartedly kept trying until we were settled and then started actively TTC again with fresh anticipation. Now that we were settled, surely, we would get our BFP (big fat positive) soon. God's timing is perfect...
I joined the baby center community and began pursuing TTC with a new vigor. We started trying everything under the sun: ovulation predictor kits (OPK), temperature tracking, hips in the air after baby dancing, soft cups, SMEP (sperm meets egg plan), Preseed, pineapple, yoga, Fertilaid, you name it! Much like before I was consumed with TTC. It was somewhere on my mind every waking moment of the day. Still month after month passed and all my baby hopes and dreams for that month were dashed when AF (aunt flo/period) showed.
Finally, in November 2015 we had enough. TTC should not take this long! We found a local RE (reproductive endocrinologist) and started investigating. There are a lot of reasons for infertility. After a bunch of testing for both Brad and I, we discovered our struggle is with sperm and egg meeting each other.
The RE suggested we try an IUI (intrauterine insemination) just to see if it would help, but didn't think it was too promising. Unfortunately, our fertile window was over New Years and the office was closed. Also, just after the New Years, Brad got a terrible flu with extremely high fevers that lasted for a couple of weeks. We called about the next cycle and received conflicting advice about the effects of his flu (fevers are not good for sperm) on our chances of a successful IUI. The missed cycle and flu made us reconsider our attack plan. An IUI already wasn't very promising, we were confused about how the flu would affect our chances of success over the next several months and we were tired of waiting. We prayerfully decided that going straight to IVF (in vitro fertilization) was the best route.
Of course, IVF is a big and expensive undertaking. A TTC friend told us about CNY Fertility. It was like a Godsend. CNY Fertility is in Syracuse, New York. It's a twelve-hour drive for us, but Dr. Kiltz and his team seemed like the perfect fit. Dr. Kiltz's mission is to provide affordable fertility treatments. The cost to cycle at CNY even considering travel was considerably less than our local RE. Not only that but he is groundbreaking in his protocols to treat infertility. We called in mid-January and, since we already had our testing complete, we started the fast track to IVF.
We started our cycle in mid-February. Long-distance cycling is an adventure all on its own. I had to track down local labs and radiology centers to monitor my progress through the cycle. I had to call pharmacies and shop around for best pricing on all the medicine I would need, purchase and administer them on my own.
Stimming (the part of the cycle where you grow your eggs for retrieval) went really well and, after 8 days, my eggs were ready. We planned to pull the trigger (a shot to induce ovulation) and have my egg retrieval procedure on Monday February 29th (leap day!).
We had to travel to Syracuse for the procedure. We took a week off work (for a "vacation"). We traveled up to New York City on Saturday and spent the day there (because I take every excuse I can get to visit NYC) before traveling on to Syracuse.
My egg retrieval procedure went great! We got 18 eggs. The next day, we got word that 12 had fertilized, which is the exact number both Brad and I had guessed! We took a side trip to Niagara Falls as I recovered from the procedure and we waited for our babies to reach blastocyst stage.
We had our transfer of two embabies on Saturday. It went smoothly and soon we were driving back to Tennessee with two babies on board. We also had eight other babies who had survived to day five, so they were cryopreserved for us for later.
We spent all week talking to our on-board babies about why they needed to stick around and what our life would be like with them. On Friday, 6DP5DT (six days past a day five transfer) I had a dream I got a BFP and woke up with the nerve to test. For the first time in my life I saw a real, pink second line! We were pregnant!
We spent six glorious days knowing we were pregnant. We went to Charleston that weekend with my in-laws and were glowing with our secret. I tested every morning to see the line get darker. On Monday, I got a positive beta (the blood pregnancy test). My HCG (pregnancy hormone) was 56. We would test again on Wednesday to make sure it was going up.
Wednesday morning, I POAS (peed on a stick) but the line was lighter not darker. I felt something was wrong. I spent all day worrying waiting for the beta result. It did not come. That night I calmed myself down, threw away my pee sticks and resolved to not worry. On Thursday morning, I got the call. My beta had dropped. The pregnancy didn't work. I could stop all medicine. She was so sorry. I barely managed to get off the phone before breaking into uncontrollable sobs.
That day was the worst day of my life. I have never cried so much. I was at work when I stepped out to take the call. I wasn't even able to gain composure to go back. I sat in my car sobbing for an hour and finally emailed my boss that I was sick and needed to go home. I went home and just laid in my bed sobbing and staring numb for the rest of the day. Why?? We had come so far to get a BFP and, now that we had it, it was fading away!
On the exact same day that we found out we lost our embabies, my mom called to say that they were moving to Tennessee. Dad had officially accepted a transfer to a facility in a town about an hour from us. "I think God is sending us for a reason," she said, "You must be pregnant." We had never told anyone IRL (in real life) about TTC or IVF. But in that moment, I let it all out. I had been pregnant until today. We had been trying forever. We were infertile, going through crazy hoops to try and have a baby, and I was currently having an early miscarriage. Boy, did I throw a lot on her! It was freeing.
As devastating as our chemical pregnancy (early miscarriage only detected by POAS or Betas; didn't make it far enough to get an ultrasound) was, we knew we had eight snowflakes (frozen embryos) waiting for us, so we forged ahead into the realm of FETs (frozen embryo transfers). More medicines, different protocol, more shots, more monitoring and another trip to Syracuse. This time we just needed to be there for a couple of hours for transfer. Given the timing, we ended up deciding that my mom and I would drive up to Syracuse to pick up our embabies. We drove up on a Sunday, spent the night, I had transfer of two more embabies on Monday morning and then we drove home. Twenty-four hours of driving within forty-eight hours, but our babies were home.
Because my FET protocol included HCG, I was not able to POAS before beta. I still did, but wasn't sure if the second line was real or fake from the hormone shots. Brad and I waited anxiously for beta. We were definitely more cautious about getting our hopes up. Beta day came, and we got an astounding number: 300! Our second test more than doubled: 741! We were pregnant!!! A week later our first ultrasound revealed twins and two precious heartbeats. And those two heartbeats are our two-year-olds today!
With our infertility diagnosis, we've since assumed that FETs will be our continued path for growing our family. Still we witnessed other infertile couple friends having surprise, spontaneous (my preferred word choice over "natural") pregnancies after their first. This was not the case for us as we did not use any sort of protection for over a year after my postpartum cycles returned with no luck. When the girls were closing in our two, we decided it was time to go back to CNY and expand our family.
Having been through the process before, this FET cycle was even more straightforward than the last. We decided to follow the same protocol that made us successful last time, and I geared up for an October transfer. I flew up to Syracuse mid-October and transferred one beautiful embryo on the 19th.
This time I had the will power to wait until beta for my results. The first beta came back over 300 and the second beta over 900! Even higher than with the girls (hubby was a afraid for a bit that the embryo had split). We are now 28 weeks along with a healthy baby girl! I share more about our journey and motherhood after infertility at @prayingfor2lines on Instagram and on my blog: prayingfor2lines.wordpress.com.
I am forever grateful to CNY Fertility for helping make our parenting dreams a reality!
Favorite Team Member at CNY:
Dr. Kiltz and Dr. Corley are both amazing! They have gone out of their way to make long distance cycling a more personal experience.
Helpful resources Samantha & Brad found:
My favorite resources for our infertility journey have been the infertility community on Instagram and Facebook. It's great to connect with other women going through the same thing and support each other in the journey. You also learn a lot that way and pool a lot of ideas to help you with everything from what protocols to follow, where to find cheap drugs, how to manage a long distance cycle, how to navigate insurance claims and generally how to be an advocate for yourself.
Unique Moments:
Our chemical pregnancy was a low point in our treatments. We naively thought getting the positive pregnancy test was the whole battle not just a part of it.The high point was when we found out we were having twins. We are one of those crazy couples that actually really liked the idea of having twins, especially after having waited so long. Seeing our girls interactions with each other and experiencing them both at the same time is the best thing in the world.
Hope, Inspiration and Advice:
I really think the best thing you can do is connect with other women who are going through this journey too. Not only that but you can see so many miracles. I know women who have done IVF 7+ times and been through so much that are now cradling their little babies. It's inspiring to follow their journeys. And I promise once you get there, it will all be worth it!