Robin & Wayne's Story's Success Story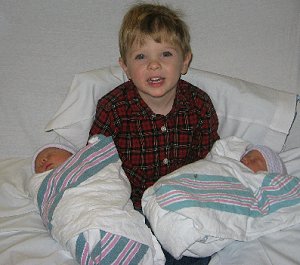 Thank you to the great team at CNY Fertility for the recent additions to our family. Brooke and Mason were born 12/8/07. I was diagnosed with PCOS in 2000. After 5 long years and 2 different doctors in Florida, we were blessed with our 1st son, Clay in 2005. We relocated back to Central NY to be closer to all of our family and friends. I knew that I wanted to have more children, but was unsure that I wanted to go through all the "stuff" again. I finally got the courage to call CNY and make an appointment. After meeting with the doctors and staff, I was confident and ready to start treatment again. After only 1 cycle using injectables, we discovered it worked and we were having twins. Clay is a very proud big brother.
Thanks again to everyone at CNY for making our little family of 3, a 2 caravan family of 5!