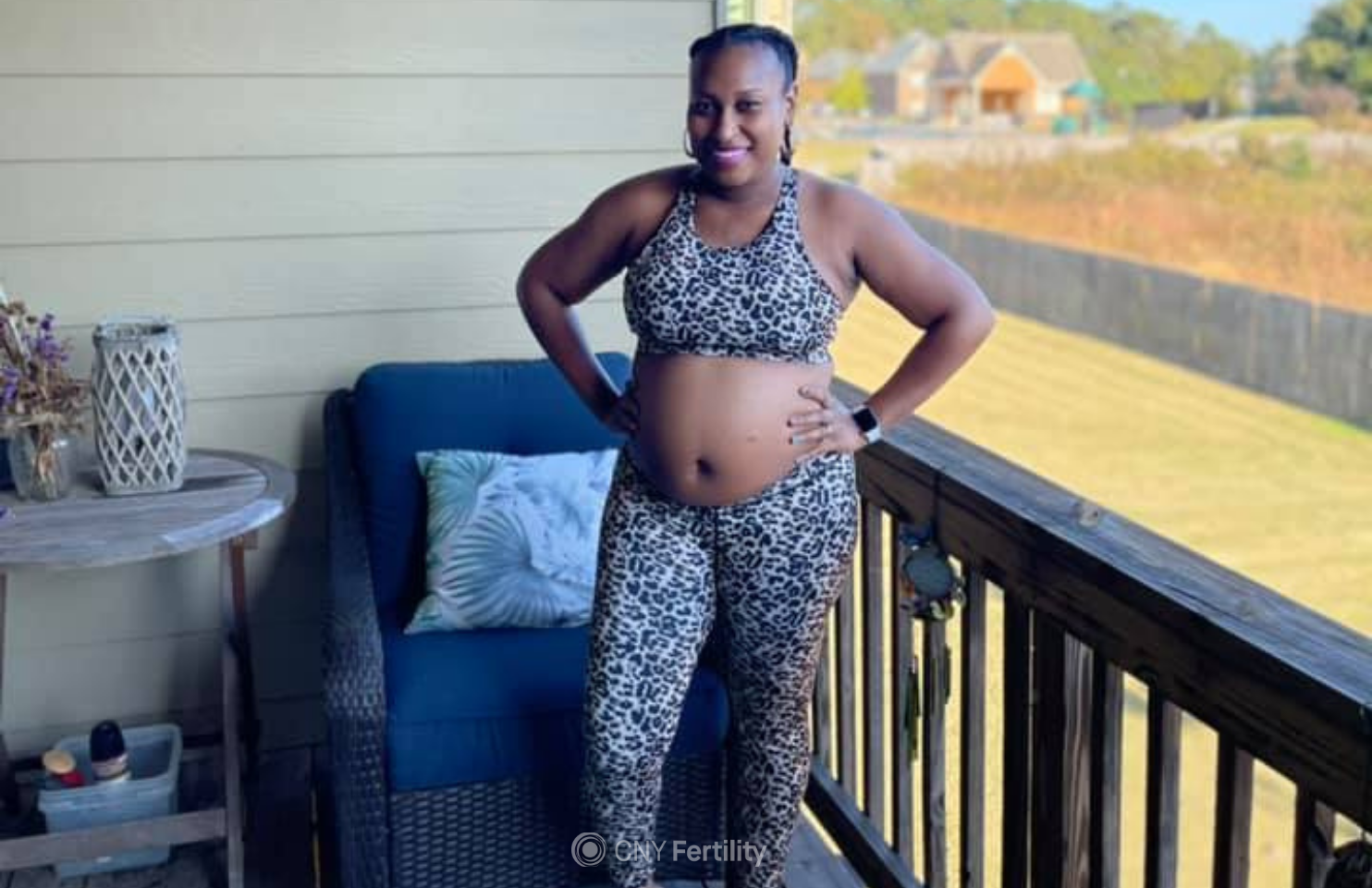 Octavia & Clinton
Infertility Diagnosis
Treatment(s)

Donor egg
Frozen embryo transfer (FET)
In vitro Fertilization (IVF)
Location(s)
Physician(s)

Robert Kiltz, MD
Maribel Verdiales, MD
Octavia & Clinton's Story:
My husband and I have been trying to conceive since December 2014. Needless to say, this has been a very challenging, tiresome, and overwhelming experience. After numerous tests and medications, we got nothing. I was diagnosed with endometriosis, adenomyosis, uterine fibroids, low egg quality, endometrial polyp, and blocked Fallopian tubes. I underwent seven surgeries! Yes, seven! I literally was having surgery every 3-4 months. These surgeries affected me mentally. Due to us having no success in conceiving naturally, we decided to try IVF. In the midst of going through IVF, my BFF passed away which made the process extremely harder. After two failed cycles, my anxiety gradually turned into Major Depressive Disorder. I lost it. I was so broken and was in a very dark place. I gave up on life. EVERY aspect of my life was challenged: marriage, relationships with family and friends, finances, job, you name it. But God…
I made the decision to turn my obstacles into opportunities. I decided to move forward. There was nothing that I could do to change the past or anything that I could do to remove the hurt from my losses. I had no other choice but to move forward. This was exactly what my BFF would have wanted me to do, and it was necessary to improve my mental health. Fast forward to 2021, my husband and I went through a third cycle. Our pregnancy was confirmed on June 15th. It felt so good to surprise Clint for Father's Day.
On August 21, 2021, I was admitted to the hospital for hyperemesis gravidarum, COVID-19, and pneumonia. This was a very terrifying experience. Being 14 weeks pregnant, I had no idea if my child was still alive. Praise God that I went to the hospital because she wasn't getting any oxygen and all of my blood levels were extremely low. I stayed in the hospital for a week.
I recently celebrated my 41st birthday, and I'm in a good place mentally, physically, and spiritually. Though the journey has been tough at times, I'm so happy to be here and so happy that our baby girl will be here in less than three months! We're super excited!
Favorite Team Member at CNY:
I absolutely love Dr. Verdiales! We met back in 2017, and she has been the most compassionate providers that I have ever had. She is the one who introduced us to the idea of IVF. I was reluctant to trying it at first. Although I went through an emotional rollercoaster to get to this point of my life, I'm so happy that we went to CNY Fertility. Dr. Kiltz is an amazing person! He has a great personality, and he's very nurturing to his patients. It still feels too good to be true! We are 90 days away from meeting our baby girl!
Helpful resources Octavia & Clinton found:
Here are some things that helped me heal and overcome Major Depressive Disorder: praying, reading self-help books, deciding to stop feeling sorry for myself, changing eating habits (I stopped eating beef and pork for two years but fail off the wagon🤦🏾‍♀️😂), exercising (I need to get back on track with that, too), surrounding myself with positive people, joining an infertility support group and a women's group, counseling, and going to my monthly chiropractor and massage appointments. I had to get to a place of peace in order for God to allow a pregnancy to take place in my body. Listen to what I tell you… if the mind, body, and spirit aren't connected, pregnancy can't take place.
Unique Moments:
On June 25, 2021 I was given some sad news that our baby didn't survive. Yes, I was made to believe that I miscarried, but the devil is a liar, and the truth isn't in him! One week later, my husband and I were able to see our baby for the first time together via ultrasound. Our baby didn't die; she was very much alive!
Hope, Inspiration and Advice:
This hasn't been an easy journey, but I made it this far by the grace of God. I made up in my mind to keep striving. For anyone who has given up on hope, feels as if God doesn't answer prayers, or feels as if your dreams will never come true, that's exactly what the enemy wants you to believe. God is STILL in the blessing business! I learned early on in the pregnancy that this blessing wasn't for us; it was for others. God used me to show others his miraculous wonders. I'm only a vessel.