Melissa & Jeff's Story's Success Story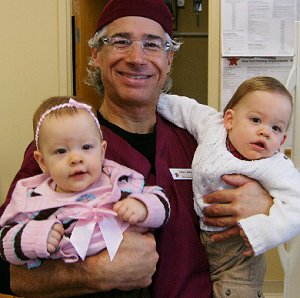 Dr. Kiltz and Staff,
We'd like to thank you for taking time out of your busy day on Friday, February 15, 2008 to meet our two miracles (Kyle & Madelynn).  Our appreciation to you all can't be measured!  After trying to conceive for over 9 years, we found your office by word of mouth and in less than 7 months, we had success!  Your professional, positive and compassionate staff helped make our dreams come true ... X 2!!  Kyle & Maddy were born April 23, 2007, 8 weeks early, but in good health.  They have been thriving ever since, meeting their milestones and amazing us every day with something new and exciting.  We owe so much to you all.  Jeff & I are truly blessed with two very happy babies.  Thanks doesn't seem say enough but please know with your help our family is now complete.  We have attached pictures of the babies and Dr Kiltz from our recent visit.  Again, thanks for all your help.