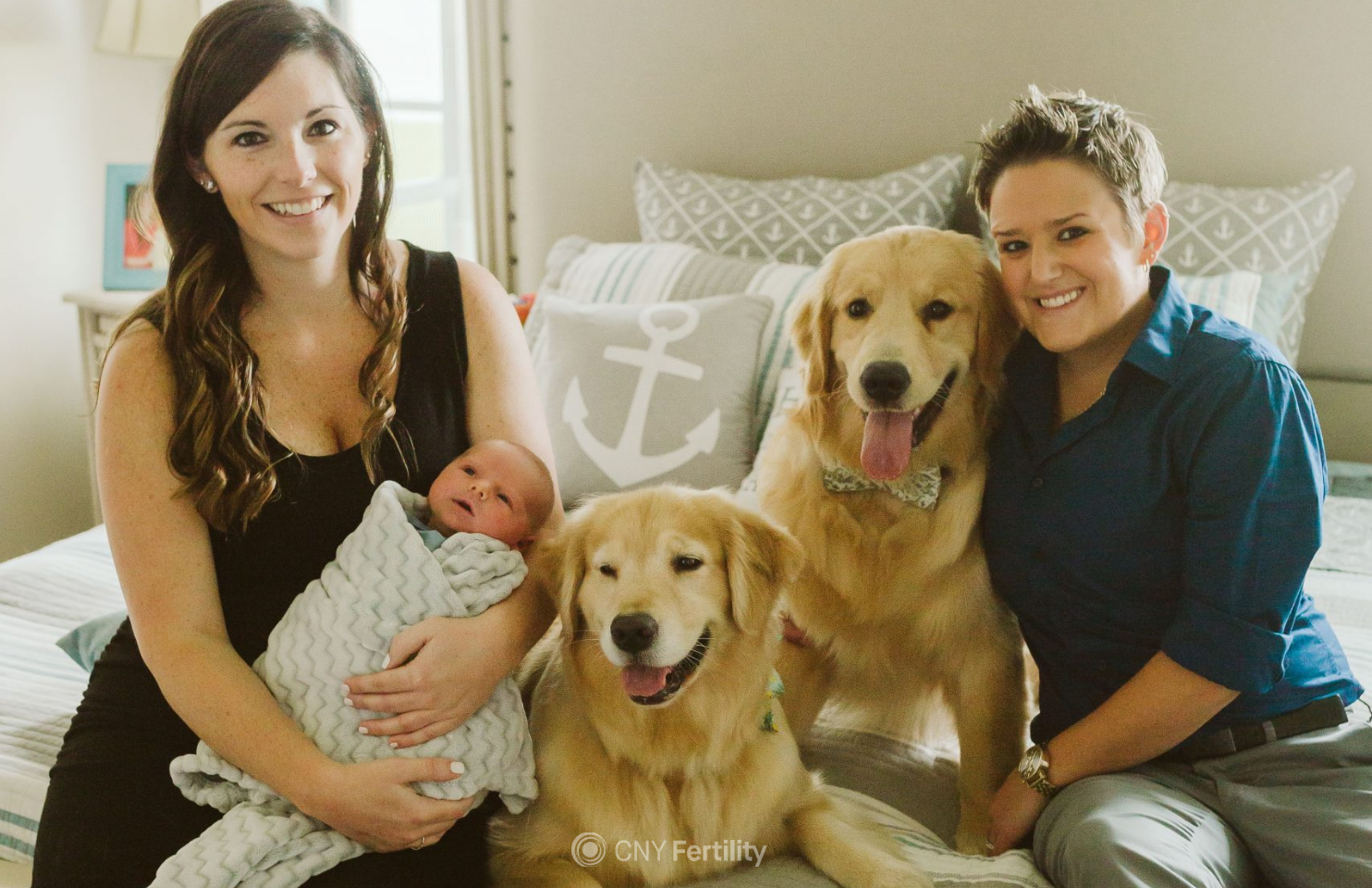 Meghan & Jen
Infertility Diagnosis

Polycystic ovary syndrome (PCOS)
Treatment(s)

Donor sperm
Embryo Freezing
Frozen embryo transfer (FET)
In vitro Fertilization (IVF)
Location(s)
Physician(s)

Robert Kiltz, MD
David Corley, MD
Meghan & Jen's Story:
Jen and I have been together for nearly 10 years. We always knew we wanted children, and several of them. Our fertility journey started in 2015, before we were married, as we had suspicions about a PCOS diagnosis for Jen. We were originally treated by a local fertility clinic in Florida, and actually trialed three IUIs with Jen. The first two never took, and the third resulted in a very early miscarriage.
We rediscovered CNY Fertility and their travel program quickly transitioned to their care and had our consultation. We were upset to have realized we could have been working with the travel team all along. Syracuse is actually our hometown, so we were familiar with the clinic and its success, but never thought we'd be able to utilize their services from Florida.
At our consultation, we agreed to proceed with IVF. We both started stimming and retrieving a week apart from each other. I had 10 eggs retrieved, all were mature enough to be fertilized, but 7 arrested before the 5 day mark. Jen, with PCOS, had about 30 eggs retrieved, around 10 fertilized, but NONE of them became embryos. We were devastated, as our plan was still for Jen to be pregnant first.
Dr. Kiltz recommended a new sperm donor, as it was abnormal for us both to have such issues with embryo formation. Still, I moved forward with an FET of one of my 3 embryos, while Jen went through two more cycles of stimming and retrieving while we found a new sperm donor. 9 weeks into my pregnancy, I miscarried, later to find out it was a partial molar pregnancy. This is often due to poor sperm as well. I had a D&C, and 6 months later was allowed to re-stim, re-harvest, where 9 embryos were grown.
One month later, on 1/3/2020, I had a new FET with one of Jen's embryos. For the next pregnancy, we will transfer one of my embryos (with the new donor sperm). Altogether, between 5 stim/retrieving cycles, we have 14 remaining embryos from the new donor, and a beautiful, perfect little boy, Mason. Mason is our world, and we couldn't be happier to be his mommies. We can't ever thank CNY Fertility enough for making his life and this love possible.
Favorite Team Member at CNY:
Dr. Kiltz and Dr. Corley we're our two primary doctors while we were there. We also had Donald for acupuncture.
Helpful resources Meghan & Jen found:
Jen and I ate a keto diet and remained positive and present for each other.
Unique Moments:
Lows: when Jen didn't have a single embryo form after her initial retrieval; my miscarriage; needing to repeat the stim/retrieval cycles several times to feel secure in our number of embryos
Highs: positive HGC betas! Mason's birth! My swollen belly and an amazing, supportive pregnancy.
Hope, Inspiration and Advice:
I have encouraged so many people to go to CNY Fertility for their reproductive journeys. CNY Fertility is a leader in the field for success, affordability, and being personal with their patients. I always felt supported and encouraged by the team, and they always answered my questions and concerns with genuine happiness, effort, and knowledge. I wish we knew about the travel program sooner, so we could have always been in the CNY Fertility family.
Being a fertility patient is a lot of work and stress, but it's worth it in the end to have your baby in your arms. Be organized, and be proactive, and be positive!