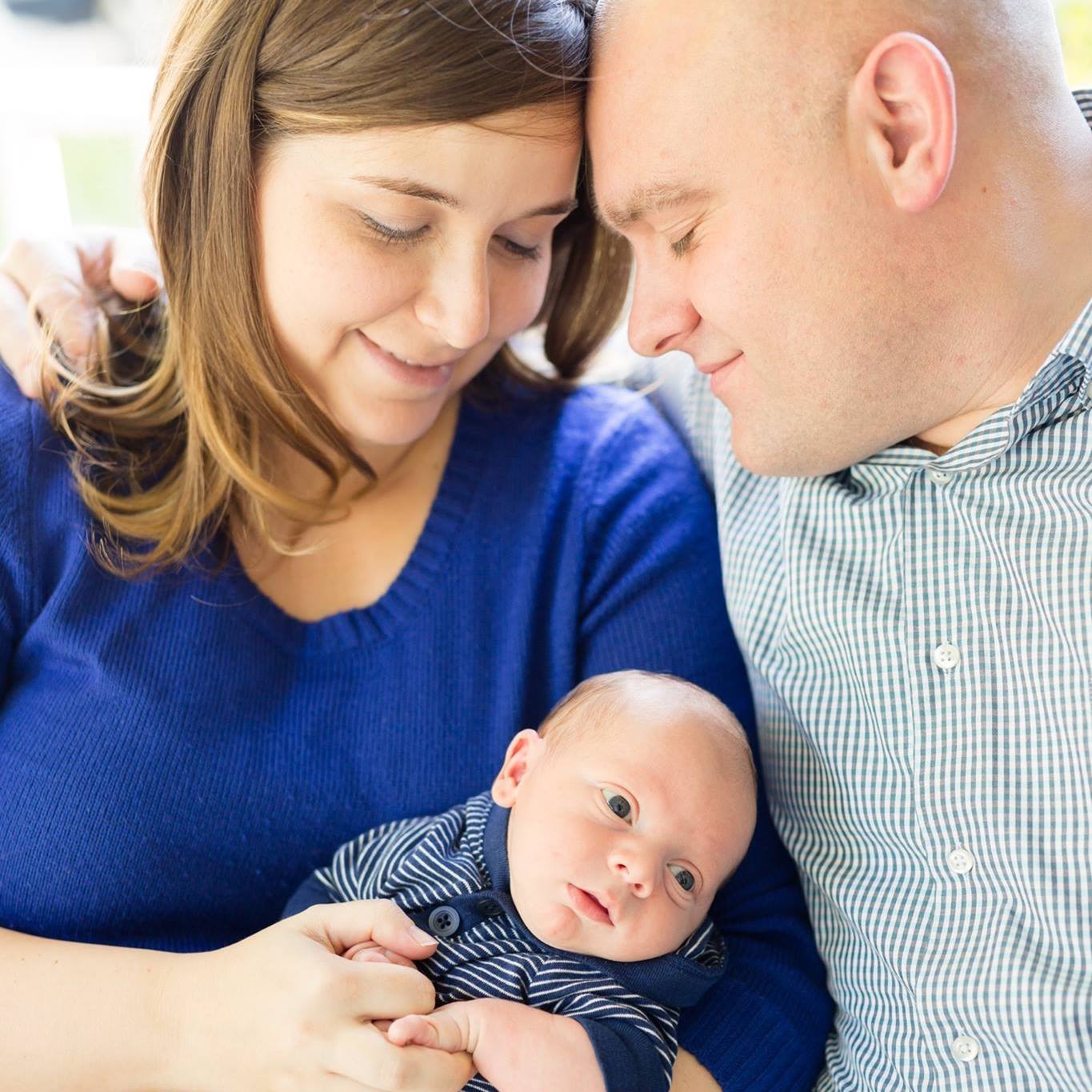 Mary Kate & Joe
Infertility Diagnosis
Treatment(s)

Frozen embryo transfer (FET)
In vitro Fertilization (IVF)
Location(s)
Physician(s)
Mary Kate & Joe's Story:
It started in 2009 with "trying, but not really."
Then tracking things.
Then buying stuff to track things.
Then buying more stuff.
Then getting really sad.
We took our sadness to a clinic here in Washington, DC.
We did every single test and they found zero reasons why it wasn't happening for us. None.
We started with timed intercourse, medicated cycles and four IUIs.
Two years of that comes and goes. All the treatments fail.
I take a year off to lose all the weight from the fertility drugs, to build our bank account back up, to gain back our (ok, mostly my) sanity.
I can't even look at babies at the grocery store.
I burst into tears a lot.
When acquaintances shove their kids in my face, I get angry. I stew.
I didn't go out much anymore, because I just couldn't.
My heart ached for a family, yet the path to get there was so unclear.
We started looking into the "big guns" of fertility treatments- IVF.
We were overwhelmed and devastated when we learned that insurance covers none of it, and local DC-area clinics charged a price we could never afford.
I hid for a bit, thinking this will never happen for us.
Joe, desperate for a family (and a sane wife) started researching other options.
He found a clinic that was far away but significantly more affordable.
I asked myself if I was willing to cross state borders to start a family.
I decided I was.
We made the commitment.
We did the retrieval at CNY Albany.
The fresh transfer failed.
I spiraled.
It's never going to happen for us, I think.
Dr. Ditkoff tells us all is not lost.
Come back next month, you have one remaining embryo.
We traveled the six hours back up to Albany a few days before New Year's Eve in 2017. My hopeful spirit is mostly gone. Joe is the ever-optimist and keeps it positive.
A week after the transfer we both begin to get antsy and bought alllllll the home pregnancy tests. Well, that's weird. We've never had a faint line before. It's probably nothing, but let's stay hopeful.
Joe convinces me to take a digital test. I take it, lay it on the counter and walk away.
"BABE. Look!" he holds up the test.
I look.
It says, "Pregnant."
Like, the word.
Not a line to decipher, nothing to decode.
It's right there.
I'm sitting in the chair at our kitchen counter and I can only say, "Oh my God" before I burst into tears. An audible ugly cry follows. Joe is standing, bear-hugging me from the side, practically holding me up.
It's in slow motion. He's holding me so close. I hear him sniffling.
I don't know what happened next, how we transitioned from that life-changing moment to just a regular Saturday. But we did.
But not really.
All of a sudden every test, every appointment, every blood test, every needle (so many needles), every medication, every frustration, every cry, every angry email melts away. And I'd do it all again.
But we did not do this alone. In no way did we do this alone. First- we had the amazing doctors and nurses at CNY to lean on. They answered every question, no matter the time of day. They kept us informed of everything and kept us positive.
On September 5, 2018, Max Battles arrived. With bright blue eyes like his daddy and his momma's dark hair, we just couldn't believe, after nine years of waiting, our miracle boy was here.
So here we are. On the "other side" of infertility. Joe and I are so blown away by the kindness of so many who came along on this infertility journey with us. We truly had a TEAM.
We are so grateful to CNY.
-MK Battles
Favorite Team Member at CNY:
Dr. Ditkoff, Nurse Jackie!
Helpful resources Mary Kate & Joe found:
counseling!
Unique Moments:
I think I shared in the above story
Hope, Inspiration and Advice:
see above- Also, I have one more photo I'd like to include, but couldn't attach it here- if you give me an email address, I'll send it there.