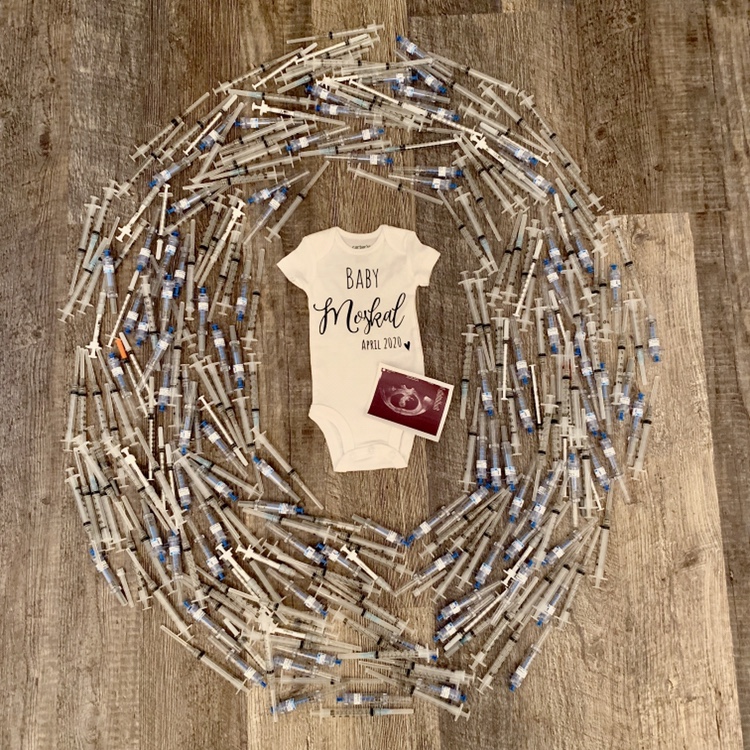 Karrie & Mark
Infertility Diagnosis

Polycystic ovary syndrome (PCOS)
Treatment(s)

Egg freezing
Embryo Freezing
Frozen embryo transfer (FET)
Hysteroscopy
In vitro Fertilization (IVF)
Intrauterine insemination (IUI)
Location(s)
Physician(s)
Karrie & Mark's Story:
Somewhere there is someone that will be hurt by this post. A woman that has been longing for a family and watching it happen for the people all around her. It makes her feel like a failure or less of a woman. To that woman, I want you to know that I am rooting for you and always will be. If you ever need support, no matter how close we are or aren't, do not ever feel alone.... Please know I would be happy to listen or support you no matter what your story is. I know the feeling because I have been that woman.
Two years ago, Mark and I started trying for our family. At first, we didn't put a lot of stress on it. Months came and went with no luck. With each negative test, we realized more and more, something might be wrong. I continued to tell myself "we will try one more month before calling the doctor". It's a hard pill to swallow, something could be wrong with one of us or both? This wasn't the life we planned or what we envisioned for our future. Finally, I called... Mark was tested first and he was perfect. Initially, I was so happy... then it dawned on me... it's me... this has to be my fault. The thought was devastating. I couldn't help but think Mark married me and we had a vision of starting a family together, what are we going to do if I can't even complete our dream? I felt like a failure.
We ended up at CNY Fertility and it was scary but comforting at the same time. I was nervous about what was to come but excited too about what might come. I was diagnosed with PCOS which basically just means my body produces cysts and it will just be harder for me to get pregnant. Well, let's just fast forward, after 5 failed IUIs we knew it was time for IVF.
As we started we felt so many things, hopeful, scared, overwhelmed, just so many emotions. Mark reassured me daily that it was our time. I was on three shots (among many other pills) during my egg retrieval. These shots had to be done at the same time daily. Mark's schedule rotates weekly so that was a lot of fun. He became a master at mixing up my shots and giving me my injections. If I was working that week at Del Buenos, he would bring them and give me my shots in the basement in between me serving my tables. If he was working, he would hustle home in between calls to give me my meds. The whole process was exhausting. We went through a full egg retrieval and transferred our little embryos month after month, each time the test was negative. When we went through our full batch of embryos in May and still had no results, I really hit an all time low. Through this process, I had connected with so many people who conceived with IVF. It had worked for so many couples and when it did not work for us, I was shattered.
I will try to keep the sappy post to a minimum but you really don't know what IVF will do to a person or a relationship until you go through it. It can crush you or make you stronger and each day Mark proved to me that we would be the latter. Mark insisted daily that if I did not love myself, he would love me enough for both of us. People tell me that I'm strong but I am strong because of him. When I lost hope, Mark always reminded me of the vision I had lost sight of. He pushed me when I needed it... but let me lay in bed when I needed to do that. He knew how to support me when I didn't know how to support myself. I truly couldn't have had a better husband through all of this. After two months off, we went through another egg retrieval and transfer…
After 5 failed IUIs, 2 Egg Retrievals, 5 embryo transfers, countless tears, 79 Dr's appointments in Syracuse, and 276 shots... our prayers have finally been answered. Baby Moskal is due April 2020!
Favorite Team Member at CNY:
The nurses at the Syracuse location were amazing. They have seen me laugh, cry, and get angry yet still handled me so well and helped me never lose hope
Helpful resources Karrie & Mark found:
The blog "waiting on baby bird"
Unique Moments:
The lows- using all my embryos after our first egg retrievalThe highs - graduating from CNY 10 weeks into my pregnancy (bitter sweet) :)
Hope, Inspiration and Advice:
It's hard not to compare yourself to other people's stories. Eventually, I compared myself to couples who used fertility treatments. I knew so many who had success at CNY with the first transfer! When ours didn't take, I was devastated.
Remember to keep sight of your vision. For some couples, IUIs get them there, others have to go through 7 embryos transfers. Just keep your focus on your future family.