John & Elizabeth Hart's Story's Success Story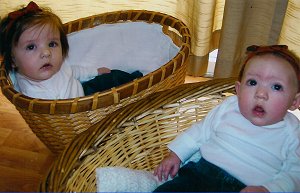 My husband and I were just trying to live out the, "American Dream". We were married and bought the perfect house to start our family. Everyone around us seemed to be having babies, we assumed we would be next. However, two miscarriages and five years later, we were still no closer to our dream. That's when we decided to take all our hopes and go to CNY Fertility Center.
I still remember our first appointment with Dr. Kiltz. He looked at our chart, ran some test that day, then said, " We're going to get you pregnant". The doctors and staff became our family as our fertility journey began. Six months later it was decided IVF was our best option. We transferred three embryo's and found out on our second ultrasound we were blessed with twins. The staff was so happy and supportive of us. They even referred me to a new amazing OB practice after I had fears of returning to my old OB.
On July 14, 2007 we finally became parents. Our girls were four weeks early, but so perfect. Meghann weighed 6 lb 10 oz. and 17 in long. Makenna was 6 lb. 3 oz and 18 in long. They came home with us five days later. We had to go by CNY on our way home from the hospital. So, we stopped to show the girls where it all started. The whole staff cried and cheered, it was like they had twins of their own. If I could have stayed and had the doctors at CNY deliver my babies I would have.
I love the center and all of the staff. How can you thank them enough for what they do for people everyday? I am reminded of my gratitude towards CNY Fertility each morning when I walk into my girls room and see those two smiling faces looking back at me.