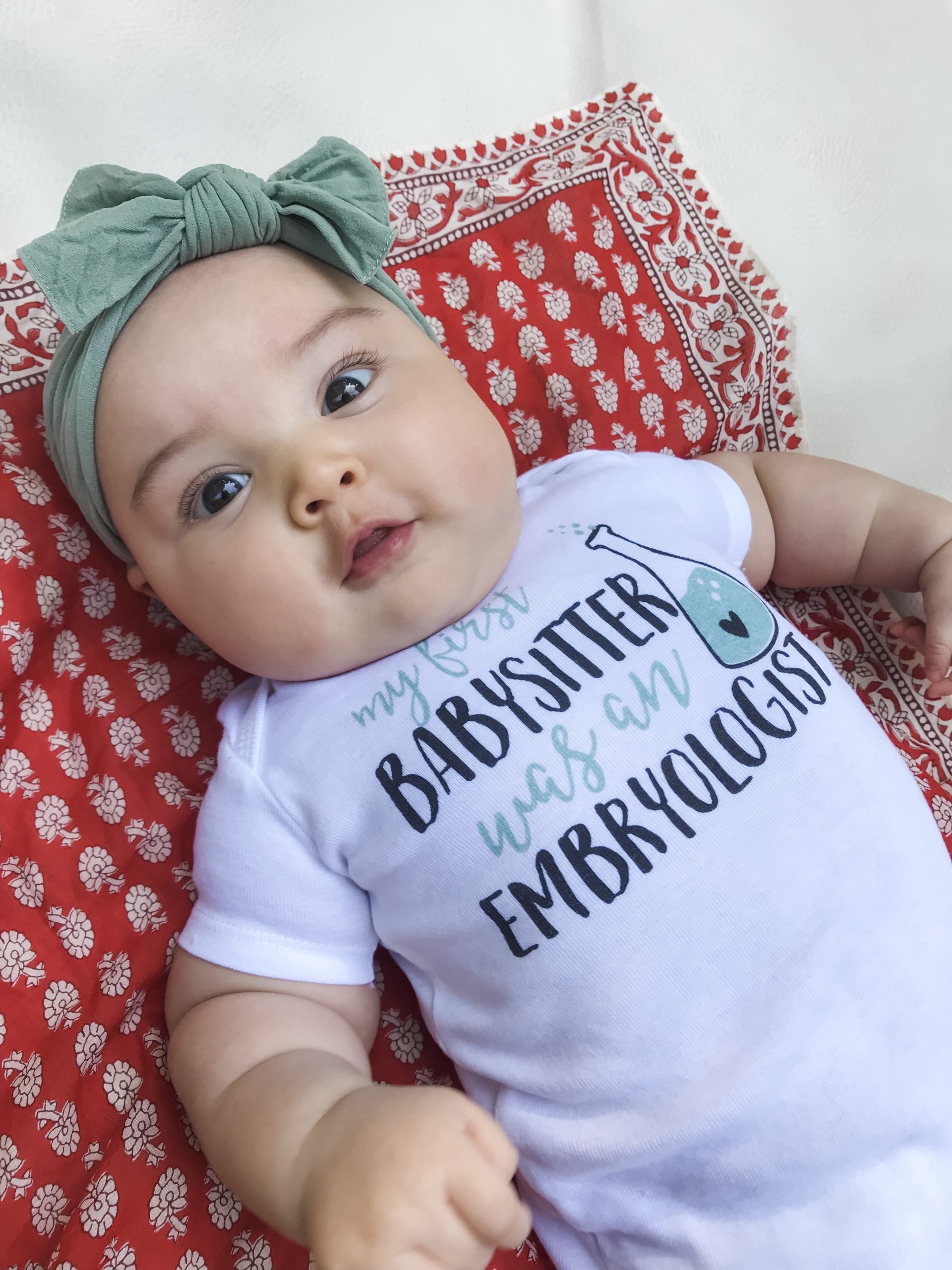 Jocelyn & Zichen
Infertility Diagnosis
Treatment(s)

Embryo Freezing
Frozen embryo transfer (FET)
In vitro Fertilization (IVF)
Laparoscopy
Sperm Freezing
Location(s)
Jocelyn & Zichen's Story:
Our journey with infertility began like many: we tried for 12 months with no success, and had a sneaking suspicion something must be wrong. We were living in Guangzhou, China at the time, and I remember looking up the English translation for 'blocked fallopian tubes' when the doctor announced my ultrasound result. She sounded optimistic though, and so we followed various treatments (medication and natural remedies) for another six months, hoping for the best. Still, nothing. Our world took on a different color. Even the most beautiful experiences – traveling to the French countryside for a friend's wedding, for instance – were clouded by the anxiety that we may never have children of our own. I felt such guilt for the sadness the situation brought my husband, and watched powerlessly as infertility sucked the joy from our relationship.
After about two years, we decided to take serious action. I prepared to leave my job and return to my hometown in the States – Syracuse. In the meantime, I started traveling across the city during my lunch break to see a traditional Chinese medicine doctor and drank nauseating tonics filled with god knows what twice a day. Anything to make a baby, right?!?
Needless to say, the TCM potions didn't work for me, and in January 2018 I was back in Upstate New York preparing for laparoscopic surgery to remove both tubes altogether (numerous doctors told me they were unsalvageable). Following the surgery, I had originally planned to try Boston IVF, but everyone I talked to recommended CNY Fertility. I did some research and was intrigued – what were the chances that one of the most affordable IVF medical centers in the country happened to be in Syracuse, where I grew up? There's a word for that in Chinese – 缘分 yuanfen, or 'destiny' – and so we opted for CNY.
Two months later, I was sitting in the cozily decorated waiting room preparing for a journey I'd heard would be immensely 'difficult', without yet fully understanding the gravity of the word. I'll never forget when my box of IVF meds was delivered – it was the size of a carry-on suitcase. YouTube is great for a crash-course on how to use needles and syringes, but CNY Fertility's 24-hour nurse hotline was a lifesaver (especially the time my trigger shot fell on daylight savings!).
Our first fresh transfer failed, as did the following two frozen transfers. I came to dread the calls with my hCG results, as I could tell by the tone of the "hello" that our transfer had been unsuccessful.
It was now June 2018, and I had done a retrieval and three straight transfers without taking a break. My husband was visiting as often as he could but still working abroad in China. The only thing that kept me sane was to keep trying, and I was fortunate that we could afford to do so. I was determined to make it work, but doubts about whether my high FSH level of 17 was affecting our success started to creep in (many IVF centers don't even take patients with an FSH that high; I was 28 years old). My husband told me I could stop trying at any time – "We can be happy without kids," he told me, earnestly – and I felt some relief. But I also knew infertility would always haunt us, and so I prepared for another round.
Our second retrieval secured just 7 eggs, 5 of which were viable. I had requested conventional IVF or 'standard insemination' instead of ICSI (something I recommend looking into if sperm motility is sufficient) and received a call that three had fertilized. We were advised to freeze the embryos when they made it to Day 3, but I asked to take a chance and see if they'd make it to Day 5 (all of our previous embryos had). Sure enough, one turned to a well-rated blastocyst on Day 5, and the other two followed suit a couple days later (albeit rated fairly poorly).
My fourth transfer (frozen) was different. Mentally, I had sort of checked out. I think I assumed it wouldn't work, so I just went on with my life. A good friend visited and I had a little too much wine and stayed up too late. I inadvertently let my mind focus on something other than IVF for once. Another important change was the medication. My nurse practitioner recommended I try a more natural route, which included using Letrozole 5mg and HCG 10,000 for my trigger shot (in addition to a Z-pack, baby Aspirin, prenatal vitamin, LDN, Prednisone, Prograf, Cleocin, PIO, Endometrin, intralipid infusions and acupuncture).
A couple days before my hCG results came back, I took a pregnancy test at 6am. TWO lines! I sent a voice message to my husband on WeChat screaming with excitement. We laughed and cried together. Finally, success.
The next day, however, a fresh worry set in: there were nine long months to wait for something to go wrong. It was a negative outlook, I know, but after being disappointed so many times, it was hard to trust that everything would go smoothly. And that's the most challenging part of IVF or infertility in general, I think – learning to trust and have faith in something that's totally out of your control. Now, I want to tell anyone going through this that you MUST try to remain hopeful, even if doubts plague your mind. There is always a chance. You have to believe that.
As I type this on my laptop, my three-month-old girl is lying beside me, kicking her chubby legs against her playmat and studying my expression. She's healthy, she's happy, and the dark times my husband and I persevered through together feel distant now.
We are so grateful to CNY Fertility for making IVF affordable enough for us to try four transfers. There's no way we could have afforded to do so anywhere else, but four is how many tries it took. That fourth try is the reason we have our adorable daughter, who has brought more joy to our lives and our families than we ever imagined.
Favorite Team Member at CNY:
There was a nurse who drew my blood before each transfer – I really wish I remembered her name because there was something about her that put me at ease. She held my hand and really coaxed me through the process. Dr. Corley was also amazing and so gentle. Having kind, familiar faces to look forward to seeing during transfers really made a difference.
Helpful resources Jocelyn & Zichen found:
I found the Facebook group "IVF Support Group" (the one with 33,000 members) to be extremely helpful. When I had a question or wanted to see if others had encountered a similar problem as me, I just posted in the group and immediately received a response from at least two fellow members. Everyone was very supportive. Other than that, reading helped take my mind off the IVF process, as did Netflix and long walks.
Unique Moments:
One of the highs of my treatment was learning how to do the PIO shots myself since my husband was living abroad. It was so empowering the first time I did one. Each shot was somewhat of a mind game (that needle is huge, no? lol) but I also felt pretty badass afterwards. With time, I actually preferred to do the shots myself, even when someone was around to help. IVF shows us our strengths, and I think it is such a powerful, unique experience that we are lucky to have.
Hope, Inspiration and Advice:
I wish I'd known how important it is to plan ahead when ordering medications. There were times when I needed to continue stim meds like Gonal-F for three more days than initially anticipated, and of course it takes time to ship those meds, so that often created additional stress that could have easily been avoided if I'd ordered enough (i.e. extra, even though it's expensive) the first time around.
Another piece of advice: take time for self-care. Be kind to yourself. Pamper yourself. If you're feeling hopeless one day, just recognize and accept that feeling instead of fighting it, but find ways to pull yourself out of the rut and walk on. The sun will shine again. People will give you advice on how to live, but the truest advice is ultimately born within. Listen to your heart. You are so strong.