Corri & John's Story's Success Story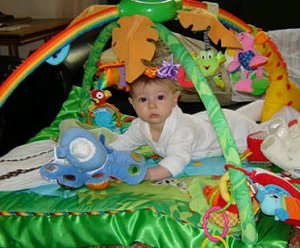 Arabella, our happy, active little red-head, is nearly 5 months old. Her typical day involves an early morning wake up, lots of breast milk, and a tour through a cavalcade of toys that squeak, click, or
sing. If Mom is working (part-time), she spends her mornings with "Gramama," who we persuaded to trade her sunny Florida home for Syracuse winters - all for the pleasure of engaging with our dynamic little girl!  Of course, Gramama is onto something - the experience of bringing our little gem into the world, of preparing her for its joys and challenges and most of all, the privilege of knowing her as she becomes herself.
My husband and I learned of Dr. Kiltz from a friend.  We had heard that CNY Fertility Center is visited by practitioners around the country as a model for how to run an incredibly effective and compassionate medical practice.  But this does not begin to describe our experience.  Not only did we feel that we were part of a community that made any health issue manageable.  We felt that every staff member somehow "got it," the intrinsic value of bringing a child, every child, into the world.
We couldn't be happier with this philosophy and its outcome.