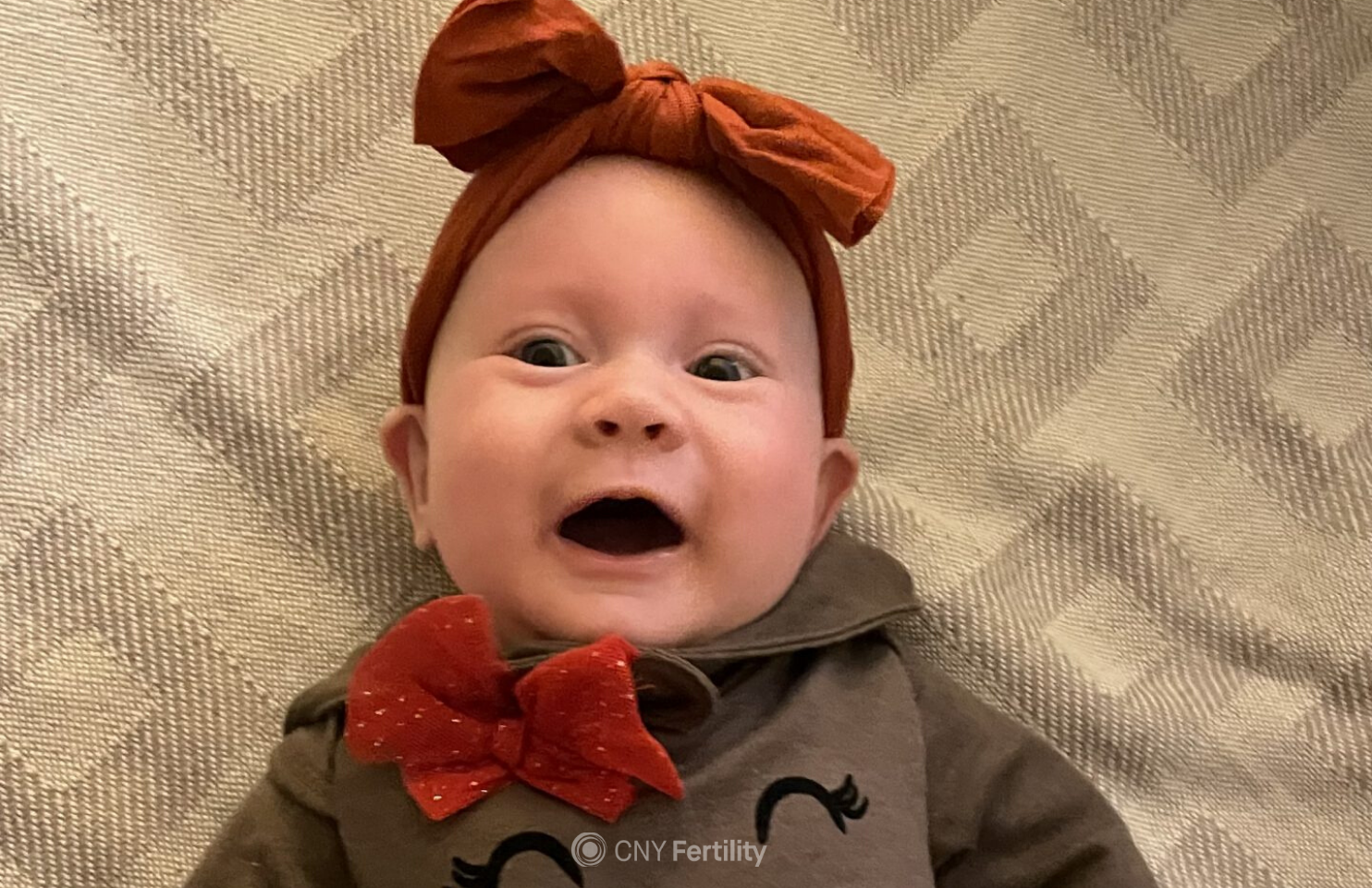 Brie & Dan
Infertility Diagnosis

Premature ovarian failure
Treatment(s)

Donor egg
Frozen embryo transfer (FET)
Location(s)
Physician(s)

Robert Kiltz, MD
Rebecca Eskin, NP
Brie & Dan's Story:
My husband and I got married in 2015 and started trying for a baby about a year later. After a year of trying with no success we decided to shift gears and focus on losing weight. Two years later we were ready to start trying again. After almost a year of trying and the start of very irregular periods, I made an appointment with a fertility doctor. After a series of tests, I was diagnosed with Premature Ovarian Failure and was told I should consider using donor eggs.
I made an appointment with CNY to get a second opinion. The nurse who did our consultation said our best bet was donor eggs, but they were willing to let me try IVF with my own eggs as well. After a failed attempt at IVF, I had the closure I needed to move forward with donor eggs with CNY.
Due to covid, the donor pool was small and the waiting lists were long, but I checked for new donors frequently. A new donor popped up one day that matched what we were looking for and I was able to get on the top of her donor list! After what seemed like the longest few months of my life we ended up with three blasts. Our first frozen transfer ended as an early miscarriage, but the second transfer brought us our beautiful Eloise Charlotte in August of 2021. We have one embryo left and will hopefully be able to give our little girl a sibling in the near future!
Favorite Team Member at CNY:
Rebecca Eskin
Helpful resources Brie & Dan found:
Acupuncture
Unique Moments:
Being diagnosed with Premature Ovarian Failure at 30 was like a sucker punch to the gut. The diagnosis came out of left field. My periods had always been very normal until the year before my diagnosis. No one in my family has ever had issues with conceiving - so I wasn't expecting such a heartbreaking diagnosis. I had no idea using donor eggs was a thing until I received my diagnosis.
Hope, Inspiration and Advice:
I was not very on board with using donor eggs at first. I know that genetics don't make a family - my family consists of adopted individuals, yet I still couldn't wrap my head around using donor eggs. I don't regret my decision to try IVF before moving on. It really did provide me with closure - plus if my story had played out any differently, I wouldn't have the baby I ended up with! I really do believe she was exactly who I was meant to end up with!