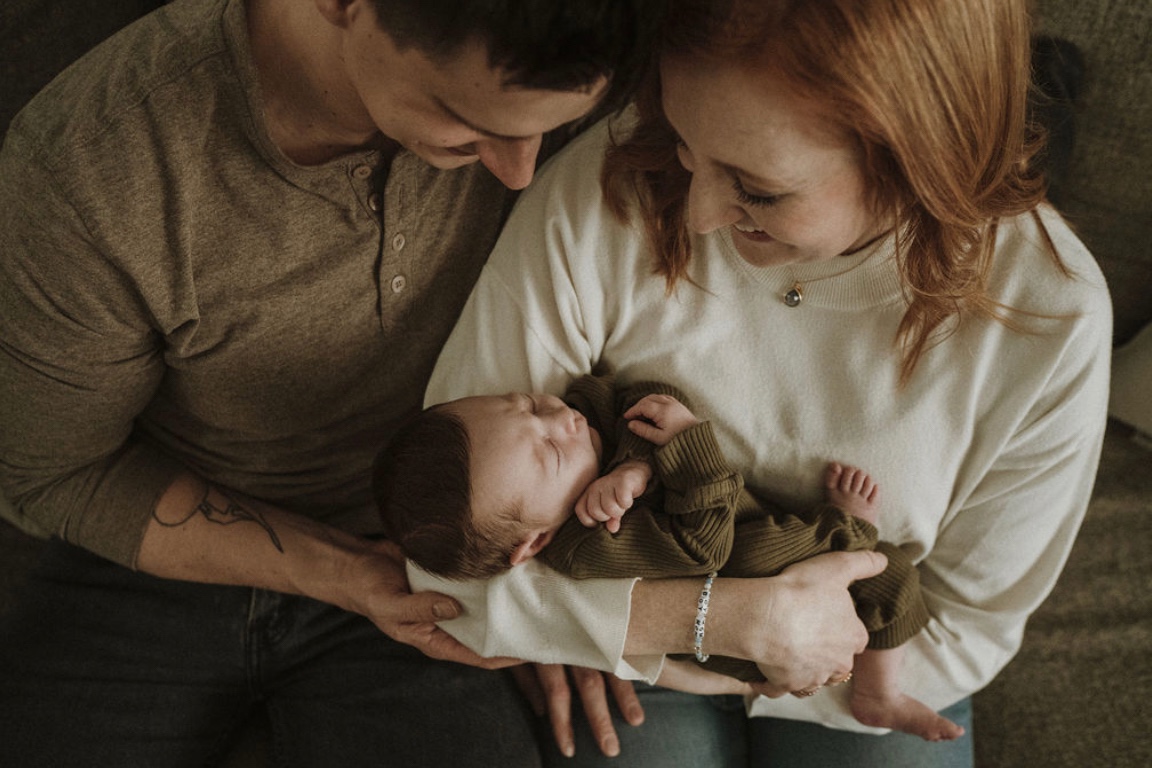 Bridget & Andrew
Treatment(s)

Hysteroscopy
In vitro Fertilization (IVF)
Intrauterine insemination (IUI)
Laparoscopy
Location(s)
Physician(s)

Robert Kiltz, MD
David Corley, MD
Bridget & Andrew's Story:
We began trying to conceive in the Fall of 2020 after I finished my doctorate degree. We knew we were ready to start our family and since I had been tracking my cycle for years, I figured we would time it just right and it wouldn't take long.
After about a year of trying and no positive pregnancy tests, we decided we wanted to seek help. We are fortunate to live local to CNY fertility Syracuse, and had heard of so many successes there, so we made an appointment for a few months out, but asked to be put on the waitlist in case there was a cancellation. Luckily there was, and we got in a month after we called. We started with doing our first IUI in January 2021.
After that was unsuccessful, we tried two more rounds of IUI, which were also unsuccessful. We decided to do more problem-solving, and I got a laparoscopy/hysteroscopy. Dr. Kiltz found a small amount of endometriosis and removed it during surgery.
The month following, we did our first round of IVF. We retrieved 9 eggs, 5 matured, 3 fertilized, but ultimately only one made it to day 3. We did a 3-day fresh transfer and he stuck! We now have a beautiful 6-week-old son, and we owe everything to CNY.
Favorite Team Member at CNY:
One of the medical assistants, who I believe her name was Stephanie, was a strong advocate for me when I came in one day after bleeding heavily following my first IUI, wanting answers. I had called and asked to see Dr. Kiltz when I came in. By the time I got in my room, he was leaving the hospital soon. I started crying because I had no idea what was going on and really wanted some answers. Stephanie comforted me and tracked down Dr. Kiltz and asked him to come see me before he left. I'll never forget her kindness.
Helpful resources Bridget & Andrew found:
Acupuncture at CNY Healing Arts, yoga
The Moment:
I was convinced that I wasn't pregnant because I didn't feel any differently from other months when my period comes. I had planned to not test at home and wait for my blood test at CNY. However, the day before my appointment, I had this feeling that all my doubts were wrong and that our transfer might have actually been successful. I took a home pregnancy test and much to my surprise it was positive! It was fun to get to have that moment even though we didn't conceive naturally.
Hope, Inspiration and Advice:
Realize that you are not alone and there is a whole community of people who are TTC and not getting pregnant right away or without assistance. Join virtual support groups and read success stories. Never lose hope. Positivity will carry you through.