The Embryos That Could: A Remarkable Story of Embryo Donation (Part 1)'s Success Story
After struggling for 4 years to get pregnant and going through two rounds of IVF, life just didn't seem to be going my way.
Beginning my third round of IVF, I joined a "secret group," of close to 100 women that were cycling the same time as me. As part of this group I had the opportunity to meet many lovely families, but one family, in particular, stood out. I met them when they were going through their fifth round of IVF. She had previously had success with her first cycle but was now back again to have another child. After two more failed cycles she was completely devastated. She posted how her son sat there and prayed with her every night that mommy would be blessed with a baby so he could have a sibling. It broke my heart. She and her husband took a break and then a few weeks later came back and posted how they are going to explore their options such as adopting or looking into embryo donation.
Right around this same time, after four years of trials and torments, I got news that I was pregnant. Not just pregnant though, I was pregnant with triplets!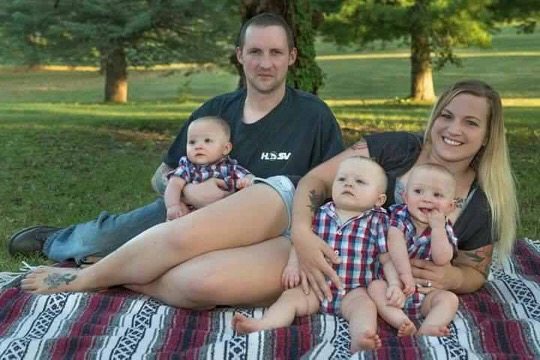 Throughout my four years of trying to conceive, my biggest fear was always having multiples. I mean, two or three kids all at once! Could my body even handle that? Could I financially afford to have twins or even triplets?
After conceiving in my third IVF cycle, I had 5 remaining embryos that made it to freeze. My job covered all of IVF, but knowing that I was getting ready to resign due to my high-risk pregnancy and lose the insurance I would no longer be able to afford to keep the embryos frozen.
This family I mentioned above never came to me but her story inspired me and I had to help. That's when I decided to reach out to this particular family in the process of exploring both traditional adoption and embryo donation.
I messaged her and I said, "I would love for you to adopt my remaining embryos". She was ecstatic!
I decided to do this because going through IVF is hard, especially when you keep having negative outcomes. My last round of IVF was so difficult I just couldn't bear the thought of discarding my embryos after all I had been through. Plus, if I can't give these embryos a chance at life, then I thought it was best if someone else could at least try.
Pretty soon, she was having the transfer and sure enough, the first embryo worked!
It was an incredible gift to give. Honestly, I felt like I was the lucky one. Not only did I help her but she literally helped me by saving these embryos life and giving them a chance at life when I no longer could.
Over the following months, I became very close to the woman I donated my embryos to. We still keep in touch almost every day.
The family let me be apart of their pregnancy by having the ultrasound tech send me the sex of the baby because her family wanted to wait until the birth to find out the child's sex. I kept that secret for the whole pregnancy and just a few months ago her water broke and she now has a beautiful baby boy.
It's just amazing to see how much that little boy is loved!
Embryo donation/adoption can be a touchy subject for most people, but going through the experience and interacting with the recipient family, being a part of their pregnancy, and seeing the new life they now cherish and adore has changed my entire aspect on embryo adoption.
I think one thing to keep in mind for those who have extra embryos from an earlier cycle that may be considering donating them is that there are many out there who would be delighted, even honored to receive your embryos.  From the other perspective, I would recommend women who have had many failed cycles to seek options like embryo adoption, even if that means asking "strangers," from a support group. There are so many out there who would be delighted to help you and seeing how much that family loved their new child, even though it wasn't biologically related, you could tell that it was their child because of how much they loved him.
I never had any regrets but was always wondered what it would be like after I saw a picture of the baby. Would I change my mind? Would I be jealous? Would I regret giving away my embryos? Thankfully, no. It's the most beautiful thing, to see their family of now four light up like a beautiful picture in an art gallery, so full of love and happiness. It makes the decision to donate my remaining embryos that much sweeter.
It warms my heart to know that I have filled this families emptiness and I am forever grateful for her and her family for accepting this baby as their own and also going out of their own comfort zone and carrying a baby that's not biologically theirs and mothering it just like if they created this baby. It's been an additional blessing that I've formed such an amazing friendship from what seems like such an odd and intimate beginning. I feel like I've known her my entire life.
But all of that might not even be the most remarkable thing about this. . . .

To be continued in Part Two





Written by Ronnica McFarland
Edited by William Kiltz