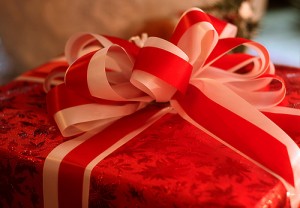 In the midst of the holiday season, finding the perfect gift can easily distract us from the greater meaning of the holidays.  Sometimes, we even forget why we are purchasing a gift for a loved one!  This year, try to spend a few moments reflecting on the true meaning behind your celebration.  Whether it is rooted in religious tradition, gratitude of family, or any other belief, it is important to recognize the reason behind the gift.  Taking a few deep breaths, meditate on the following questions for a few moments, to help bring a heightened awareness to the true meaning behind your celebration:
What are you grateful for this holiday season?
Who are you going to celebrate with?
What is the gift you are most excited to give?  Why?
Instead of giving that special gift, what if you could only give words?  What would you say?  Who would you give to?
Why is this holiday important to you?
I hope you have a wonderful holiday season, and please let me know if there is anything I can do for you!
Happy Holidays,
Lisa
Lstack@cnyfertility.com
315-744-8073
https://www.cnyfertility.com/wp-content/uploads/2018/06/CNY-BLACK.png
0
0
lstack
https://www.cnyfertility.com/wp-content/uploads/2018/06/CNY-BLACK.png
lstack
2010-12-20 08:32:04
2010-12-20 08:32:04
Words of Support and Encouragement Week of December 20, 2010