The Stresses of Treatment: How Meditation Can Help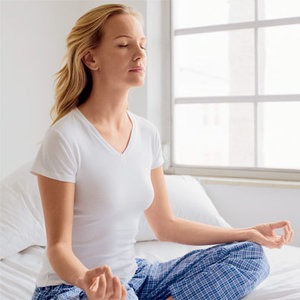 When you are receiving treatment for infertility, it can take up a large chunk of your time. From regular check-ups to filling and taking prescriptions to getting over your fear of needles, each bit can push your stress meter to the next level. The procedures, the phone calls, and even the trips to and from the doctor's office may affect both your availability and your productivity at work (which only adds onto your heap of worries).
Furthermore, if you're taking any medications for infertility treatment, these pills could cause side effects such as headache, nausea, fatigue, and irritability. Either way, when you're "living in limbo" – trying to get pregnant and not knowing if you can – stress can affect many areas of your life, such as:
Your mood
Feeling anxious, restless, irritable, sad, angry or depressed
Lacking motivation or focus
How your body feels
Experiencing muscle tension/pain, nausea, chest pain, headaches, or fatigue
Lacking sex drive or having difficulty sleeping
How you act
Overeating or undereating, having angry outbursts, or developing anti-social tendencies
Beginning to or going back to abusing nicotine, drugs, or alcohol.
It is impossible to know whether stress causes infertility or infertility causes stress. Certain research points to the former conclusion, yet other data suggests the latter one. One thing researchers do know is that meditation helps reduce the effects of stress.
Meditation can provide a sense of serenity and balance to your life that has been shown to benefit both your emotional well-being and your physical health. When you meditate, you focus on the present. The goal is to clear away the overload of stressors (things that stress you out) that build up throughout the day and be at peace with yourself. Meditation can help you:
Increase self-awareness
Alleviate symptoms of asthma, high blood pressure, allergies, depression, insomnia or other sleep issues
Build new skills to help cope with stress
Reduce negative feelings and thoughts
Gain a new perspective on a stressful situation
Reduce pain, tension, anxiety, fatigue, headaches, irritability, binge eating and substance abuse
Each month, Lisa Stack (our CNY Fertility Support Cordinator) holds an Evening Meditation and Relaxation Webinar that can be enjoyed from the comfort of your own home. This live-streaming, online video is designed to show viewers how to prepare their minds and bodies for a peaceful night of sleep. Click here to learn more or e-mail Lisa at Lstack@cnyfertility.com.