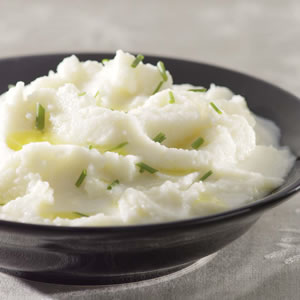 Mmmmm…Thanksgiving is right around the corner! The shelves at the store are stocked with every holiday food imaginable, and there are extra aisles devoted to the "feast". It can be challenging to stick to a healthy diet for fertility, especially with all those delicious carbs calling your name. Here is one great substitution that you can make for those starchy, mashed potatoes this Thanksgiving—mashed cauliflower.
Potatoes have a very high glycemic level which negatively impact insulin levels. Women with PCOS can improve their symptoms by decreasing the amount of these starchy carbs in their diets. Substituting cauliflower is a delicious vegetable to do just that. It is low in fat, cholesterol, and in carbs. It also offers many other nutrients such as Vitamins C, K, B6, and Folate, and contains numerous minerals including potassium, phosphorus, manganese, iron, and calcium.
Mashed cauliflower is easy to prepare. Take a medium head of cauliflower (this will serve four people) and steam until very tender. Transfer cauliflower to a food processor. Next, add about a tablespoon of olive oil. If necessary, add a small amount of hot water (about 1 tsp.) at a time to achieve the desired consistency. Add salt and/or pepper to taste and pulse at short bursts. If you prefer a creamier taste, you substitute the water with small amount of milk, as you don't need much due to the water content that will be in the cauliflower. You will be saving yourself approximately 20 grams of carbohydrates per serving, and will be increasing your nutritional intake greatly!
There are so many variations that can be made to the simple, basic recipe above—try chicken stock vs. milk, or combine cauliflower with some sautéed garlic, onions, or chives to make them a little zestier. Every little, positive dietary change can help, and swapping cauliflower for potatoes is just another step in the right direction!
Request Consultation or Appointment
If you are a new patient and would like an initial fertility consultation, click here to request a phone or in-office visit, or call us toll free with your questions at 800-539-9870.
https://www.cnyfertility.com/wp-content/uploads/2018/06/CNY-BLACK.png
0
0
editor
https://www.cnyfertility.com/wp-content/uploads/2018/06/CNY-BLACK.png
editor
2012-11-14 08:00:31
2012-11-14 08:00:31
Thanksgiving Mashed Cauliflower