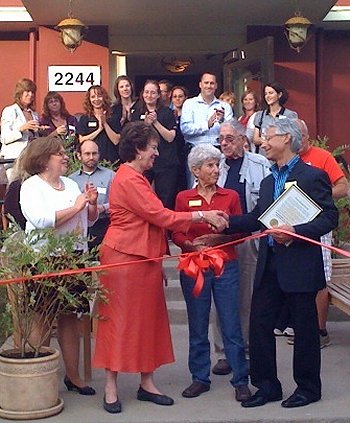 It was January 2008 and Dr. Robert Kiltz had a dream of expanding his services to the Rochester region. In collaboration with a local restoration contractor, he purchased a stately old home on East Avenue. From there, his vision of the First Integrative Fertility Center, merging Eastern and Western medicine, began.
Dr. Kiltz wanted to create a stress free environment for everyone who walked through the door. Through a lengthy refurbishing process, his vision came alive with the Grand Opening of the Rochester CNY fertility and Healing Arts Center on September 22, 2009. Dr. Kiltz, his parents and local town and county executive representatives, officiated at the ribbon cutting ceremony.
With such an overwhelming number of guests that arrived to our grand celebration, we were all very enthusiastic to see both familiar and new faces. As soon as guests started to arrive, they were greeted at the front door to welcome them to our home. Guests were treated to impeccable appetizers along with personalized tours of the facility. The tour began along the outside of the building through the future home of our Wellness Café. As many guests looked with such amazement at the impressive and rare craftsmanship, most immediately commented on that they have never seen anything like this before. The wood on the ceiling was brought in from Russia that was reclaimed from crates. As the tour continued upstairs, the guests walked by the string duo from Eastman School of Music.
Still amazed at the décor and ambiance throughout the facility, guests were brought through our Spa boutique that displays Positive Thinking books, audio books, signature robes, soaps, and lotions that all make wonderful gift ideas. As the guests wandered through the exam rooms on the Fertility side, they all seemed to notice these rooms were different from the many exam rooms they have experienced at one time or another. All the rooms are furnished with Velvet drapes, dim lighting, relaxing music to soothe the mood, and state of the art treatment tables. Again, Dr. Kiltz's vision for all clients is to feel relaxed and stress free when entering our center.
As the guests continued to walk up to the second level to the Healing Arts Spa where we offer yoga, massage and acupuncture to all clientele, they were given the option to try an acupuncture demo on themselves. The tour ended as we approached the two mahogany decks on the rooftop with a 5 foot privacy wall blocking any distraction from the cars passing by. Clients are able to experience yoga on the rooftop, under the stars and really connect with the outside sounds of the birds chirping and the leaves blowing in the wind.
With Dr. Kiltz having such a big heart and so much love to give, it wasn't surprising to hear that he wants to open his facility in Rochester to the community to hold work functions, private parties, book clubs, or any other endeavor that may arise. We would like to thank the Brighton Town supervisor, The Rochester Business Alliance, the County Executive Representative, and to all who came out to celebrate and show their support with open arms.
Sincerely,
The Staff at CNY Fertility and Healing Arts Center, Rochester, NY
https://www.cnyfertility.com/wp-content/uploads/2019/05/cny_logo.png
0
0
CNY Fertility Team
https://www.cnyfertility.com/wp-content/uploads/2019/05/cny_logo.png
CNY Fertility Team
2009-10-02 06:28:28
2019-04-24 18:37:45
Thank You for Joining us at CNY Fertility and Healing Arts in Rochester