Taking the Stress Out of Fertility Treatment
Taking the Stress Out of Fertility Treatment
This article below was previously published at ConceiveOnline.com and is authored by our very own Dr. Robert Greene, who just joined our staff at CNY Fertility Center.

Most people are aware that high stress — a condition associated with a rise in the "fight or flight hormones" — can reduce the chance of pregnancy. In fact, under the most extreme circumstances, stress can make women stop menstruating and cause men to develop erectile dysfunction. But even in its milder forms, stress hormones can hinder your chances of achieving a successful pregnancy. And if you're undergoing fertility treatment you already know how ironic it is that treatment itself can cause a spike in stress. That's why most fertility specialists recommend their patients take steps to reduce their level of stress. Yet telling someone to "relax" can often have the opposite effect. Fortunately, a new trend can help: More fertility centers are merging with spas to provide a practical approach to handling this problem.
Enlightened clinicians like Dr. Rob Kiltz of CNY Fertility Center – where I work – aim to create a "spa atmosphere where clients can come to learn and apply healthy lifestyle choices to their treatment plan," says Kiltz. Rather than simply recommending yoga, acupuncture or massage, a "fertility spa" provides one-stop shopping: fertility treatment that's combined with these treatments, as well as spa and salon treatments like microdermabrasion. Instead of patients undergoing an embryo transfer and then dealing with the strain of traffic to get to a spa appointment, it's simply a short walk away.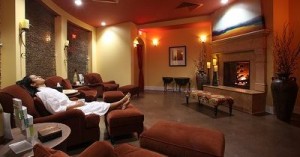 A true fertility spa, though, goes beyond just offering relaxing or beautifying treatments. Whether we realize it or not, we are all affected by our environment. So a center's soft lighting, soothing music, and comfortable furniture are also essential elements to creating a nurturing ambiance. For patients that are still experiencing stress but don't want spa services, the CNY Healing Arts Wellness Center & Spa has options like meditation rooms, walking paths, and support groups to provide self-directed treatments that are also supported by the latest research.
At CNY we also offer nutritional counseling and education about how to avoid hormone-disrupting chemicals in cosmetics and personal hygiene products (another aspect of environment). And we don't discount confidence-boosting treatments like manicures, pedicures, facials, and hair removal for reducing stress levels. That's why as both a fertility physician and as a successful recipient of fertility treatment I feel that an integrative and comprehensive array of treatment options empowers women and couples who want to individualize their pathway to parenthood. I'm hoping more centers around the U.S. will also start to offer women a comprehensive choice that speaks to their body, mind, and spirit when they're trying to conceive.
Dr. Robert Greene
rgreene@cnyfertility.com
Click here to request a consultation with Dr. Greene at CNY Fertility Center or call us toll-free at 800-539-9870.