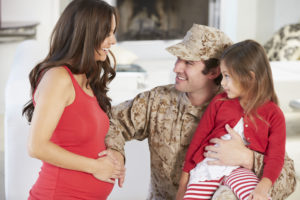 SYRACUSE, N.Y. — A Syracuse doctor is offering free in vitro fertilization and artifical insemination to active-duty military personnel and veterans with service-related injuries that have left them infertile.
Dr. Robert Kiltz, founder of CNY Fertility Center, said he's providing the free care because these procedures are not covered under Tricare, the military program for U.S. troops and their families, or the Department of Veterans Affairs health system.
"It's the least we can do," Kiltz said. "Right now in America veterans who are wounded in combat are not covered for the most basic of needs, which is family building."
During in vitro fertilization, a woman's mature eggs are fertilized by sperm in a lab.
The VA is prohibited from covering in vitro fertilization under a 24-year-old law that was adopted as a result of conservative opposition to assisted reproduction and concern that some fertilized embryos might be discarded.
Tricare provides artificial insemination and in vitro fertilization at four military treatment facilities in Texas, Hawaii, Maryland, California, and Washington, but patients must pay all the costs, even if their infertility was caused by a service-connected disability or combat wound.
Kiltz said he recently traveled to Washington, D.C. to ask senators and congressmen to amend the law so active-duty military and veterans can get this coverage.
IVF costs anywhere from $3,900 to $7,000, according to Kiltz.
Many commercial health insurance plans also do not cover IVF.
The CNY Fertility Center annually does about 3,000 assisted reproductive procedures, which include IVF. For more information, military and veteran families can call the CNY Fertility Center at 1-800-539-9870.
Article originally published on syracuse.com.
https://www.cnyfertility.com/wp-content/uploads/2019/05/cny_logo.png
0
0
CNY Fertility Team
https://www.cnyfertility.com/wp-content/uploads/2019/05/cny_logo.png
CNY Fertility Team
2016-07-29 16:05:10
2016-07-29 16:05:10
Syracuse doc offers free in vitro fertilization to military families