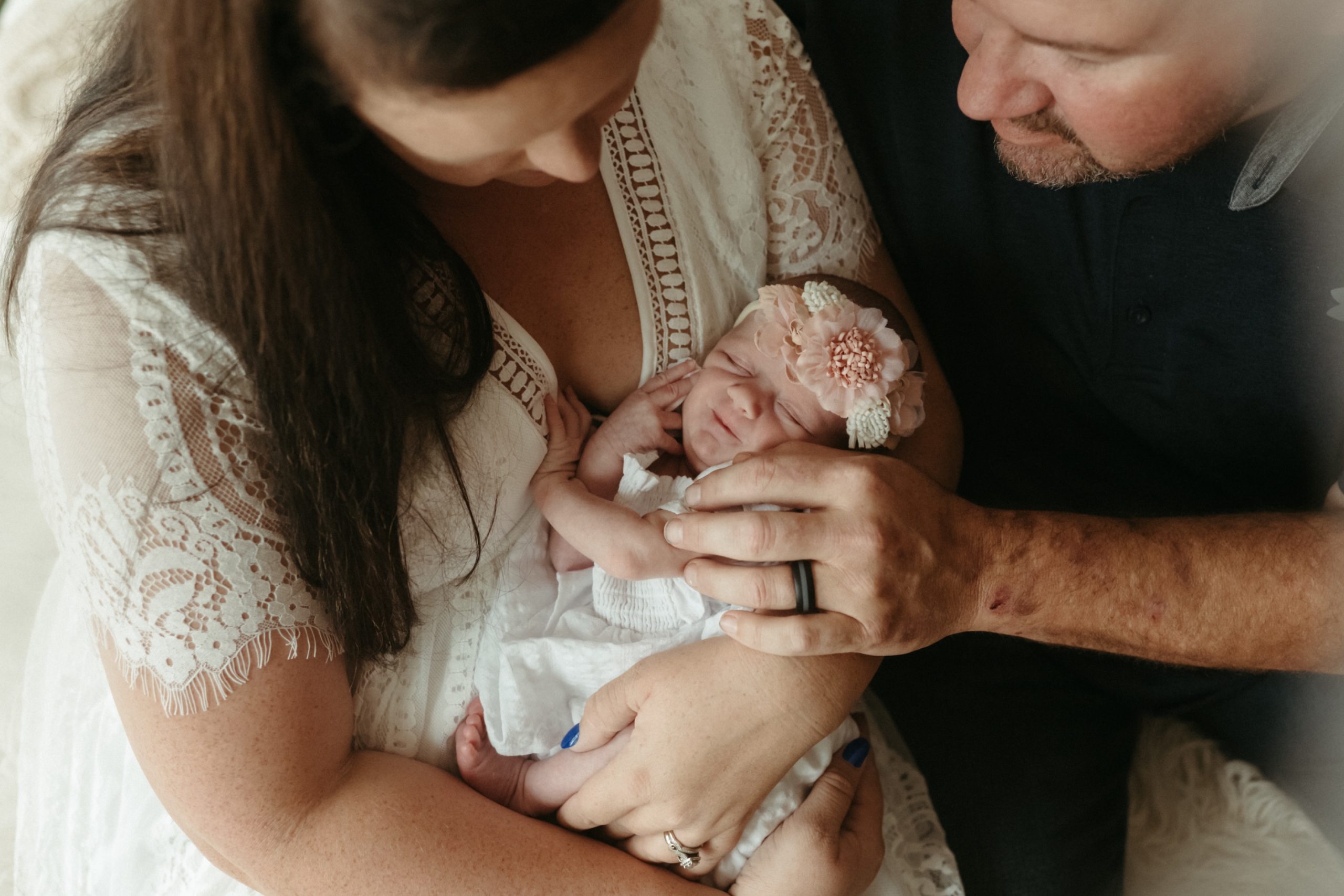 Rebecca & Raymond
Treatment(s)

Embryo Freezing
In vitro Fertilization (IVF)
Location(s)
Physician(s)
Rebecca & Raymond's Story:
My husband and I began trying for a baby the month we were married.
After a year of trying, we contacted our local provider, who recommended diet changes and timed intercourse.
After another unsuccessful year and a new doctor, I was recommended Clomid. We tried it for six months with no success.
We took a break from everything for a year and became foster parents. We welcomed a few sibling sets before we were finally placed with our current sibling set of four that we are in the process of adopting. So we decided to try two more rounds of Clomid and Letrozole again with no success.
My provider recommended we consult with a fertility specialist. We thought we knew how expensive IVF was, so we decided to do IUI.
So, I consulted with CNY and was placed on the waitlist. While waiting to get in with CNY I attempted one round of IUI, and I did not ovulate. We tried a second round in which we found out my husband had almost no sperm count.
We decided to try the next month with a donor for our IUI. But once again, we had another failure. Ironically, that same week CNY had a cancellation, and we did our consult with Dr. Kiltz. He told us that we needed to go to Syracuse due to my husband's male factor.
Within the next few weeks, everything moved so quickly. I had medication ordered and did ultrasounds and bloodwork. We were set. It was actually happening. My husband and I flew to Syracuse, and it's where we met Dr. Corley, the man that I will forever be grateful for. 
He is the kindest man. He made me feel comfortable, and I just knew this was it. He answered all my questions, and we changed the treatment plan immediately after the retrieval after he re-examined my lining. So my husband and I flew back to Ohio the same day. Then we waited by the phone to see when we needed to fly back and if any of our embryos made it.
We received the phone call that we needed to be back for a day 3 transfer, and we had four embryos that made it. My husband and I made the decision that I would fly back alone so he could stay with our son and foster kiddos.
Once the transfer was over and Dr. Corley prayed with me, and I had an acupuncture appointment. I was so calm and so sure that this was going to be our baby girl. On day 8, we had a faint positive pregnancy test. On day 12, we had our first positive beta. It wasn't extremely high, but the embryo made it.
Nine months later, in July 2022, we welcomed our perfect baby girl Charlee Jane. She completed our family. We named her after my dad, who passed three months before our wedding, and my husband's grandmother, who he loves dearly. The perfect combination of our families!
We couldn't be more thankful for CNY and Dr. Corley.
Favorite Team Member at CNY:
Dr. Corley! The kindest man. The way he prayed over the transfer I will forever remember. The way he changed the treatment plan from frozen to fresh because he said my lining looked good and he didn't want to miss an opportunity. I will never forget him advocating for me to have the healthiest transfer. His guidance led us to our daughter who is now almost 1.
The Moment:
I will never forget it. I was working nights as an ER nurse and my beta finally populated into my portal (my hospital is notoriously slow on providing results). My beta was 40. I immediately started crying. Everyone I had know who had been pregnant was much higher. All my coworkers consoled me and I prepared my husband for the worst once I got home.
However, the next day I received a call from CNY congratulating me and saying they still considered it a positive. Two days later we went to 93. Five days later we were up to 875.
The baby was thriving. I had hyperemesis, but other than that the pregnancy went textbook perfect. She was delivered via c-section at 39-5.
Hope, Inspiration and Advice:
My advice is always test the fertility of the male. As much as women are cast into the role of being the cause of infertility, it takes two people. And around 50% of infertility is "male factor."
At the beginning of our journey his sperm count was fine. However, somewhere along the way it plummeted. We could have saved years if we would have paid more attention to his fertility not just focusing on mine.
I also strongly recommend acupuncture. As a nurse I was highly skeptical and did not feel like it would play a factor. I truly believe that receiving acupuncture before and after my transfer was a major factor in my daughter being here. Take the opportunity for self care to calm your nervous system and relax your mind.