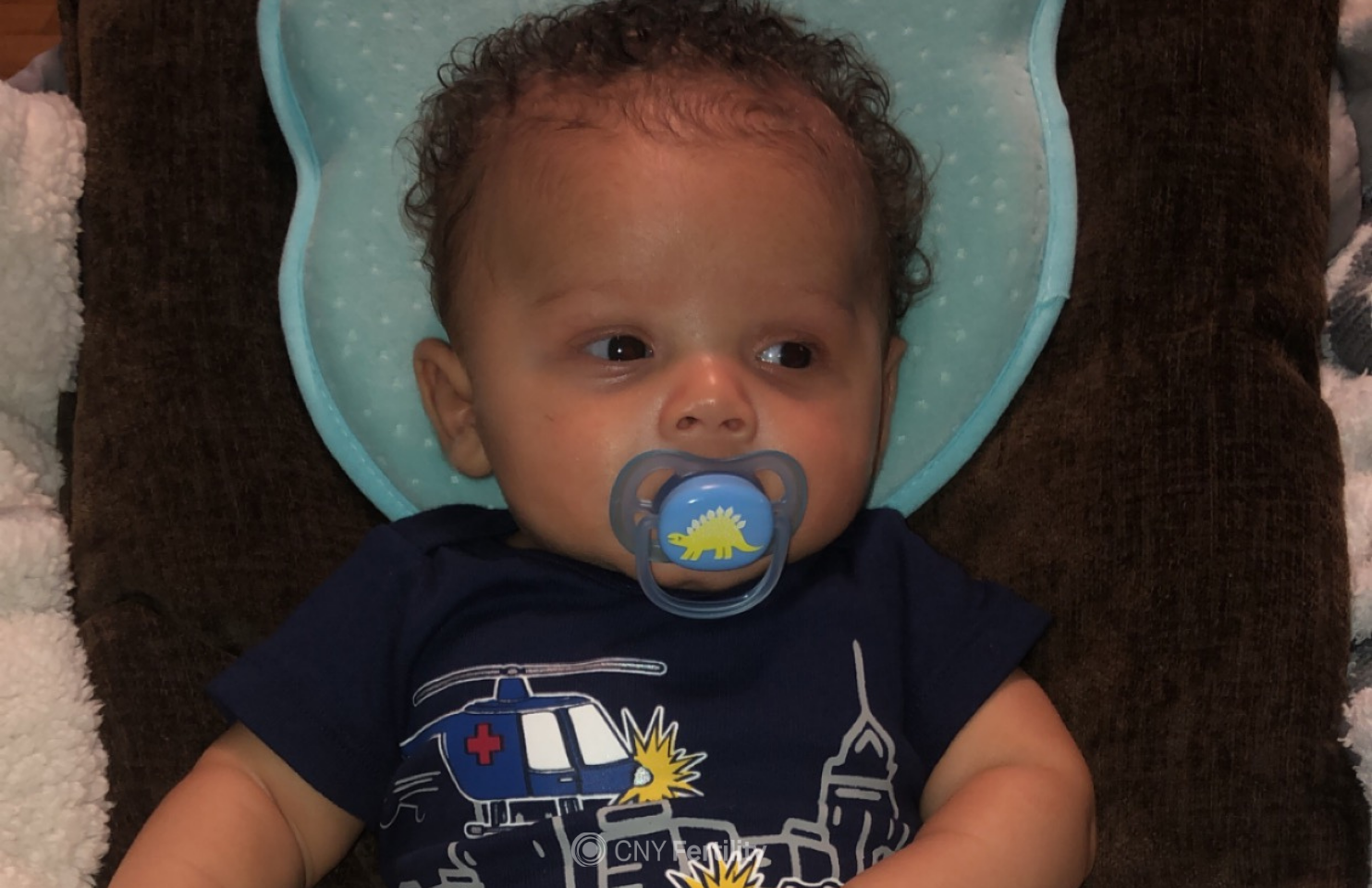 Nina & George
Infertility Diagnosis

Ectopic pregnancy
Polycystic ovary syndrome (PCOS)
Recurrent miscarriage
Tubal obstruction
Treatment(s)

Frozen embryo transfer (FET)
In vitro Fertilization (IVF)
Location(s)
Physician(s)

Robert Kiltz, MD
Edward Ditkoff, MD
Nina & George's Story:
It all started in 2007 my husband and I tried for our first child. I did extensive testing and we found out my tubes were blocked. I had a laparoscopic surgery to remove all blockage. We went on to try and nothing happened naturally.
In 2008 I went to a different doctor who diagnosed me with PCOS which there were no signs. No pearls in my ovaries. I started medicine and we did an HSG and only one tube was blocked so we did a second laparoscopic surgery. We went on to try and nothing happened. We decided to give it a break.
We started trying with another new doctor in 2014. Again we found out both tubes were blocked so we did a 3rd laparoscopic to get them unblocked again and we did 3 rounds of Clomid which I became pregnant each time but lost them due to ectopic pregnancy's. So we went in for a 4th laparoscopic.
In 2016 we naturally got pregnant and lost the baby. I was diagnosed with MTHFR. I now started Lovenox with every pregnancy and still nothing.
In 2017 we decided to seek a fertility doctor out of Indianapolis and we did envocell which was a waste of money and we only got 3 transferred embryos which were only 3 and 4 cell day 3s. It did not take. We were heartbroken. 💔 I ended up naturally getting pregnant at the end of 2017 which ended in an erupting tubal pregnancy where I lost a liter of blood and they removed my tube.
In 2018 after doing more research we flew out to Scottsdale Arizona to a "highly" rated doctor who did an obscene amount of blood work and testings for the doctor to tell me I needed a Surrogate. I thought what do we do? I have no one to do this. The doctor wanted my mother to do it. I couldn't bring myself to allow this. What if something happened to her. What if she couldn't physically do it. So we decided to come to the realization that it wasn't going to happen.
In 2019 a member of the same clinic I went to in Indianapolis told me about CNY. Not to mention invocell did not work for her either.
I called CNY and got a consult. At first, I was feeling great about it. So I didn't pursue it until I sent a very long message on Instagram to Dr. Kiltz. He reached out to me on a Sunday morning. We talked for over an hour. He said you can have a baby! You don't need a surrogate. I thought okay you're mending my heart. So my husband and I discussed it and we thought let's try it….. we started Keto and got exactly where we needed to be for our retrieval and medicines. Covid hit and shut all the clinics down so
we couldn't start until September of 2020. So finally got all the meds and started the process. We flew to Albany for retrieval. Flew home flew back for the transfer. BEST MONEY SPENT!!!! I would do it all again!
The first frozen transfer worked!!!! We did it! We wouldn't be where we are with out CNY. We are truly blessed 😇 and very thankful for our miracle!!!! Thank you CNY! Thank you to all of you working for this wonderful company!!!!! You change lives and make dreams come true!
Favorite Team Member at CNY:
All of them!
Helpful resources Nina & George found:
I did all possible helpful things to increase my first chance! Intralipids, hcg wash and acupuncture.
Hope, Inspiration and Advice:
If you have tube issues, remove them and do IVF! Don't beat around the bush!