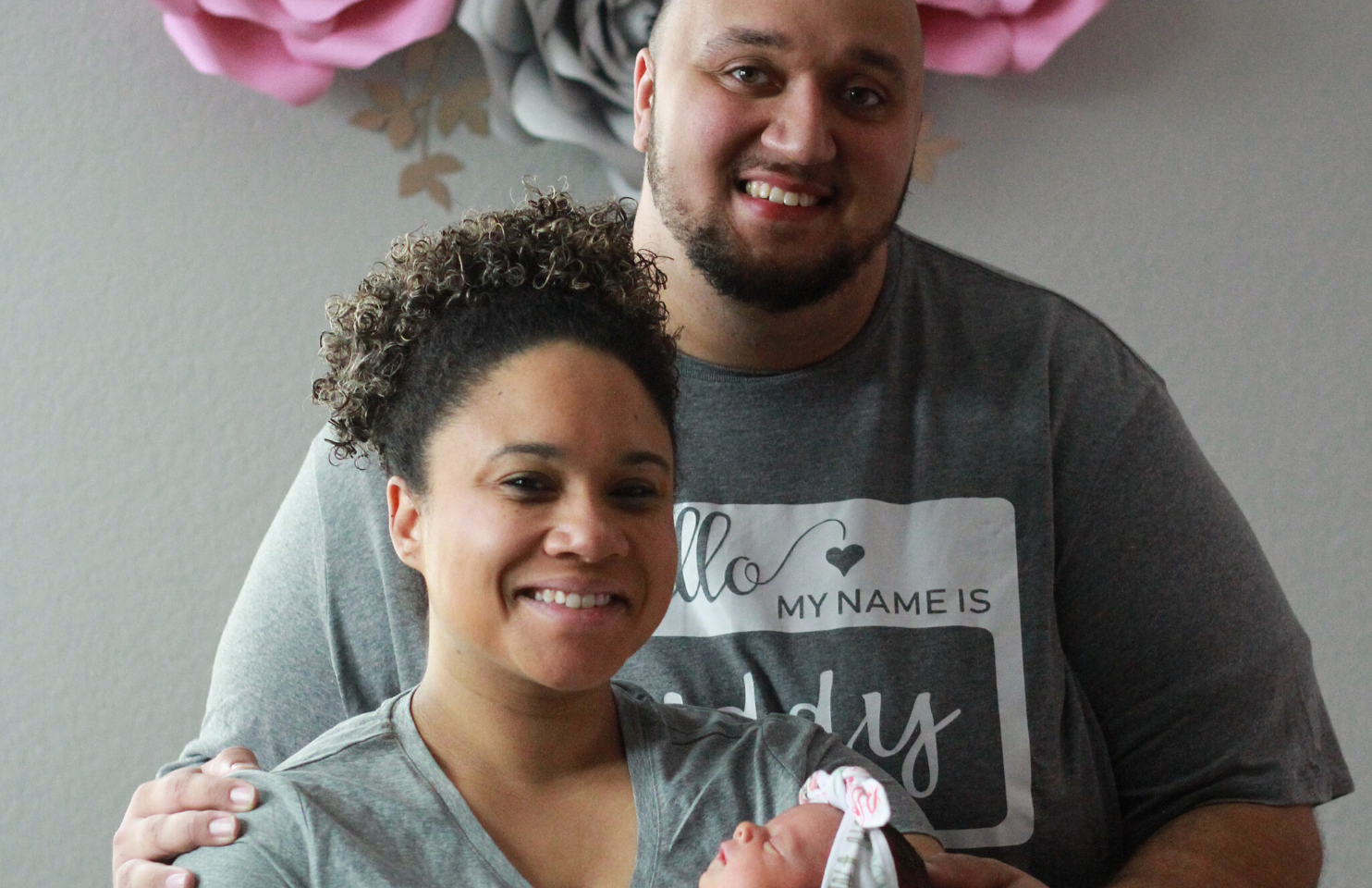 Nicole & Vaughn
Infertility Diagnosis

Male factor
Polycystic ovary syndrome (PCOS)
Treatment(s)

Frozen embryo transfer (FET)
In vitro Fertilization (IVF)
Location(s)
Physician(s)

Robert Kiltz, MD
David Corley, MD
Nicole & Vaughn's Story:
Vaughn and I are high school sweethearts and July will be our 9 year wedding anniversary. We both went to school to become educators, and have devoted our lives since college to serving children. After trying to start our family for several months we were devastated to find out that we both had infertility issues; and that our only chance would be through IVF. I have PCOS with very irregular cycles which typically need to be medically induced and Vaughn was diagnosed with obstructive oligospermia. During the past 3 years, we've completed 4 cycles of Clomid, increasing the dosage with each round, unfortunately, I did not ovulate during any of the Clomid rounds. From there we moved straight to IVF. We completed one IVF cycle with 2 frozen transfers with a local Houston clinic. We were heartbroken when both frozen transfers failed and we lost our final embryo because it did not survive the thaw. Thankfully we found CNY Fertility and in April of 2019 we were recipients of CNY Fertility's NIAW Grant. We started an IVF cycle with CNY in June of 2019. We completed a fresh embryo transfer in July which failed. In August, August 2nd (Vaughn's birthday) to be exact we completed a frozen embryo transfer with Dr. Corley. This frozen transfer gave us our beautiful daughter!
Being a person of color effected me...
Our very first consultation with a reproductive endocrinologist was very disheartening and honestly they only time we felt being a person of color affected our ability to seek the care we needed. We met with a local fertility clinic in Houston. The RE that did our consultation sat with his arms crossed and leaned away from his desk the entire time we were in the office. His demeanor said "you can't afford this, so why are you wasting my time." We left that clinic feeling deflated and embarrassed. However, we pushed forward and continued looking for a local clinic we felt comfortable with.
Helpful resources Nicole & Vaughn found:
Throughout our journey I found resources though Resolves website which included a local support group. I also joined many different TTC groups on Facebook. I participated in acupuncture, fertility yoga and light therapy. I can't say if they helped, but they definitely made me feel like I was doing everything I could. I started a blog which I believe not only helped me process everything we were going through. It also helped to bring awareness to others. When we learned of CNY we were so thankful for Dr. Kiltz's fireside chats and all of the information on their website.
Unique Moments:
For our IVF cycle and Fresh transfer we stayed in Syracuse the entire time. Because of this, we had the opportunity to explore and really enjoy ourselves We visited many different parks and went searching for waterfalls, with the help of another couple that was in Syracuse and ironically from the same area we had traveled from. This opportunity really allowed us not to stress over our cycle and transfer and just enjoy each other.
Hope, Inspiration and Advice:
Infertility wasn't something that I had heard of growing up. When we began to have problems I had no idea what to do or where to start. Know that you are not alone and there are so many people and organizations here to support you. The one thing we were so thankful for throughout our journey was the support from friends and family. I can't imagine going through this journey without their support. Don't be afraid to reach out to family, friends, or Infertility Warriors in a group online. Any support you can surround yourself with will help tremendously. This journey is hard, I won't sugar coat that. It's not something I would wish on anyone. But, going through it makes you realize just how strong you are.
I find myself just staring at my daughter throughout the day and thinking to myself what a miracle she is. I honestly believe that without CNY we would not have her. CNY was the best thing that happened to us.
Thank You CNY Fertility!