Melissa & Jim's Story's Success Story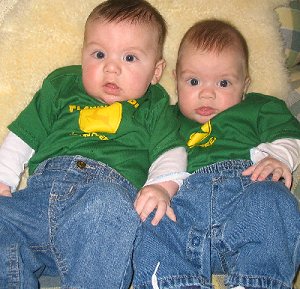 Words cannot describe the gratitude and joy we have experienced since the birth of our twin sons! I still look at them, 5 months later, and cannot believe they are here and they are OURS!! After 3 long years of 3 failed IUI's, 1 failed IVF and then one miscarriage we finally have our dream come true.
I don't think I could have made it through all of these years without the support and determination of the staff at the CNY Fertility Center!!! Everybody from the front desk ladies, to the nurses, to Dr. Kiltz, everybody was always so understanding, kind and supportive! I especially gained an enormous amount of strength and courage by attending the Circle of Hope meetings and chatting online! There is nothing like the support and understanding you get from somebody else experiencing infertility! It was like having another family!
So to Dr. Kiltz and the staff at CNY Fertility ... THANK YOU, THANK YOU, THANK YOU!!!! You are an amazing group of people creating amazing dreams!